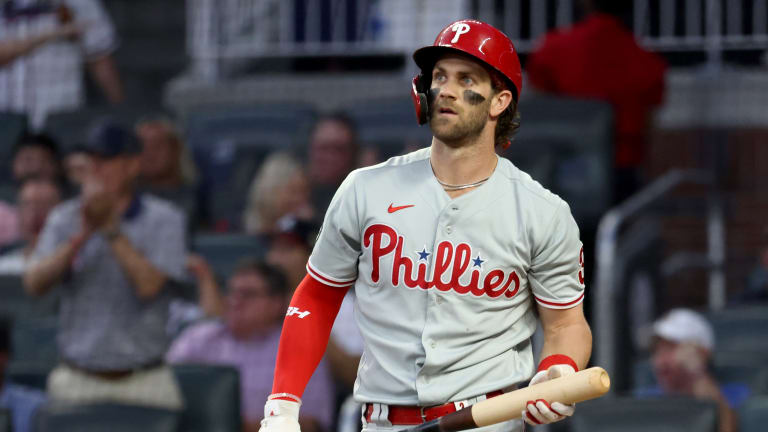 Phillies Swept by Braves, Officially Eliminated from Postseason
The Philadelphia Phillies were eliminated from postseason contention last night following the Atlanta Braves' three-game sweep of them.
Although it felt like they were already eliminated about 20 different times this season, the Philadelphia Phillies were mathematically eliminated from the playoffs last night after a 5-3 loss to the Atlanta Braves.
With a sweep of the Phillies, the Braves were crowned the National League East champion for the fourth straight season. It was also their 21st division title in franchise history, the most in MLB.
The Braves got the ball rolling early thanks to a Jorge Soler leadoff homerun off of Phils starter Kyle Gibson. It was Soler's 26th of the season.
The scoring continued in the fourth when Austin Riley hit another solo blast for his 33rd of the season to make it 2-0.
Dansby Swanson continued to pile the runs on when he doubled to right field to plate Travis d'Arnaud to put the Braves up 3-0.
The Atlanta offense kept the momentum going with an Ozzie Albies RBI-triple to score Freddie Freeman in the fifth.
Gibson was subsequently pulled after that for Connor Brogdon, only for Brogdon to allow a Riley RBI-single to score Albies to make it 5-0 in the fifth.
Braves starter Ian Anderson largely shut the Phillies down, but they finally showed some life in the seventh when Andrew McCutchen hit a two-run blast to left to cut the deficit to three. It was Cutch's 26th of the season, and unless he homers in the upcoming final three games, that could very well be his last dinger in a Phillies uniform.
In the eighth, J.T. Realmuto hit his 17th homerun of the season to make it 5-3, but unfortunately, it was too little, too late for the Phillies. Five runs would be all Atlanta would need to clinch the NL East title.
Philadelphia now heads to Miami for three games for their final series of 2021. Although eliminated, the Phillies will at least look to finish above the .500 mark for the first time since 2011.
Final Score: Braves 5, Phillies 3
---
Make sure to follow Inside the Phillies on Facebook and Twitter!