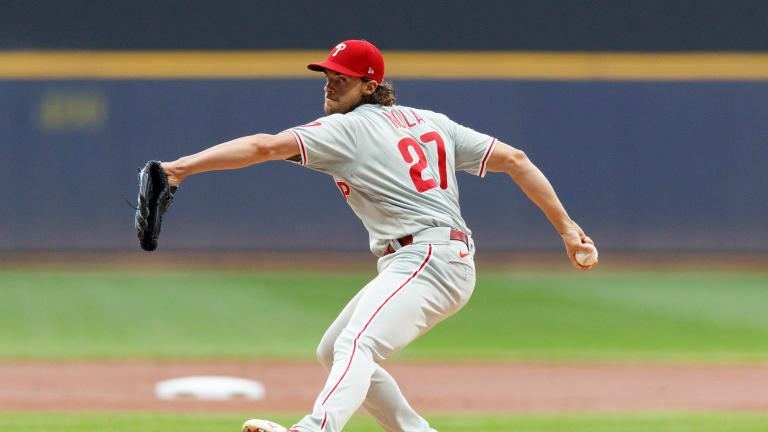 Series Preview: Phillies Host Pirates in Must-Win Series
The Pittsburgh Pirates are coming to town as the Philadelphia Phillies are set to host a four-game, must-win series this weekend.
The Philadelphia Phillies are coming off of a series they just barely won against the lowly Baltimore Orioles. Now, they will welcome an equally terrible team in the Pittsburgh Pirates for a four-game series that will conclude their regular season home schedule.
With the National League East title on the line, the Phillies have to take advantage of the matchup this weekend. A sweep would be ideal, but taking three is a must. While Philadelphia contends with the Pirates, the Atlanta Braves will play a four-game series with the imploding San Diego Padres. 
The Phillies offense, the very same one that only scored seven runs in three games against the worst pitching staff in baseball, will need to turn it around. If Bryce Harper, J.T. Realmuto, Jean Segura and others can all start hitting at the same time, it would do wonders for a beleaguered bullpen and morale. 
Here is what to expect from the series:
Game 1:
Phillies starting pitcher: Aaron Nola (8-8, 4.48 ERA)
Pirates starting pitcher: Overton (0-0, 0.00 ERA)
Since joining Pittsburgh, Overton has pitched four scoreless innings, but the Phils will hope to change that. Nola will take the mound in the first game for Philadelphia as he continues to try and quell the talk of his September woes.
First pitch is Sept. 23 at 7:05 p.m. EST.
Game 2:
Phillies starting pitcher: Kyle Gibson (10-8, 3.51 ERA)
Pirates starting pitcher: TBD
Since his arrival at the trade deadline in July, Gibson has been a stabilizing force for the rotation. Never meant to be a top of the rotation type player, but Gibson has still competed hard by going the distance to keep the Phillies in games. He will be looking for more of the same on Friday night.
First pitch is Sept. 24 at 7:05 p.m. EST.
Game 3:
Phillies starting pitcher: Ranger Suarez (6-5, 1.60 ERA)
Pirates starting pitcher: Wil Crowe (4-7, 5.77 ERA)
Suarez has been outstanding since moving from the closer role to the starting rotation. Once a spot in the rotation that was always cause for concern now has a reliable arm lining up every fifth day. 
Ranger will get his chance to showcase his stuff against a very enticing matchup against the Pittsburgh lineup.
First pitch is Sept. 25 at 4:05 p.m. EST.
Game 4:
Phillies starting pitcher: TBD
Pirates starting pitcher: Max Kranick (1-3, 7.28 ERA)
Likely another bullpen day for Philadelphia, but Kranick on the mound should hopefully bode well for the Phillies.
First pitch is Sept. 26 at 1:05 p.m. EST.
---
While its an enticing matchup on paper, this is the same team who was swept by the Arizona Diamondbacks in August, and has struggled against teams they should beat.
The last time these two teams met was in late July when the Phillies played in Pittsburgh for a three-game series. They lost two, but that series could have been the catalyst for their subsequent eight-game winning streak. 
Philadelphia cannot afford to drop games to the Pirates if they hope to try and make ground on the Braves this weekend. 
---
Make sure to follow Inside the Phillies on Facebook and Twitter!