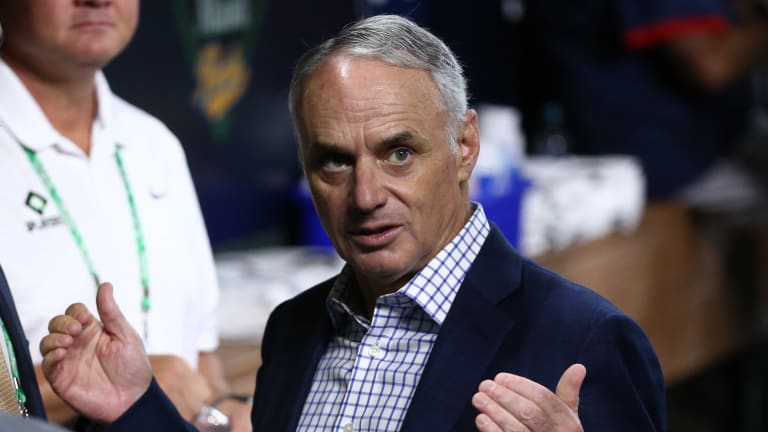 Report: MLB Readying to Negotiate with MLBPA
With spring training scheduled to take place in roughly a month, the League is reportedly getting ready to meet with the Player's Association.
It's been over two months since the lockout began, and prior to today, there has been very little said or heard about what is going on behind the scenes. However, that changed today as according to Evan Drellich of The Athletic, Major League Baseball is getting ready to enter negotiations with the Player's Association.
As Drellich explains, the main item that MLB has been getting ready to negotiate over is the core economic proposals. These proposals will be the first real progress towards getting the season back on track.
This progress, however, isn't going to guarantee that teams will be at spring training or even playing on Opening Day as it was originally scheduled. 
Looking at previous lockouts in MLB, there is no real timetable for the resumption of play as each lockout goes over different issues facing the players and teams in that era.
In the case of the 1994 lockout, the owners wanted to implement a salary cap, which the players at the time were not in favor of, resulting in the players going on strike, effectively ending the season prematurely.
Previously, Max Scherzer stated that one of the issues facing the players currently is a lack of competition. The league wants to implement the universal designated hitter, remove the qualifying offer system, and lastly, change the draft to be similar to how the NBA holds theirs.
In the case of this lockout, the issues brought up aren't things that are going to be solved overnight, rather a series of negotiations.
With spring training nearing a month away, it's in the best interest of the fans, players, and owners that the two parties get negotiating so that everyone can get what they want: baseball back in action.
More From SI's Inside The Phillies:
---
Make sure to follow Inside the Phillies on Facebook and Twitter!