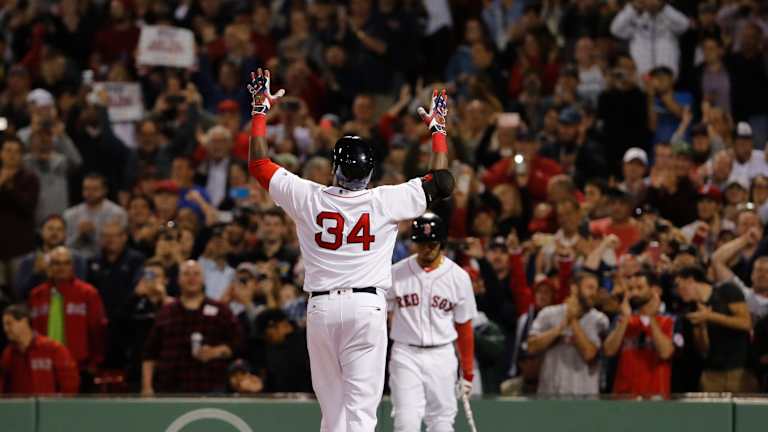 How Ortiz's Hall of Fame Career Made Me Love Baseball
Big Papi has been elected into the National Baseball Hall of Fame. Red Sox fans will never forget the impact he made on their love for the game, the team, and the city of Boston.
I was two years old on January 22, 2003. That was the day the Boston Red Sox signed David Ortiz to a one-year, $1.25 million deal. Little did I, or the people of Boston, know that Ortiz was going to be the most important player in Red Sox history.
We all know the accolades. Ortiz won three World Series championships, led the greatest comeback in playoff history, won seven Silver Slugger Awards, was a 10-time All-Star, and hit 541 career bombs. The numbers speak for themselves, but Ortiz was so much bigger than that, hence the nickname "Big Papi."
As a kid, I associated the start of Red Sox games with my dad getting home from work. He'd come home a little after 7:00 p.m., and as if it was a nightly routine, we would turn on the TV and switch the channel to NESN (New England Sports Network.)
Many players come and go in sports, but every time I turned on that TV, I knew David Ortiz would pop up on my screen. Whether it was a meaningless series in mid-May or Game 7 in the playoffs, Ortiz always made a game interesting. He had this confidence in him and an intimidation factor that I have never seen in any other player. The way I saw Ortiz as a kid is similar to the way many people marveled at Ken Griffey Jr., Hank Aaron, or Ted Williams. He was simply amazing.
In 2013, Papi lifted the entire city of Boston up while giving his infamous speech after the tragic events at the Boston Marathon bombing. That speech meant so much to many people, and almost nine years later, I still get chills watching it.
The 2013 Boston Red Sox were overlooked to start the season, but they were determined to deliver for their city. Papi was way more than just a main piece on that team, he was the captain that drove the ship.
My favorite memory as a baseball fan was watching the playoffs in 2013. You hear so often about Ortiz being clutch and how he always came through in the playoffs. While that was especially true in 2004 and 2007, my memory goes straight to Game 2 of the 2013 ALCS.
The Sox were in Fenway down 1-0 in the series against the Detroit Tigers. Heading in to the bottom of the 8th, Detroit was winning 5-1 and it seemed as though Boston was in major trouble. After a couple hits and a walk, Ortiz came to the plate with two outs and the bases loaded.
It's a situation that every kid dreams of and imitates in their backyard while playing wiffle ball. Ortiz delivered in that moment with a grand slam into the bullpen in right field. It was the single greatest moment in my baseball life. The Sox went on to defeat the Tigers in the ALCS and the St. Louis Cardinals in the World Series. 
Boston was hurting and looking for a hero in 2013. Papi answered the call, and I will never forget that.
MLB tweeted out the video below which shows just a few of Papi's greatest moments, and believe me when I say there are a lot more where that came from.
Skipping ahead several years to June 23, 2017. Papi had just retired in October, and the Red Sox were honoring him by retiring his number alongside the Red Sox greats that came before him. I was fortunate enough to go to the ceremony with my family, and it was one of the most profound and emotional moments I have ever been a part of. Papi moved me with his words as he was humble and appreciative of his friends, family, and fans that got him through his career.
Skipping ahead a few more years to January of 2019, I had the pleasure of meeting Papi with my family at Red Sox Winter Weekend. He walked in the room and it felt like an immortal presence had just shown up. He was very kind to my grandmother and took the time to greet and chat with each of us individually.
I shook his hand and thanked him for the countless memories. He was one of the reasons I fell in love with this game. He was one of the players that I wanted to be like as a kid. He was one of the players that proved that sports brings people and communities together even in the worst of times. He was a staple in my household for 14 years and remains a prominent figure in Red Sox nation today.
Watching his induction into the Hall of Fame this July will be one of the proudest moments of my life. Papi is just the fourth Dominican-born player to be elected into the Hall and the fifth Red Sox ever to make it in on the first ballot. There will never be another David Ortiz, and there will certainly never be a star bigger than Big Papi to don a Red Sox uniform. 
More From SI's Inside The Phillies:
---
Make sure to follow Inside the Phillies on Facebook and Twitter!