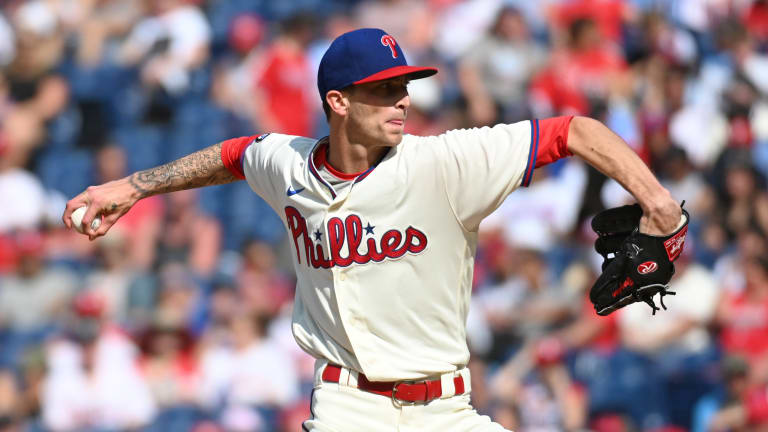 Phillies Season in Review: Connor Brogdon
Inside the Phillies continues their season in review series with Philadelphia Phillies reliever Connor Brogdon.
Amongst all of the discourse surrounding the Philadelphia Phillies bullpen—who the team should keep, who the team should trade for, who the team should get rid of—one reliever that seems to commonly get glossed over is Connor Brogdon.
Brogdon quietly had a solid 2021 season out of the bullpen for the Phillies. In 56 games, he pitched to the likes of a 3.43 ERA, 1.127 WHIP, picked up one save and 11 holds, and struck out 50 batters across 57.2 innings pitched.
His pitch arsenal consisted of his four-seam fastball, topping out at 96 mph, his change-up at 85 mph, and occasionally a cutter at 89 mph.
Brogdon did not allow a run through his first six appearances in 2021, but that all changed after a brutal outing on April 20 versus the San Francisco Giants. Brogdon surrendered six runs on five hits in just 0.2 IP, causing his ERA to balloon to 7.36.
His following outing in Colorado, Brogdon allowed another run, his ERA jumping to 7.56. For the remainder of the season, however, Brogdon's ERA was largely on the decline.
When you take a closer look at Brogdon's appearances, he made most of them between the fifth and eighth innings. These included 10 in the fifth, 17 in the sixth, 13 in the seventh, and 21 in the eighth. 
Between the fifth and seventh innings, Brogdon pitched 32.3 innings, striking out 31 batters and posting a 1.20 ERA. But his numbers in the eighth inning tell a different story. Through 15.2 IP in the eighth, Brogdon had a 8.62 ERA, allowing 11 runs on 19 hits and fanning 12.
Moving forward, it would be wise of manager Joe Girardi and the club to keep Brogdon away from the eighth, and leaving him available for the fifth, sixth, and seventh innings, since that's where he appears to thrive.
The 25-year-old was also reliable in high leverage situations, something the Phillies bullpen has severely lacked for the past few seasons. In high leverage spots, opponents bat just .224/.286/.408 against him.
Brogdon was one of the Phillies placed on the COVID-19 injured list on July 11, and he did not return until July 18. 
But in his final 19 appearances of 2021, Brogdon pitched 23.1 innings, struck out 20, and posted a 2.31 ERA. Needless to say, he was effective for Philadelphia down the stretch.
The Phillies 10th round 2017 MLB Draft pick has been a welcome sight for the club the past 1 1/2 seasons. Next to Ranger Suárez, Brogdon has been one of the Phillies' biggest pitching success stories over the last few seasons. That is great news for the team, their struggling bullpen, and scarcity of promising prospects.
More From SI's Inside The Phillies:
---
Make sure to follow Inside the Phillies on Facebook and Twitter!