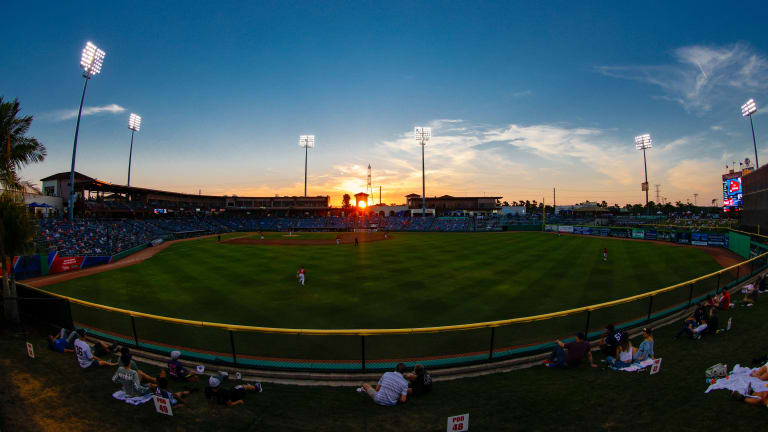 Phillies Prospect Baron Radcliff is the Epitome of Modern Baseball
Baron Radcliff put up unbelievable numbers at Clearwater in 2021, but not in the categories you might expect.
You've probably heard that baseball is dying, that the games are too long, and there are too many strikeouts. In a sense, some of those things are true. MLB games are 38 minutes longer than they were 40 years ago, and on average, teams strike out four more times a game than they did in 1981.
But a major factor in those increases is that players are getting better. Pitchers throw faster than they used to and batters hit the ball harder. Plays have had to adapt to a new style of play evident by pitchers like Jacob deGrom and Zack Wheeler, and batters like Joey Gallo, Adam Dunn, and perhaps soon, Philadelphia Phillies prospect Baron Radcliff.
Radcliff was drafted by the Phillies in the fifth round of the 2020 MLB Amateur Draft out of Georgia Institute of Technology. He's a right fielder with major power from the left side of the plate who's often been compared to Ryan Howard.
But Radcliff did something in 2021 that even Howard never achieved. Last season, Radcliff had a three true outcome (TTO) percentage of 58.7%.
Baseball's three true outcomes are home runs, walks, and strikeouts, all situations in which the play doesn't involve fielders. They are meant to represent the three possible outcomes for any given play, those being the batter gets on-base (walk), the batter is out (strikeout), or the batter scores (home run). In three true outcomes situations, baseball is merely a showdown between pitcher and batter.
Radcliff's ability to avoid putting the ball in play isn't entirely unique, but it is quite rare. Among MLB players, only Gallo managed a higher TTO% in 2021 (58.8%.) Throughout history few men have been as efficient at avoiding putting the ball in play as Gallo.
Players that use this to their advantage have had great successes in recent years. Notably alongside Gallo are [Adam] Dunn, Mark Reynolds, and Chris Carter. If Radcliff can add more power to his game, it's entirely possible he could be the next great home run hitter in Phillies' red.
However, the power has yet to develop for Radcliff. Though he showed a mastery of the strikezone in 2021, drawing 71 walks for a 21.3% BB%, he hit only 13 home runs and had 112 strikeouts for a 33.5% SO%.
Radcliff's slashline isn't entirely impressive either, he hit .195/.371/.377 in 2021. And that batting average wasn't just due to bad luck, his BAbip was a whopping .379. Radcliffe has a lot of developing to do before he becomes a top prospect, and at age 22, he didn't play above single-A in 2021.
It's likely Radcliff will start 2022 with the Lakewood Blueclaws, Philadelphia's high-A affiliate. If he excels there, Radcliff could be at double-A by year's end with a clear path to the majors. If he falters, it could be a long road for the young slugger, given that he will be 23 in April and facing slightly younger talent in Lakewood.
Baron Radcliff is a player who has the mindset and play style to succeed in today's era of baseball, but it remains to be seen whether or not he has the talent to get there first.
More From SI's Inside The Phillies:
---
Make sure to follow Inside the Phillies on Facebook and Twitter!