NCAA wrestling in limbo with potential elimination of Olympic wrestling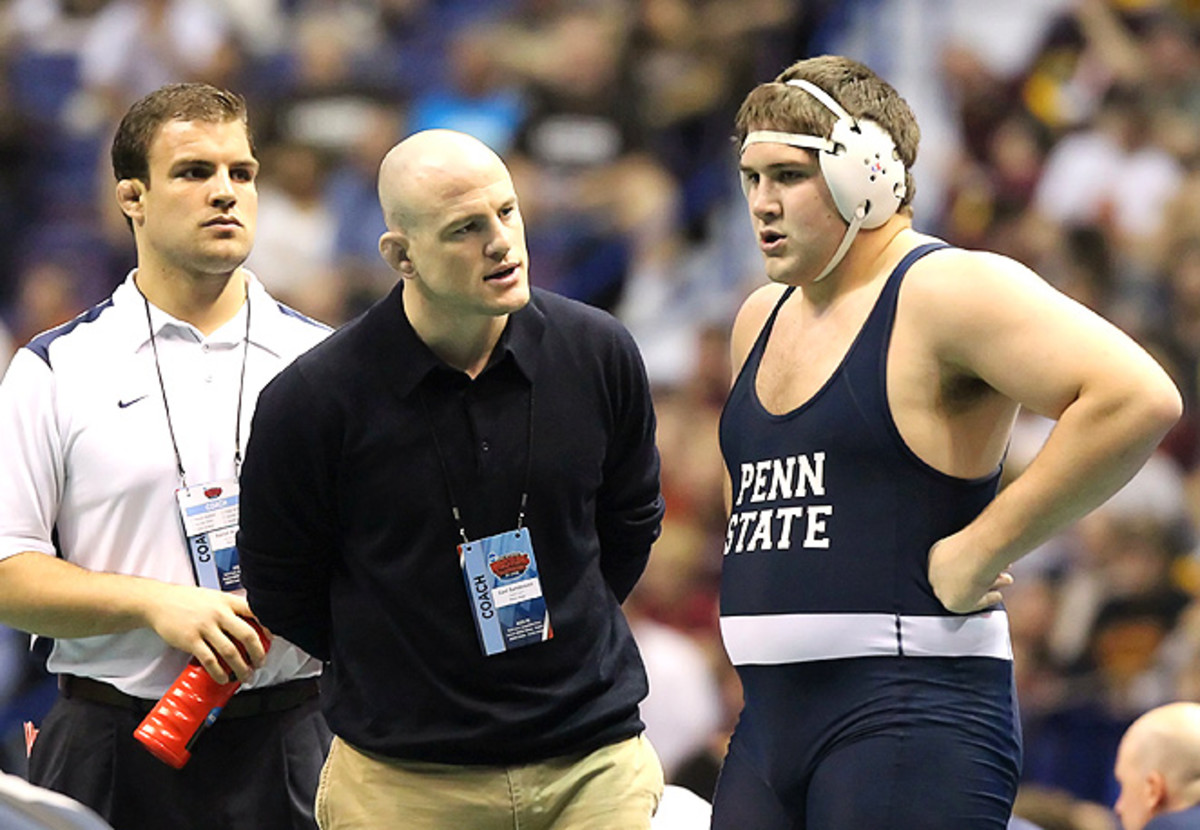 Nearly every sport in the world has at least one of the two motivators -- the pipe dreams that fill the imaginations of every young participant -- either reach the pros or compete in the Olympics.
So what happens to a sport when it can't offer either? Wrestling is about to find out.
Wrestling's future was flipped on its head when the International Olympic Committee's executive board recommended that wrestling be removed from the Olympics starting in 2020 to make way for new sports. Although the recommendation is not final, as wrestling joins seven other sports to fight for that open spot, reversing the recommendation is at best an uphill battle if not quite unlikely.
CAZENEUVE: Will politics and lack of modernization lead to Olympic wrestling's exit?
"The Olympics, they're the dream," Penn State wrestling coach and 2004 Olympic gold medalist Cael Sanderson said. "That's the very pinnacle of our sport. The Olympic Games aren't revenue to promote our athletes or grow our sport. It is our sport."
With the probable loss of wrestling's most widely-known event and its best opportunity to appeal to a wide audience, the recommendation to cut Olympic wrestling will almost surely have a trickle down effect on lower levels of wrestling, including collegiate wrestling.
"I don't know how it wouldn't," Sanderson said. "Wrestling is growing, but [when] you take the Olympics out of it, it has to affect wrestling. To what degree? I don't know and I don't want to find out."
With state budget cuts forcing many universities to trim their athletic spending, the loss of wrestling's status as an Olympic sport will certainly do no favors when making its case for survival. Four NCAA wrestling programs were dropped in the '11-'12 year -- the most programs dropped in any NCAA sport.
"When push comes to shove for many of these programs about whether they're going to be maintained, obviously it's a plus for colleges if it's an Olympic spot," said Marc Bauer, head coach of the two-time Division II national champion wrestling team at University of Nebraska-Kearney. "Faced with cuts, it could be put on the chopping block first."
Nebraska-Kearney knows firsthand the boon to a program of producing an Olympic wrestler. Tervel Dlagnev won two individual NCAA championships before taking fifth at the 2012 London Olympics, briefly showcasing the school of just 7,000 on the international stage.
"I hate to lose the stage on the international level and national level," Nebraska-Kearney athletic director Jon McBride said. "For us having a recent Olympian and having the exposure that has gone along with that ... I'd hate to see that opportunity go by the boards for anybody."
The damages to collegiate wrestling might be doubled by a decrease in participation at the youth level once the ultimate goal of all participants is like gone. The dream of the Olympics has always been a powerful motivator for young wrestlers.
Bauer said he is reminded of this consistently when talking to recruits. When he asks them, "What are your future goals?" the typical response is, "I want to be an Olympian."
"That's the pinnacle of the sport," Bauer said.
Even current collegiate wrestlers will feel the squeeze of losing the 2020 Olympics; they're forced to go all-in for the 2016 Olympics in Rio de Janeiro with no backup if they're not in Olympic form by then.
"I have one Olympics right now ahead of me and I can't look much further than that," said Iowa's Matt McDonough, the No. 1-ranked wrestler in Division I in the 125-pound weight class. "I've got to do whatever I can to get where I want this next time around."
McDonough's teammate Tony Ramos said he sympathizes with the youth wrestlers who got into the sport with Olympic dreams that now cannot come to fruition.
"The young kids that are coming up through the programs, their goals are to be Olympic champs," said Ramos, No. 2 in the 133-pound weight class. "At least I've still got one shot."
Although collegiate wrestling can still offer its own moments of glory, the nationwide and worldwide notoriety of Olympic success is on another level with far greater attention from beyond the niche group of fans.
In Sanderson's collegiate wrestling career, he became the only competitor to ever go undefeated for all four season, winning 159 matches and four championships at Iowa State. His personal website lists him as an Olympic gold medalist first, and then describes his unmatched collegiate success.
"That gold medal really solidifies in my mind the best of the best, the best in the world," Sanderson said. "You get an opportunity to be the best once every four years."
Perhaps most telling of the potential damage the IOC's recommendation could do to college wrestling is some of its key figures avoidance of considering exactly what that damage could be.
"I certainly can't predict the future," said Gary Barta, University of Iowa's athletic director. "It's far too early to speculate what it might mean because at this point it's a recommendation."