ESPN's new ombudsman delves deep; Finebaum discusses jump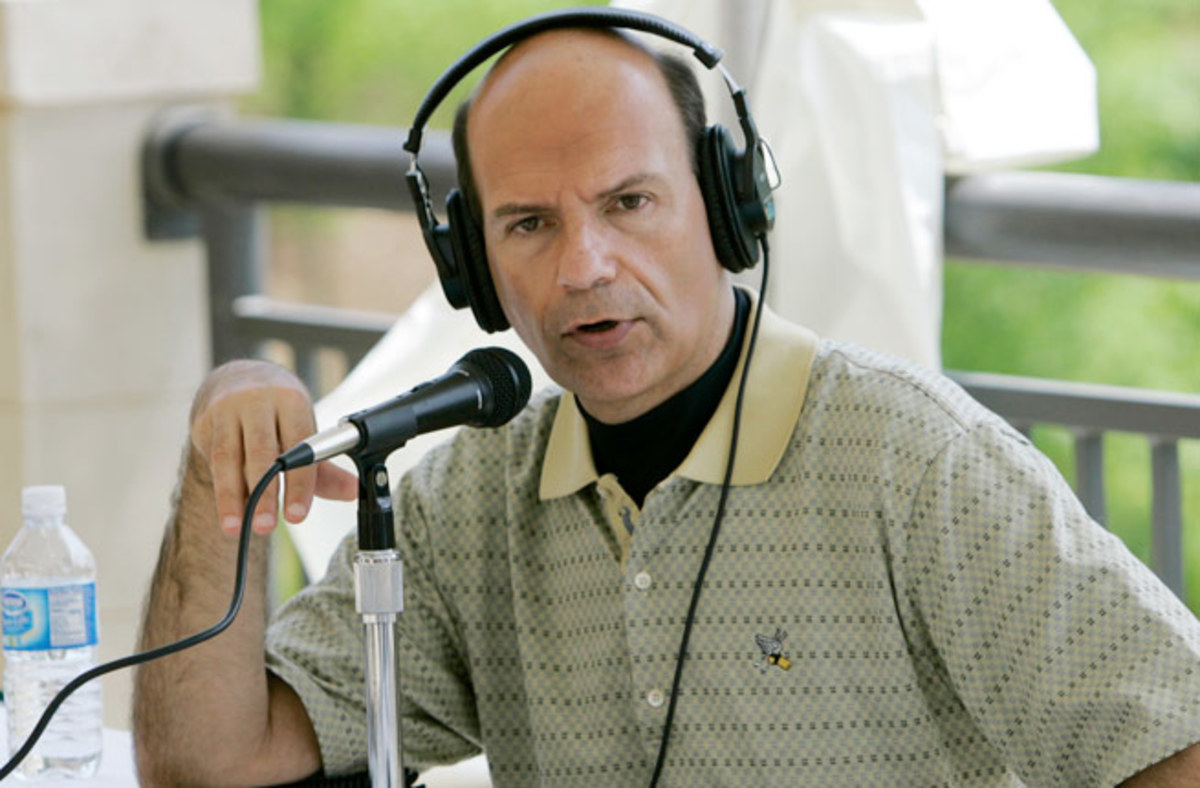 At 75, Robert Lipsyte speaks of his newest assignment as the coda to more than a half a century in journalism. On June 1 he begins his 18-month term as ESPN's ombudsman, the company's fifth public representative. (He follows the uneven performance of The Poynter Institute.) SI.com spoke with Lipsyte earlier this month for an extended Q&A and also solicited the opinions of sports media writers and bloggers on what they expect from the new ombudsman.
SI.com: Why did you want the assignment?
Lipsyte: It came sort of out of the blue. [ESPN executive editor] John Walsh called and said 'Would you be interested if we put you in the mix?' He said there would be something like four or five candidates for the job. It immediately sounded interesting. I thought it would be kind of an interesting end of the arc of my career. I've always felt that sport was very important of itself -- and as a window on American society. ESPN is arguably the largest vehicle for sports entertainment and information, so this sounded like a great challenge, great fun. Of all the possible things to do at the moment, it was the one that made me slightly nervous, and that told me I was interested.
SI.com: Have you been assured by ESPN that you will have complete independence?
Lipsyte: Obviously I can't post on my own onto the site (ESPN.com]. There is an editor, Patrick Stiegman. But I am an interesting choice -- if I can step away for a second. I have certainly criticized ESPN enough, and sometimes snarkily in the past. If they are going to let me into the tent, I guess they do want some sort of independent analysis.
SI.com: You have been a critic of jock culture throughout your professional career. Do you consider ESPN to be emblematic of a jock culture on air?
Lipsyte: You bet.\nSI.com: How so?
Lipsyte: I think that very often -- and particularly in SportsCenter -- there is that kind of sense of being of the sport and of the sports world. I am also aware what the E in ESPN stands for. I am really more concerned, if I am being critical, of what would be seen as journalistic lapses than entertainment bad taste. I think one of the things here is to tease out the difference between what would be seen as entertainment and what would be seen as journalism. I suspect that's not so easy and not so easy for ESPN. I think that is something they are very much aware of and why they put ombudsman in place.
SI.com: How do you view the culture of debate at ESPN?
Lipsyte: I wrote a city column for the New York Times and for one whole year I covered a New York City high school debate team as if it was a varsity sport. It was fascinating. I am kind of aware of what debate is about so I don't think that is debate. That's not a debate with rules and points of view. That is very often just loud caterwauling. Now, is that entertainment or journalism? Richard Sherman and Skip Bayless? Is that debate? What is that? I think that is something I have not really thought about but something I really will think about. It's been certainly dealt with before and I think [former ESPN ombudsman] Le Anne's [Schreiber] take was "Would you shut up a little?" But I have not paid attention to it and watched it day after day.
SI.com: How would you characterize your consumption of ESPN platforms?
Lipsyte: I go to more opera.
SI.com: So does that mean you have to get more up to speed on their various platforms?
Lipsyte: Well, some things more than others. Ever since I wrote a blog for what does not seem to exist at ESPN anymore -- Page 2 -- I've had a regular history at that place. I'll check SportsCenter and if I remember what time it is on, I might even look at First Take. I get the magazine. Certainly, I am a big fan of 30 for 30. I like the show OTL [Outside The Lines] and E:60. I think I am a casual consumer of ESPN. What has been interesting to me is since the announcement, all kind of friends and acquaintances have said to me they watch ESPN all the time and have interesting ideas.
SI.com: How will you will select topics and approach each column?
Lipsyte: I am not going in with an agenda. I don't have a list of "Ten Things I Hate Most About ESPN." I think that at least in the beginning, I will react to events. Then as I get a better feel for what the audience is responding to and to trends and patterns, I would then in the larger columns respond to that. At the moment, I would hope I can do this in much the way I wrote the sports column at the Times: things occur that you really want to learn more about and write about so you do it.
SI.com: Is 18 months the right tenure for an ombudsman?
Lipsyte: It sounds about right to me. After that, you become an ESPN employee and are embedded. They said there would be one major column and one online chat per month. After that, it would be up to me how much I want to blog and tweet. My feeling is I would like to blog whenever something comes up, probably frequently. Tweeting would make me a little nervous. I would tweet maybe to say go read my latest blog. I think an ombudsman should probably wait a beat before he or she shoots from the hip.
SI.com: So there will be an ESPN ombudsman Twitter feed?
Lipsyte: Absolutely. At the very least, as a quick feedback to see what people are saying and thinking about. I wouldn't want to use Twitter to respond immediately to Jason Collins and Chris Broussard. I would rather wait a day, and if so, why not write 500 words.
SI.com: Every day on ESPN's various platforms you can find someone who says something provocative, particularly on ESPN Radio or First Take. How much should you get into the day-to-day chatter that some viewers might perceive as reckless?
Lipsyte: I think that is the advantage of the blog. If something comes up, you can respond to it. What I have been dry running in my mind but not doing real reporting on yet -- so I don't have as good a fix as I would like -- is the "homosexuality is walking in open rebellion to Jesus and God." Now the question is, and had that happened on my watch I cannot see how I would not have written about that, without getting too meta about it, should the ombudsman write about that? I would deal with that as well. I have not seen the entire transcript of the show to see if he [Broussard] was led into it and if he was, does that make a difference? How does that affect his coverage? Is that a form of bigotry? How would you compare it to Rush Limbaugh saying something like liberals want a black quarterback?
SI.com: Should an on-air person such as Broussard being encouraged to share his views on homosexuality on sports television?
Lipsyte: Well, it's context, context, context. I am thinking out loud. I have not done the research I need to do here. But I see no reason why we cannot have socialist sportswriters, sportswriters reflecting every aspect of American life. Now at what point do those private opinions become public opinions? Should that have been opened up more to just he and LZ Granderson talking? And is ESPN the proper place to have a debate about gays in sports? I don't know. I have not talked to enough people at ESPN. On the other hand, no one is complaining about all the people who are saying this is a wonderful thing, that it was a courageous act in this society and that Jason Collins has saved the lives of a lot of young gay men and women who were made brave by this tough, smart, handsome guy coming out. So we are all cool with people saying that, which certainly flies in the face of a large chunk of Americans who believe that's something kind of awful was done to the fabric of American social life. This is certainly something we can talk about it and part of the kind of things that probably are far more interesting use of an ombudsman time than whether Skip Bayless annoys you, too.
SI.com: How familiar are you with the work of previous ESPN ombudsman?
Lipsyte: I have read them all since I told John [Walsh] I would be in the mix.
SI.com: Are you comfortable analyzing or offering an opinion on the previous ombudsman?
Lipsyte: No, but only because I have not done the reporting on the stories they did, not because I don't have opinions on it. I think every one of them had strengths and weakness. I certainly don't have that kind of ethical gravitas that Poynter brought to it, the sense of journalistic custom and heritage. And I certainly don't have the big sweep that Don Ohlmeyer had. This was a guy who strode the sports universe. I thought that Le Anne Schreiber was a wonderful writer and I really liked her work a lot. In fact, I would say in looking for role models in all of this, I think Le Anne's work and the work of the current New York Times public editor, Margaret Sullivan, in how structures her blogs and responses, those are two people I can learn a lot from.
SI.com: The volume of emails that previous ombudsman received was enormous. Will responding to the public be part of the job?
Lipsyte: I don't think it's part of the job; I think it is basically the job. I am not going in there as some sort of enterprise reporter. I really don't have an agenda like I'm going to clean up Dodge City. I think that I have to respond to reader mail, primarily. I have to get a sense on what people are interested in and also make it clear that I am responding so people will feel free to email, and not just crazy complainers.
SI.com: Something every ombudsman must face is how valued their critique or suggestions are within that organization. Why do you believe ESPN will follow your suggestions?
Lipsyte:Did I say that I thought they would (laughs)? In my times at Bristol as a writer and consultant over the years, I was constantly surprised by how many smart and concerned, although sports wonky, people there were there. I think they really cared about doing a good job and I think they were always looking or advice and suggestions from people to that. I think within ESPN there are a lot of people who are up for -- I would not say criticism -- but other points of view. And, of course, I think there a lot that are not.
SI.com: If transparency is one of the tenets of being an ombudsman, how would you respond if I asked you to reveal your salary from ESPN?
Lipsyte: I think I would be perfectly cool with ESPN disclosing it. I have no problem with that.
SI.com: How do you look at people critiquing your own critique?
Lipsyte: Well, I really think there is going to be a lot of it. I was really surprised at the number of places, from New Republic to Deadspin that responded to the announcement, and how almost universally positive it was really makes you nervous because you know that everyone has an idea how this guy should run this job. So they will be watching me closely and critiquing if they think I am soft-soaping ESPN in any way. I made the point regarding this idea of transparency that my job is basically window-washer and that's also going to require cooperation from inside ESPN. I have to say upfront, anyone at ESPN from John Skipper down who refuses to take my call or says no comment, I will consider guilty (laughs).
SI.com: Do you have any thought yet as to what the subject of your first column will be?
Lipsyte: No, I don't.
SI.com: When will your first column be published?
Lipsyte: Probably sometime around mid-June. My start date is June 1 and I would hope that within a couple of weeks I would start blogging at the least.
SI.com: How often do you expect to hear from ESPN higher-ups?
Lipsyte: My editor seems like a terrific guy, and I have always profited by having a close relationship with an editor. I'm not the maverick cop on TV I might seem to be. What is so ironic about [former New York Times sports editor] Neil Amdur and I being rivals for this job [Amdur was a finalist] is that we had a marvelous relationship at the Times. He was very important to me as an editor. We talked constantly and still do. I like that idea having somebody as an editorial sounding board and Patrick has institutional memory for ESPN. He can be very helpful there and hopefully guide me in the beginning for questions such as "Who is the executive producer of that' show." I am looking forward to a close relationship with him. But I am the one writing the column. It's mine. I will live and die by it.
The Noise Report
(SI.com examines some of the more notable sports media stories of the past week.)
1. Paul Finebaum is on the phone from Charlotte, a city he is unfamiliar with but will soon call home. "At this point in a career, one is usually not making dramatic changes," Finebaum tells SI.com. "But this could easily be classified as a pretty dramatic move."
At 57, Finebaum is going national after three decades in Birmingham hosting the South's most famous sports-talk radio show. ESPN announced last week that it had signed Finebaum to host a daily radio show (which will debut on Aug. 1) and make television appearances (around 100 a year) across various ESPN platforms. There is also the possibility of a writing component. Then, beginning on August 1, 2014, upon the launch of the SEC Network, a television simulcast of Finebaum's radio show based out of ESPN's Charlotte, N.C. studios will anchor the new network's afternoon lineup. Justin Connolly, an ESPN senior vice president for programming who will oversee the SEC Network, told the Wall Street Journal that Finebaum's radio show at first will air primarily in the Southeast. Finebaum told SI.com on Saturday that he's not sure as of now which markets will air his radio show at the start of his ESPN tenure. His ESPN deal will run for five years.
How did Finebaum end up with Worldwide Leader in press releases? Last August the radio host hired a broadcasting agent, Nick Khan, who embarked on general conversations with both ESPN and the SEC Network. (Khan represents a number of ESPN broadcasters.) Finebaum's contract with the Birmingham-based WJOX 94.5 FM expired last Jan. 21 and he waited the required 90 days by WJOX owner Cumulus Media until he could negotiate freely with other entities. When that period ended, ESPN approached Khan, whose goal was to get Finebaum appearance work on ESPN in 2013 with an eye toward a major gig with the SEC Network in 2014. Finebaum said SiriusXM also approached him last summer about an exclusive relationship, a deal he was interested in before he and his agent started moving toward ESPN.
Finebaum said he missed being on the radio -- his last show was Jan. 21 -- but appreciated the break. He filled the time working on a memoir that he is writing with ESPN's Gene Wojciechowski, who was a classmate of Finebaum's at Tennessee and a longtime friend. Finebaum said that the $650,000 (according to the Wall Street Journal) book deal he received from HarperCollins came as a result of a lengthy profile in the New Yorker magazine that was published last December. The day after the piece ran, Finebaum's radio producer got a call from David Vigliano, a high-profile Manhattan literary agent. "I'd have as much a chance to write a book about myself without that as I would being the closer of the Yankees," Finebaum said. "That piece helped change my life. It brought me to a narrow but very influential audience. I am sure it helped me with ESPN too."
Writing recently for Sports on Earth, Tommy Tomlinson said what made Finebaum's show compelling was the Alabama-ness of it. He, like many others, are now wondering whether the Alabama-ness of the show can be duplicated from Charlotte?
"I think it is a fair question and I heard that from friends and executives in Bristol," Finebaum said. "I think our show has become unique because we are not like everyone else and it is my hope we can continue going down that path. The show has to be a little broader but I don't think it is a bad thing to be in Charlotte. The studios are only four miles from South Carolina so not too far from SEC country (laughs).
"I want it to be a better show than it was but still have the flavor and character of what has made it what I think was the most unique caller-driven show in the country. It's not the best show in the country -- we have never had the best guests because we have not had the clout to get the kind of guests that Mike and Mike or Scott Van Pelt or Dan Patrick get. But no one has ever been able to top us for the craziness and for the callers. We don't want to change that."
Finebaum's wife of 23 years, Dr. Linda Hudson, plans to move to Charlotte with him. (The couple was in the city over the weekend looking at homes.) Hudson works in private practice and is also the chairperson of the department of medicine for a Birmingham hospital, but she's going along for the ride. "She said let's go for it and made the commitment to move in due time," Finebaum said. "She is making a tremendous sacrifice. It's going to be an adventure and one I didn't expect at this point in my life."
2. I asked several sports media writers and bloggers what they were looking for from Lipsyte's tenure:
Neil Best, writer, Newsday:
"What am I looking for from Lipsyte? Only this: To be Lipsyte, because beyond that he doesn't need advice from me. He was an inspired choice -- and kudos to ESPN for having the guts to choose him -- because after more than a half-century of healthy skepticism about sports and sports journalism he should have no trouble seeing past ESPN's shiny veneer when needed to do his job as the network's self-described "window washer." He also has been around long enough not to sweat the less-important stuff. For example, his take on "First Take" in a recent interview with The Nation: "If you hate it, shut it off!"
John Koblin, writer, Deadspin:
I really just want one thing: something fun to read. This is what Dan Okrent was so good at when he was the Times' ombudsman and something Lipsyte is almost guaranteed to deliver. The Margaret Sullivan model -- fast and frequent -- is a good one for how to do it in 2013. So long as the column isn't as slow and boring as Poynter's Review Project, everything should be fine.
One of the reasons I'm excited at the prospect of the Lipsyte column is he can put ESPN in context. There is no analogue to it in any other industry. I hope he reminds us (repeatedly!) how significant ESPN's influence is. ESPN isn't just a window into the national conversation in sports; it is the national conversation. And it's that very influence that makes ESPN's occasional journalistic problems so frustrating. ESPN has done a good job on aggressively covering the sports it broadcasts, but Bristol has a culture that rewards stupidity. John Skipper likes to say ESPN is given a harsh standard: CBS News isn't judged for its reality programming, so why should a show like First Take command so much attention? When the dumb bleeds into its treasured platforms (the Chris Broussard debacle on OTL, Tebow-mania on SportsCenter, Skip Bayless on the home page of espn.com), it suggests there's an institutional issue at play: ESPN is indifferent to journalistic good. Sports fans are smarter than that, and I hope that's explored in the column.
James Andrew Miller, author of Those Guys Have All The Fun: Inside The World of ESPN:
It's hard to argue with the selection of Lipsyte as ombudsman. He's the varsity. But Lipsyte faces two key challenges in the next 18 months: Making sure the Lipsyte agenda is worthy of Lipsyte, and bringing new meaning and urgency to the ombudsman role itself. Lipsyte has suggested his focus will be on journalistic conflicts at ESPN, but to Bristol's credit, those have actually declined in number. Perhaps it's because ESPN executives, burned by such issues in the past, have done a better job of policing themselves. At any rate, making them Lipsyte's major preoccupation would be a little like driving a Porsche at 40 mph, a waste of resources. No, Lipsyte should look beyond the conflicts arena, perhaps tracking such things as ESPN's use or misuse of talent and how that can harm its brand, programming decisions, or maybe even monitoring ESPN's behavior in a new and increasingly competitive hyper-tech environment.
But there should also be an opportunity for the new man to redefine what an ombudsman can be to ESPN. In this age of rampant twittering, viewers have ample opportunities to comment or carp about every aspect of everything; the value of the traditional mailbag is diminished. There is, however, a huge untapped and highly provocative destination to which Lipsyte could take the company: I'd like to see an ESPN Employee Mailbag -- contributors could even remain anonymous -- that lets employees tell management, through the ombudsman, what they are honestly thinking. Virtually every week, I hear from an ESPN employee with a good idea for the company or a conscientious, valid criticism; these people deserve an outlet, an avenue, for their views. In the past few years alone, there have been many instances -- from The Decision to the Manti Te'o investigation -- when smart ESPN employees were advocating passionately for alternative approaches, perspectives that were largely kept hidden from the public and sometimes even from top company leaders. After 33 years of quantum growth, ESPN can afford at least this modicum of positive transparency; even the most jittery of executives should have little to fear. Giving those inside the company an open forum to be heard, through the ombudsman, would be win-win for all.
John Ourand, writer, Sports Business Daily:
"Almost every ESPN ombudsman, at the end of his or her tenure, has marveled at the size of the company. How did ESPN cover Tim Tebow? Well, It depends. "Mike & Mike" handled it differently than "First Take," which handled it differently than "Outside the Lines." ESPN has different shows, different producers and different analysts. The sooner Lipstye recognizes that he can't paint them all with the same journalistic brush, the more effective he will be. A consistent gripe I've had with every ESPN ombudsman comes down to timeliness. I would like to see the ombudsman weigh in on topics much quicker than they have in the past. Lipstye does not need to put forth knee-jerk opinions. But he should try to conduct his interviews and write his columns soon after something flares up. And something will flare up. It always does. I have my own pet peeves about ESPN's news programs that I hope he addresses. I have always hated how advertising has encroached on ESPN's main news program, "SportsCenter." Could you imagine NBC's Brian Williams interviewing a head of state from the Budweiser Hot Seat? Or CBS's Bob Schieffer offering the Coors Light Cold Hard Facts on the Middle East? SportsCenter should be held to that higher standard.
Overall, I applaud ESPN's commitment to the ombudsman position. Many news outlets, like my hometown Washington Post, have scrapped the position, and I think ESPN is better for having an ombudsman.
Matt Yoder, writer, Awful Announcing:
"What I'm hoping for from the next ESPN ombudsman are two things - relevancy and accountability. Given Mr. Lipsyte's reputation from his decades of work in the media, I'm optimistic he can provide the proper weight to the position. The ESPN ombudsman is a significant role in the industry and should be a leading voice to relevant issues in the relationship between ESPN and all who digest its content. An entity with the power and profitability of ESPN needs more than just lip service to be held accountable. In the past, the ESPN ombudsman hasn't always answered to the most relevant, poignant critiques of ESPN and most recently, hasn't followed through on promises surrounding important issues. If Mr. Lipsyte promises a column on Craig James and an investigation on the real controversy therein, it's my hope that he keeps that promise to his readers.
3. I do not believe Gus Johnson will ruin soccer in America -- I'm playing the long game with Johnson as a soccer broadcaster -- but I recognize the fervor of his critics, including some of my world soccer-obsessed colleagues at SI. Johnson and analyst Warren Barton called last Saturday's Champions League final for Fox, a thrilling 2-1 Bayern Munich win over Borussia Dortmund, and the broadcast featured the full Johnson -- the trademark over-the-top zeal, some mangled pronunciation (it's Franck REE-be-ry and not RIB-ERY) and plenty of room for improvement. The former New York Times staffer and proud Bayern fan Paul von Zielbauer spoke for many of the anti-Gus crowd by tweeting during the game. "Gus Johnson: "Lam", "Mooler" "Svinesteiger" is bad enough. Calling an expected Dortmund save "Acrobatic" is lame. Come on @FoxSports." (Full disclosure: I've bungled plenty of Bundesliga names on SI's soccer podcast).
Johnson is still slow on name recognition -- you saw that on the goal by Bayern striker Mario Mandzukic -- but I think that will improve with more reps and more familiarity with world soccer. The one thing I hope Fox Sports executives learned from Johnson's debut season is he needs a consistent partner. Of all the broadcasters the network floated his way, I thought Barton was the best fit. He complements Johnson stylistically, and allows the game to breath.
4. Among the memorable sports pieces this week:
? The Des Moines Register had a tribute to Jim Zabel, the longtime sports voice of the University of Iowa sports team who died last week at age 91. Think about this: Zabel once ran a footrace against Jesse Owens and followed Ronald Reagan as WHO's sports director.
? Isobel Markham, writing for The Daily Beast, confronts the elephant for women in the sports media: Why do looks matter so much?
? New York Times soccer writer Sam Borden profiled Johnson upon the eve of his Champions League final call.
? Some genius from ?former SI.com staffer and New York Times staff editor Nicki Jhabvala: The evolution of Chris "Birdman" Andersen.
? Sensational reporting by Craig Wolff of the Newark Star-Ledger on Rutgers athletic director Julie Hermann.
? One non-sports piece of note:
The Globe and Mailstory on the Ford family's history with drug dealing was remarkable journalism.
5. Brian Urlacher was the first active NFL player interviewed on NFL Network. When the network launched on Nov. 4, 2003 with its Total Access show, host Rich Eisen spoke with then-NFL Commissioner Paul Tagliabue at the start of the show and then did a segment (via remote) with Urlacher. Last week Eisen, on his podcast, asked the retiring Urlacher if he had an interest in broadcasting. "I have talked to people about that and I don't know," Urlacher said. "I'd have a hard time criticizing other players because I know I hate it as a player when ex-players criticize me when they know what we are going through. So I'm not sure I could do it."
If he changes his mind, Urlacher has a believer in Eric Weinberger, the executive producer of the NFL Network. "Brian has the required camera presence, passion, and energy to have a future in sports television should he choose to pursue that path," Weinberger said.
5a. SiriusXM NFL Radio host Ross Tucker and NFL Network reporter Albert Breer had an interesting conversation about NFL journalism on this edition of the "The Ross Tucker Football Podcast."
5b. ESPN has a heavy marketing push for the WNBA this season given its recent investment in the league as well as the infusion of popular college stars Brittney Griner, Elena Delle Donne and Skylar Diggins. (Griner and the Mercury will appear six times on ESPN networks this season.) ESPN2 and ABC will combine for 14 regular-season WNBA games and among the production elements of note: live microphones will be worn by players and coaches during select games, and mini-cameras will be worn by referees. The seven-time WNBA All-Star Sue Bird has been added to ESPN's studio coverage for select games.
5c. NBA TV will air 45 WNBA games this season including an Aug. 9 game pitting Phoenix (Griner and Diana Taurasi) against Tulsa (Diggins).
5d. Via Sports Media Watch: The overnight ratings for ABC's coverage of the Indianpolis 500 sank to record lows. The 3.8 rating was the lowest for the race portion since it began airing live in 1986.