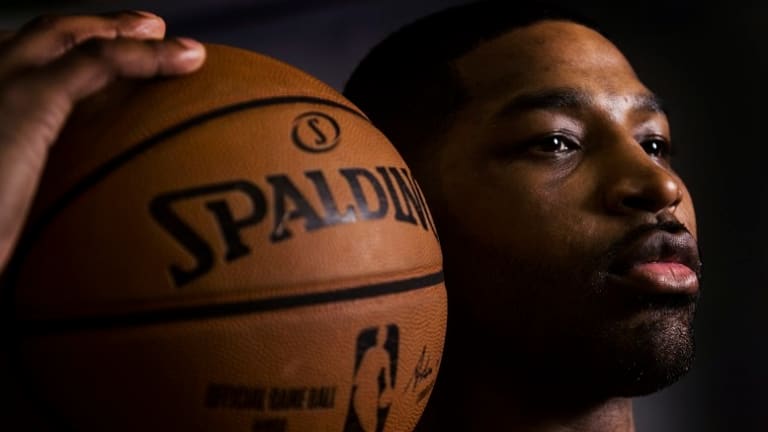 Interview: Tristan Thompson Talks State of Cavs and Career Moving Forward
Tristan Thompson enters this season as the Cavaliers' starting center and one true constant. As the longest-tenured member of the team, he was the fourth overall draft pick in 2011 and a vital cog in the 2016 championship season.
He has been a warrior on the floor his entire career, becoming one of the best offensive rebounders of the modern era. He has also made a name for himself as an unselfish teammate. Today, he is taking his role as team leader seriously.
Thompson, 28, averaged 10.9 points and 10.2 rebounds last season, but injuries limited him to 43 games. He is fully healthy now and spoke exclusively to CavMaven/SI.com about the state of the Cavs and the inevitable trade rumors that are sure to come his way.
Question: What are your overall impressions of the team?
Thompson: I like where we are going right now. Coach (John) Beilein has done a good job of simplifying things. We need to start from the ground up, keep everything simple. Once we master the basics, we can add more to our playbook and defensive schemes. Right now, everything is new. So we just need to find a way to be great at something, you know? Let's be great at the defensive end or let's be great at our concepts. From there we can add new stuff.
Q: What is it like to play for another first-time NBA coach in John Beilein, who spent three decades in the college game?
Thompson: It's been a good transition. One thing I heard about Coach from people at multiple levels of the game is he's a really good offensive mind. And you don't coach more than 40 years by not adapting or not changing schemes or not evolving. He's definitely doing that. What I really like about Coach is he stresses sharing the ball. The ball has energy, everyone is touching it. That encourages guys to give that much more of an effort.
Q: What is your role now, not just in terms of the way you play but also in terms of leadership?
Thompson: Everyone knows what I'm able to do (on the court), so I am being more of a voice off the court. It started last year. It's on me to help my teammates learn the concepts. Not only with the younger guys, but also to help refresh the older guys. I try to do my part to hold everyone accountable, and I think that's what we need. I feel like I've put in the work. Guys see that I come to work every day, punch the clock. They see that, and I think my voice is respected because of it. At the same time, I'm a people person. I understand my teammates. I know which teammates you can get on during the game, and which respond better to constructive criticism. 
Q: What are some of the short-term goals for the team overall?
Thompson: The most important aspect for us is at the defensive end. This is the NBA. Everyone can score points. We have enough good players that scoring won't be a problem. But if you can limit teams to even just five less scoring possessions a night, you can win nine more ball games. So being determined defensively needs to be our identity. If it is, teams will know when they come to play us they will be facing a team that's hard-nosed and physical. If that happens, everything will open up for us on offense.
Q: With an expiring contract, you're likely to hear your name mentioned in trade rumors most of the season. How do you intend to handle that?
Thompson: My whole goal is just to be professional every day. The only thing I'm going to focus on is, "How can I help the Cavaliers be a better team today?" I've been here the longest. We've had some success and put a (championship) banner in the arena.  I am focused on being the best Tristan Thompson I can be. All the business of basketball and all the speculation is just part of the game. It will be like that from now until you're done playing. So you just control what you can control -- and that's your effort on the court and being a professional.
Q: Do you still want to be here?
A: I got drafted here and I won a championship here. I have great memories here. I am a member of the Cleveland Cavaliers and it is my job to punch the clock and come to work every day for the organization. That is how I approach it. There are people who get paid for the business side -- (agent) Rich Paul and (Cavs general manager) Koby Altman and others. That business stuff is all for them. For me, it's about just being a player. You know? Don't overstep your boundries. Just play basketball, and let the guys you pay to be businessmen do their jobs.