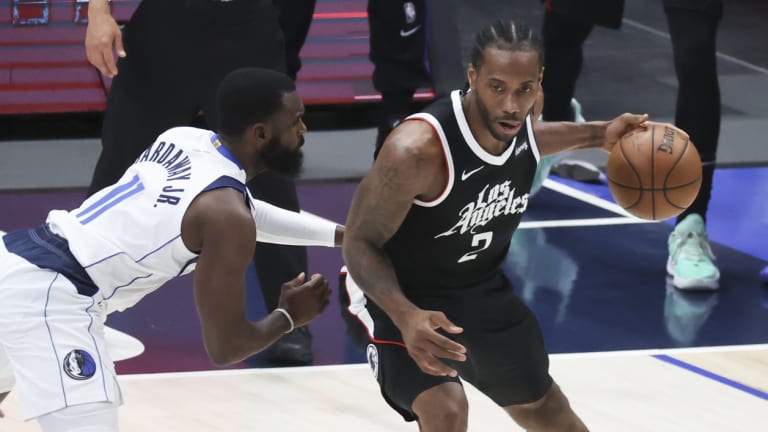 Kawhi Leonard Reacts to Game 7 Win Over Mavericks: 'We Never Gave Up'
Leonard led his team once again with 29 points as LA advances to the Conference Semi-Finals.
Leonard led his team once again with 29 points as LA advances to the Conference Semi-Finals.
The LA Clippers survived one of the most hard-fought First-Round series in recent memory, defeating the Dallas Mavericks 126-111 in Game 7 behind yet another spectacular performance from Kawhi Leonard.
"We just fought hard," Leonard said postgame to ESPN. "We never gave up. We know what type of team they were. We wanted to get better. We did it on the defensive end. We came back in Dallas, won those two games, and it was a [series] from there."
The Clippers' win marks the fifth time since the NBA-ABA merger that a team has come back to win a series after losing Games 1 and 2 on their home floor. LA looked dead in the water after Game 2, but as Leonard said, his team was resilient, winning four out of the next five games (including all three games in Dallas). 
Leonard finished one assist shy of a triple-double, going for 28 points, 10 rebounds and nine assists. His scoring was much-needed, but his assist total (a postseason career-high) was crucial. Leonard was able to break down the Mavericks' zone, drawing in multiple defenders before finding open teammates. Credit should be given to those teammates—Marcus Morris Sr. (7-9 from three), Luke Kennard (3-5 from three) and Terance Mann (2-3 from three)—for knocking down the looks that Leonard created for them, but his gravity ultimately allowed the offense to flow.
Leonard was also all over the floor defensively, snagging four steals and cutting off passing lanes as a help defender. All four of those steals led to fouls by the Mavericks in order to stop LA's fast break; when the Clippers are turning defense into easy offense AND their threes are falling, they are extremely tough to beat.
LA will have very little time to rest up and prepare for their Conference Semi-Finals series against the Utah Jazz, as Game 1 tips off on Tuesday at 7 p.m. in Utah. The Clippers will have to scheme for the likely Defensive Player of the Year in Rudy Gobert, and Leonard will no doubt have to guard All-Star Donovan Mitchell for stretches. The Clippers will aim to force the Jazz to switch and make Gobert guard Leonard and Paul George in space. Look for LA to go back to their small-ball lineup that ultimately proved effective against Dallas.
Related Stories
Three Takeaways from the LA Clippers' Game 6 Win over the Dallas Mavericks
Paul George Reacts to Kawhi Leonard's Performance in Game 6
Kawhi Leonard on Forcing Game 7: 'I Definitely Didn't Want to go Home'