Watch Tyler Herro Hit A Trick Shot While Sitting In The Miami Heat Bench Seats
Herro makes a trick shot during pregame before Tuesday's game against Boston Celtics
Miami Heat guard Tyler Herro is known for his shooting on the basketball court. 
Before Tuesday's game against the Boston Celtics, he showed he can shoot from off the court. Herro made an impressive trick shot during pregame warmups, making a basket while seated on the Heat's bench. 
The moment was captured by 790 AM radio host Brendan Tobin. 
The Heat will need more from Herro tonight against the Celtics because they are playing without forward Jimmy Butler, who was ruled out during pregame because of back soreness. 
Here's the game preview: 
Game time: 7:30 p.m., ET
Where: Miami-Dade Arena
TV: Bally Sports Sun
Betting line: -1.5
VITALS: The Miami Heat and Boston Celtics meet for the fourth and final matchup this regular season. So far this season, Boston holds a 2-1 series advantage. The Heat are 52-80 all-time versus the Celtics during the regular season, including 29-38 in home games and 23-42 in road games.. For the Heat, Nikola Jovic (back), Duncan Robinson (finger), Jimmy Butler (back) and Omer Yurtseven (ankle) are out. For the Celtics, Danilo Gallinari is (knee) is out.
PROJECTED STARTERS
HEAT
G Tyler Herro
G Kyle Lowry
C Bam Adebayo
F Max Strus
F Caleb Martin
CELTICS
F Jayson Tatum
F Al Horford
C Robert Williams
G Marcus Smart
G Derrick White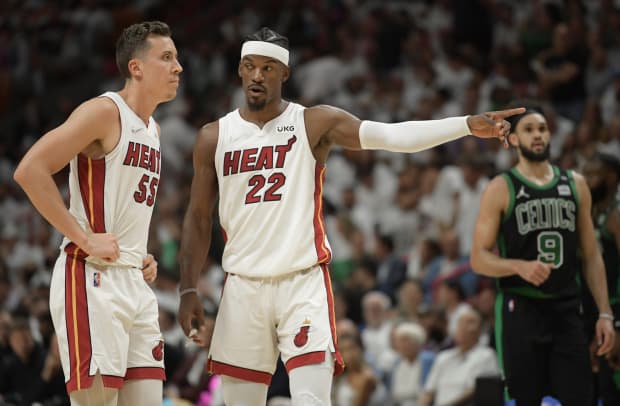 QUOTABLE
Heat center Bam Adebayo on the rivalry with Celtics: ""Obviously before we were here, it's history. And some people still carry that weight, and it's one of those things that you just have to inherit. Some people just don't get it, they don't get it. But when the Celtics come in, we always try to make it a dogfight."
MORE HEAT-RELATED STORIES
Floater becomes part of Tyler Herro's offensive game. CLICK HERE
Miami Heat, Jimmy Butler adjusting to double-teams. CLICK HERE
Kyle Lowry still part of the offensive game plan. CLICK HERE
For a look at some of the latest Heat apparel. CLICK HERE
If you wanna bet on any games at @PrizePicks or PrizePicks.com, use our link and code. They will match your first bet for up to $100. Here's the code: PR-R1YOFY6
Shandel Richardson covers the Miami Heat for Inside The Heat.

TWITTER: @ShandelRich
Follow all of our Miami Heat coverage on Facebook here
Subscribe to our YouTube channel here
For any Heat or NBA questions, please email shandelrich@gmail.com