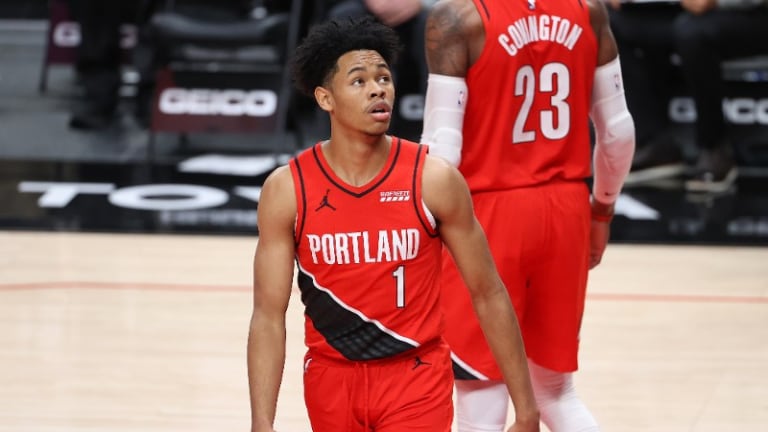 Anfernee Simons Played the Best Defense of his Career Against the Spurs
The third-year guard stepped up offensively in the absence of Damian Lillard, but was just as crucial to Portland's success on the other end.
The third-year guard stepped up offensively in the absence of Damian Lillard, but was just as crucial to Portland's success on the other end.
Anfernee Simons scored 16 points on just 10 field goal attempts. His natural shot-making chops were on full display, and Simons' two assists fail to convey how many times his passes provided teammates efficient scoring opportunities. 
Faced with the challenge of stepping up in Damian Lillard's absence, Simons responded with one of the most impactful, aggressive and controlled offensive performances of his career to date. He was a team-high +16 in Portland's nail-biting win over the San Antonio Spurs on Friday night, a number that matched the eye test.
But the most encouraging aspect of Simons' play in a game the Blazers really needed him wasn't anything he did offensively. It was the other side of the ball where the third-year guard showed his biggest progress.
"Obviously he's a good shooter and you want to make shots," Terry Stotts said of Simons after the game. "But I thought he competed defensively, he got some nice rebounds. He did a little bit of everything, and I was glad he was ready." 
That "little bit of everything" included a handful of splash plays defensively, none more timely than when Simons jumped a passing lane for a thunderous dunk that tied the game with just over five minutes remaining.
Portland trailed by 16 in the opening minutes of the second half, before Simons got off the bench. It's no coincidence the Blazers' game-saving run came with him on the floor, and not only because Simons scored five points in the last few minutes of the third quarter.
Moments after drilling an open three-pointer off a slick extra pass from C.J. McCollum, Simons came up with a trail block of Derrick White that led to McCollum's and-1 finish on the other end – and brought Portland's deficit within two possessions.
Steals and blocks are nice, but hardly an indicator of a team or player's overall defensive impact. Any signs of progress for Simons defensively, even on that more isolated basis, would be cause for celebration. What made his play on that end of the floor especially promising, though, was Simons consistently executing the gameplan when he was directly involved in the action.
Look how he hops to the high side of the pick on the possession below, ensuring DeJounte Murray can't attack middle and goad further rotations from the defense. Simons' deflection, causing a turnover, is just icing on the cake of a job already well done.
Simons wasn't just one of many cogs in the Blazers' relative success defensively on Friday, though. San Antonio regularly targeted him in pick-and-roll, counting on Simons' lack of size and experience to help free DeMar DeRozan for unencumbered attacks to the rim or pull-up jumpers.
It didn't work, at least to near the extent Gregg Popovich seemed to be expecting.
"A lot of it understanding of what to do, how to get different angles on screens, how to chase over the top. Also effort – it comes hand-in-hand," Simons said after the game of his defensive improvement this season. "I think this year I'm a lot stronger and I'm a lot smarter on defense, and know what angles to take and know when an action is coming towards me. So I think it's a combination of everything."
The film says as much, too.
Simons did well all night cutting off DeRozan in pick-and-roll at the point of attack, then scrambling back to his man as Portland's primary defender recovered. The Blazers have struggled to implement those help principles since the season tipped off in December, but Simons – through relentless activity, physicality, understanding and effort – routinely made them look easy on Friday night.
On this third-quarter possession, he doesn't just completely stymie DeRozan's drive as Norman Powell falls to the floor. Knowing full well getting a stop will require multiple efforts, Simons disengages as Powell recovers and immediately sprints to the corner, preventing what would have been wide-open triple from Patty Mills.
Simons continued that dogged defensive pursuit just a couple trips later. 
Watch how many times he thwarts tricks from the Spurs, keeping the ball in front of him and ultimately forcing a missed three.
Mills' flipped screen at the last second doesn't fool Simons, and neither does Jakob Poeltl's flare as he gets back to his man after halting DeRozan's penetration. Simons then digs from the top of the key to cut off DeRozan again, finally getting a solid contest on Mills' three-point attempt after forcing the pass. That's four separate defensive plays in eight seconds, all coming at inflection points which could have led to San Antonio scores.
Even when he and his teammates weren't quite on the same page, Simons still managed to make a difference defensively. 
Powell is supposed to direct DeRozan left as Mills comes to set a pick, but gets caught on the screen, allowing the ball to get middle. Simons doesn't panic, taking two steps toward DeRozan in anticipation of a potential Eurostep. He never loses balance, though, easily reversing course and closing out to Murray – a reluctant long-range shooter – on the pop with a low base and choppy feet.
Turnover on San Antonio, with just less than 90 seconds left.
Covington deserves the most credit for his game-saving steal on the Spurs' penultimate possession. Powell forcing a pass from DeRozan then finishing in transition was obviously hugely important, too.
But neither player is likely in position to make those massive plays if Simons doesn't offer pinpoint and perfectly-timed help on DeRozan, both when targeted in ball-screen action and then again as DeRozan sizes up Powell from the nail. These are the little things that Simons and the Blazers did with far more regularity against San Antonio than normal.
Will Simons' breakout game earn him a permanent spot in Stotts' rotation? It seems unlikely. He's not among the eight Portland players earmarked for regular minutes, and Stotts has preferred Nassir Little of late as his seldom-used ninth man.
But Lillard's aches and pains won't vanish entirely, and the Blazers' 17 remaining games come over the next 29 days. By virtue of the breakneck schedule alone, basically, Simons will get several more opportunities to prove himself before the playoffs.
And almost no matter what he does offensively, it will be Simons' ability to replicate his rock-solid defense versus the Spurs that most informs his prospective role going forward.