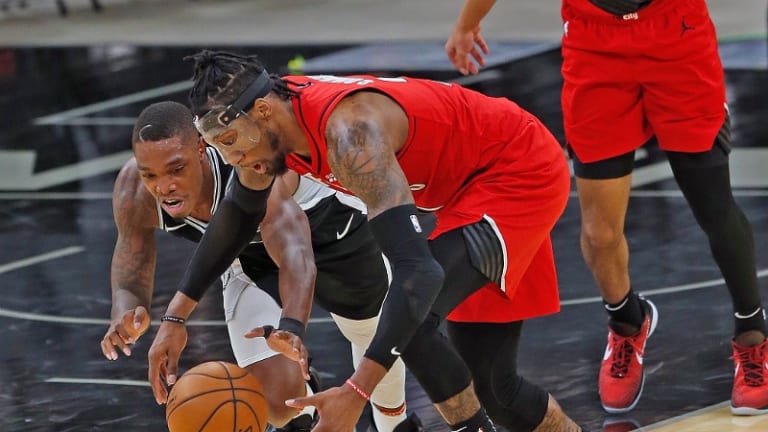 Blazers Fight Back For One-Point Win Over Spurs
Playing without Damian Lillard, Portland used a team effort to overcome a 16-point second-half deficit against San Antonio.
Playing without Damian Lillard, Portland used a team effort to overcome a 16-point second-half deficit against San Antonio.
Notes, observations, analysis, clips and more from the Trail Blazers' thrilling 107-106 win over the San Antonio Spurs on Friday night at AT&T Center.
Robert Covington will get most credit for the two-way sequence that put the Blazers ahead for good with 22.8 seconds left. Obviously, Norman Powell's go-ahead finish in transition doesn't happen if Covington doesn't have the presence of mind to leave his man and rip Lonnie Walker's dribble as the shot-clock winds down. It was a classic encapsulation of Covington's best attributes as a defender: natural instincts, understanding of time and score, and quick, strong hands. But Walker was only forced to put his head down and make a play because Powell had completely stymied a cooking DeMar DeRozan – who scored eight of the Spurs' last 11 points – in isolation. Portland never found a consistently viable matchup for DeRozan, but Powell, as expected, proved its top option, and saved his stickiest individual defense for when it mattered most. He got a good contest on DeRozan's missed, go-ahead pull-up on the game's final possession, too.
Note the well-timed and well-positioned help of Anfernee Simons in the clip above, by the way. That's the type of subtle but crucial defensive play he made throughout Friday's game, further evidence of the confidence and aggression that helped propel Simons to perhaps the most impactful game of his career. The long-range shooting was eye-popping and the defense was solid, but what made Simons' performance especially encouraging was the calm, controlled manner in which at times he ran Portland's offense. Simons threaded the needle for several impressive pocket passes as a ball-screen operator, and found C.J. McCollum for a corner three with a perfectly-placed overhead pass from the opposite wing. This is the type of game that will make Terry Stotts again consider Simons' place in the rotation when the Blazers are fully healthy.
Portland, by the way, trailed 66-50 in the third quarter, and could have let go of the rope multiple times after that as the Spurs built multi-possession leads. The Blazers stayed engaged regardless, receiving key second-half contributions from every player who took the floor. It was nowhere close to perfect, but the good vibes emanating from Portland's win can't go overlooked for a team recently mired in frustration.
The stats are stellar, but still don't quite do McCollum's outstanding play proper justice. He was an active, committed defender from the opening tip, and seemed to relish showing off his passing chops as the Blazers' primary ball handler sans Damian Lillard. He got whatever and wherever he wanted against the Spurs, looking for his shot and keeping his teammates involved with the ease of a full-time point guard. If a few more of McCollum's or his teammates' rimmed-out jumpers had fallen, his numbers would have been even better – and Portland might have avoided that final-second drama.
A telling turning point in Friday's game? When the Blazers, trailing by 16 early in the third quarter after another Jakob Poeltl score at the basket, called time out and finally wised up by going under DeJounte Murray pick-and-rolls. Portland, like the whole league, knows the scouting report on Murray. Forcing him to shoot, even from mid-range, is a far better proposition than letting him crease the paint with a defender on his hip – especially with a non rim-protector like Enes Kanter as the last line of defense. Maybe Stotts was worried about Murray, among the fastest players in basketball, beating his defender to the other side of the pick with a head of steam to the rim if the Blazers. Perhaps he wanted to stay scheme-consistent regardless of personnel, too, hoping Portland finds some much-needed, lasting consistency and communication defensively. Either way, going under on Murray ball screens was always the right strategy for the Blazers, and it seemed obvious pre-game. Good thing Lillard, near Stotts as he called that key timeout, was motioning for the change immediately after Murray exploited Portland's vexing defensive approach yet again.
Next up: Sunday at Charlotte Hornets, 4:00 p.m. (PST)