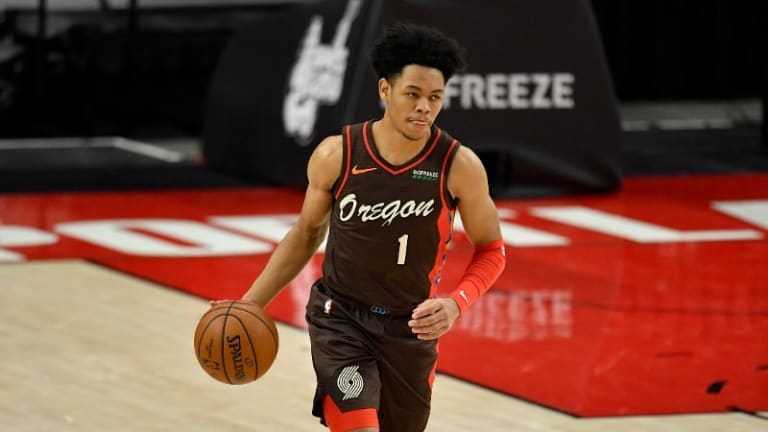 Anfernee Simons' Tenure With The Blazers Is Reaching A Long-Expected Crossroads
This is what many Blazers fans feared when Portland selected him the first round of the 2018 draft.
The Trail Blazers' status as trade-deadline buyers is mostly about maximizing championship odds while Damian Lillard plays at his peak. 
Non-destination franchises like Portland can't afford to waste the prime of a superstar shining so blindingly bright. Lillard has his faults, but his truly historic play over the last two seasons has answered the question about whether he's good enough to be the best player on a title team. Even LeBron James needs the right pieces around him.
Lillard does too to win at the game's highest level, and that means looking for upgrades to a roster that when it's fully healthy has no gaping holes. An added bonus of scouring the trade market for an impact rotation player? Better balancing the roster so a talented, largely unproven young player isn't relegated to the bench full-time before the cash-strapped Blazers have some tough financial decisions to make this summer.
Anfernee Simons has emerged as the odd man out in Portland's rotation since C.J. McCollum returned from injury, an ironic twist of fate after his nationwide profile exploded with his dunk-contest win at All-Star weekend. Simons didn't get off the bench during McCollum's first three games back in the lineup, and only played on Sunday night once the Dallas Mavericks' red-hot shooting rendered the fourth quarter extended garbage time.
It's hardly surprising that Simons has been crunched by the numbers game. His positional and stylistic redundancies with Lillard and McCollum have been obvious since he got to Rip City, while Gary Trent Jr. has simply developed at a faster rate than his fellow 2018 draftee. 
One of Simons' potential paths to consistent minutes was Trent proving stout enough to defend big wings, but the latter's iffy play on that end this season has made clear that's asking too much of him. When Stotts goes to three-guard lineups, Trent has cemented himself as that third guard alongside the Blazers' stars.
Another obstacle in the way of Simons' permanent place in the rotation? Portland's newfound proclivity for switching. 
It's fair to assume the Blazers will more often play a traditional brand of defense when Jusuf Nurkic finally returns. Enes Kanter deserves regular playing time until his defensive limitations under the postseason pressure cooker push Portland to reassess, and both centers are obviously best off banging with opposing bigs in the paint than trying to keep up with guards on the perimeter.
The opposite, not shockingly, goes for Simons. He's better on defense this season, fighting harder over screens and rotating with urgency as a help defender. Simons is still easily overpowered by bigger ball handlers in one-on-one situations, though, despite his clear efforts to play with more physicality. Unlike Rodney Hood, he's an exploitable mismatch target even on post-ups and quick duck-ins for bigs who normally don't create their own offense. 
It would be one thing if Simons was enjoying anywhere near the breakout campaign McCollum did in his third season. But Simons' strides in 2020-21, clear as they've been, have come in stops and starts, with splashed off-dribble threes and deft pocket passes sometimes quickly followed by careless turnovers and overzealous individual defense. 
Simons' overall play has certainly been encouraging, just not good enough to force his way into the lineup full-time when the games of superior positional fits like Trent and Nassir Little are growing, too. The Blazers know that, naturally, and also know it's unlikely to change as long as their star backcourt remains in Rip City and Stotts has options that give him more flexibility on defense than Simons.
This was the fear when Portland drafted Simons three years ago – that he'd grow good enough to play while on his rookie contract, but not good enough to actually get on the floor for a veteran playoff team driven by two guards. The thinking back then went that selecting Simons was an asset play, another way for Olshey to eventually add talent in lieu of draft picks or a wholesale roster makeover.
But the trade deadline is Thursday. If Simons isn't playing for another team three days from now, the unfortunate reality is that he's unlikely to actually play much for the Blazers, either.