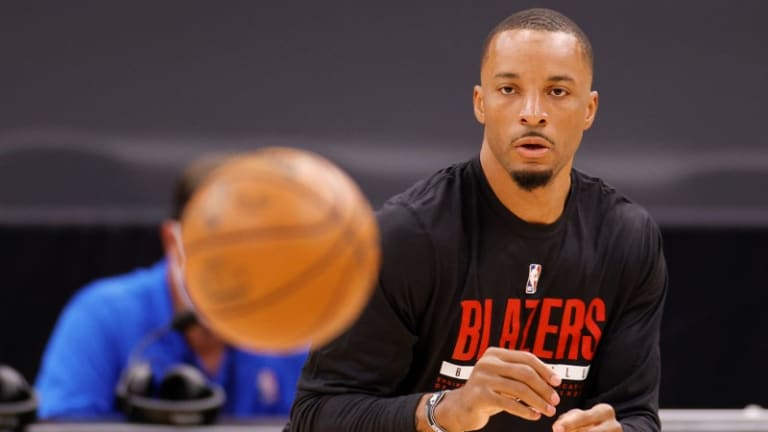 Don't Overlook Norman Powell's Impact At The Free Throw Line
The Blazers' newest acquisition took a whopping 15 free throws against the LA Clippers, further evidence of an encouraging recent trend.
Easily ignored amid widespread talk of the Trail Blazers' "embarrassing" early defense against the LA Clippers was that they nearly managed to overcome it.
Portland was down just two when Robert Covington drained a tough three-pointer midway through the third quarter, almost completely erasing the 26-point deficit it faced before halftime. The Clippers put their foot down from there, of course, immediately going on a mini-surge to ensure the score was never again within a single possession before the final buzzer sounded.
Just because Portland's comeback effort ultimately fell short, though, hardly means there's nothing to be gleaned from it. Relative effectiveness of the Blazers' more aggressive ball-screen coverage defensively after intermission sticks out, but Norman Powell's frequent trips to the free throw line do more.
Powell went 14-of-15 on free throws during his 32-point outing against LA, exploiting a defense that sold out to stop Damian Lillard by attacking the rim again and again with hard-charging drives. He drew nine fouls altogether, a game-high. Powell's 15 free-throw attempts, in fact, were more than any teammate of Lillard's had in a game since LaMarcus Aldridge took 19 freebies against the Golden State Warriors in November 2013.
Portland is currently 21st in free throw rate, and finished no better than average there during any of Terry Stotts' eight prior seasons in Rip City. But early returns from Powell's brief tenure suggest the Blazers are well on their way toward bucking that trend.
Lineups featuring Lillard, McCollum and Powell boast a free throw rate of 29.2 percent, per NBA.com/stats, just behind the Philadelphia 76ers' top-ranked season-long number. Portland's share of free throws per field goal attempt with Powell off the floor is a team-low 22.3 percent since he was acquired, too.
Powell won't get to the line at will every game, obviously, and it bears mentioning that LA is among multiple recent Blazers opponents who commit an inordinate amount of fouls. Six games is too small a sample size to learn anything concrete from statistics.
But the priors on Powell's prowess at getting to the line lend credence to his impact on Portland's free throw rate. 
He draws a foul on 9.4 percent of his drives, per NBA.com/stats, on par with LeBron James. Lillard is even better in that regard, and the frenzied attention his presence requires creates ample space for Powell to bumrush scrambling defenses with explosive straight-line drives. Powell's influence as a transition engine factors into the Blazers' uptick in free throws, too. 
The verdict might be in on Portland's defense. Maybe the Blazers' marriage of scheme and personnel will prevent them from becoming even a league-average defensive team this season. Should that prove the case, Powell's addition will only make the difference Portland needs if this team gets even better on offense. 
Among the most efficient shot attempts in basketball? Free throws, and Powell is already helping provide the Blazers plenty more of them.