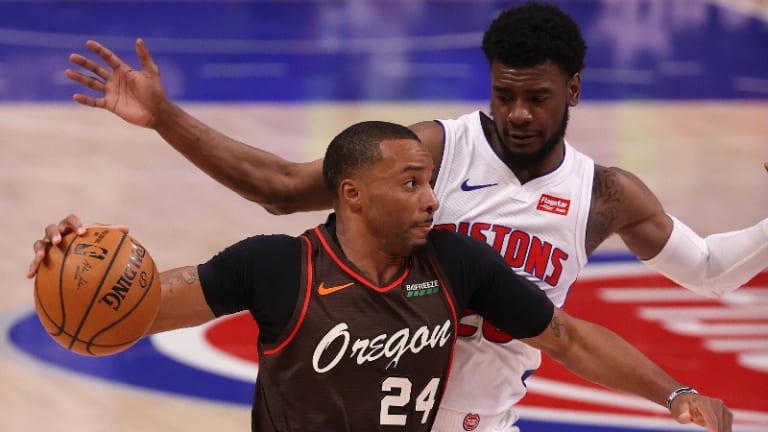 Norman Powell Is Igniting Portland's Long-Dormant Transition Attack
The Blazers' trade-deadline acquisition is already giving his new team an element its been missing.
Norman Powell saw the ball carom hard off the rim and shifted to his left. In one swift motion, he grabbed Josh Jackson's errant three and hopped toward the other end of the floor, quickly dribbling while fending off a Detroit Pistons defender. Powell was already Euro-stepping three bounces later, long-striding to the rim as he attempted to split a crowd of Detroit Pistons defenders.
Problem: Powell picked up his dribble early, dooming his one-man fast break and forcing him to kick the ball back to Damian Lillard on the wing. 
Lillard got the assist, and Robert Covington got the points. But most credit for the latter's trail three in the second quarter of the Trail Blazers' blowout win over the Pistons on Wednesday night belongs to Powell, whose speed and gumption in the open floor is already providing his new team with a dynamic its long lacked.
That was hardly the only time Powell raced the ball up the floor with controlled abandon against Detroit.
He earlier helped Covington get his first three of the game, grabbing a steal, spinning by C.J. McCollum in transition and pitching ahead to Lillard. Powell indirectly earned his team two straight layups in the second quarter, first swiping Corey Joseph's dribble and dishing to Carmelo Anthony on a 2-on-1 fast break, then pushing the ball after corralling a long rebound and getting his layup attempt blocked amid a horde of defenders. He found Covington for an easy score off a baseline out-of-bounds play moments later.
Powell, obviously, isn't Giannis Antetokounmpo or LaMelo Ball, a basketball locomotive with the size, athleticism and court sense to single-handedly pull his team toward the top of the league in transition frequency. Those guys are anomalies for a reason. 
But Powell is in his own way, too. There just aren't many tertiary playmakers in the league capable of putting of such consistent self-created pressure on the rim. It's not just in the open court, either. Powell can certainly get to the paint in the flow of Portland's half-court offense, but he can also turn simple drag screens early in the clock into quick-hitting rim attacks.
No one on the Blazers roster other than Lillard, before or after the trade deadline, could make this and-1 look so easy.
Lillard indicated as much after Wednesday's game.
"I think he's fitting in perfectly," he said of Powell. "Another guy who can handle the ball and attack the rim. Typically, for us, one of the only guys who plays in the paint off the dribble...I feel like we haven't had to go out of our way to make him fit, he just fits into our team."
Powell hasn't fit quite as seamlessly as Lillard describes when Portland gets bogged down in the halfcourt. He's too often stationary in the corner, watching Lillard or C.J. McCollum dance with the ball, and is sometimes falling victim to a "my turn, your turn" attitude when his number is actually called.
In transition situations, whether by his own volition or running with his teammates, though? Powell isn't just a perfect fit, but a missing piece the Blazers have long lacked.