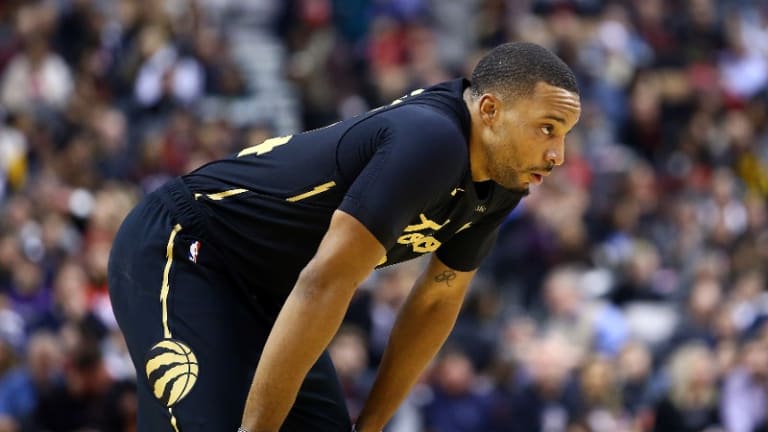 How Does Norman Powell Fit With The Trail Blazers?
The veteran guard isn't a panacea, but plugs holes on both sides of the ball for Portland. Let's dig into the film and numbers.
First things first: Norman Powell is more of a guard than a wing. He might not even supplant Derrick Jones Jr. in the starting lineup, and there could be some games he's not a member of the Trail Blazers' closing five.
Among the reasons why Gary Trent Jr. felt so redundant in Portland is that three-guard lineups featuring he, Damian Lillard and C.J. McCollum were untenable defensively. That trio's defensive rating this season was an ugly 121.3, per Cleaning the Glass, nearly identical to its mark from last year over a much larger sample size.
There's no guarantee three-guard outfits with Powell in Trent's place will fare any better defensively. Powell has experience checking star wings, even in the playoffs, But at 6-foot-3, he's absent the size needed to be an every-down stopper of megastars like LeBron James, Luka Doncic and Kawhi Leonard. Though his physicality and plus wingspan somewhat compensate for physical deficiencies in one-on-one situations, Powell can leave much to be desired as a help defender. Any aid his presence provides on that side of the ball will come on the margins, whether in three-guard units or more traditional lineups.
Once it became clear Portland was out of the running for Aaron Gordon, the reality is that Neil Olshey was never going to bring in the type of wing who could make a two-way difference for the Blazers. Those guys are increasingly valuable commodities for a reason. Every team in the league could use another player who fits that archetype, not Portland alone.
Just because Powell isn't the two-way panacea the Blazers need to vault to championship contention doesn't mean he's not a clear upgrade on Trent and Rodney Hood. 
An iffy shooter early in his career, Powell has developed into a spot-up marksman of late, draining over 43 percent of his catch-and-shoot triples in each of the last three seasons, per NBA.com/stats. He's not just a standstill option, either. Powell is also shooting a scorching 41.0 percent on pull-up triples, top-10 among players taking at least two such tries per game.
Even if that career-high mark on off-dribble threes proves unsustainable, Powell's relative prowess as a penetrator – especially compared to Trent and Hood – should give the Blazers' offense a jolt. He's averaging 8.1 drives per game this season, another personal best, shooting an even 50 percent on those forays to the rim while drawing a high amount of fouls, per NBA.com/stats.
Trent and Hood, by contrast, have combined for just 4.8 drives per game this season. Powell finishes better and gets to the line at a higher clip while penetrating, too. 
The strides Trent took as a ball handler during his time in Rip City were obvious. But almost no matter how much tighter his handle becomes or how much more adept he grows at changing speeds, Trent just isn't going to be able to crease the paint consistently without a built-in schematic advantage.
That's not the case for Powell. He has the creativity and wiggle to beat quality defenders in isolation, not to mention the explosive first step needed to attack gaps and close-outs with an array of finishes at the rack.
Powell's burst with the ball is an attribute his new teammates other than Lillard lack. The Blazers have long needed another perimeter player who puts pressure on the rim off the bounce, forcing defensive rotations that lead to mistakes and scoring opportunities elsewhere for the offense. Powell isn't a natural passer, but he'll offer Portland some of that dynamism regardless, even as a secondary pick-and-roll operator.
Where Powell's speed looms even larger is in transition. A whopping 25.4 percent of his offensive is derived from transition play, per NBA.com/stats, a team-high for the go-go Raptors. The Blazers have never emphasized fast breaks under Stotts, and are mere percentage points ahead of the bottom-ranked New York Knicks in transition frequency this season.
Powell won't turn Portland into Toronto West or LaMelo Ball's Charlotte Hornets. He's not a one-man engine of transition offense. But there will definitely be times when Powell grabs a defensive rebound, swipes a steal or catches with a head of steam before taking full flight down the floor, racing past teammates and opponents for layups on the other end.
Portland's incumbent players, even Lillard, just aren't capable of this type of force.
Did the Blazers need another shoot-first guard with limited positional versatility? No way. 
But ponying up the dough for Trent this summer in restricted free agency never made sense for Portland, and Hood's non-guaranteed contract for next season was an asset Olshey needed to cash. Trading two-for-one also better clarifies Stotts' rotation. The Blazers cleared an extra million dollars worth of space below the luxury tax, too, and will no doubt remain a factor on the buyout market.
Maybe Powell ends up a rental, bolting in free agency this summer for a bigger role in a bigger market. The opportunity to re-sign a player of his caliber while remaining over the salary cap, though, is huge for a team as cash-strapped as Portland.
An added bonus? Powell's addition potentially helping push the Blazers to an extra round in the playoffs.