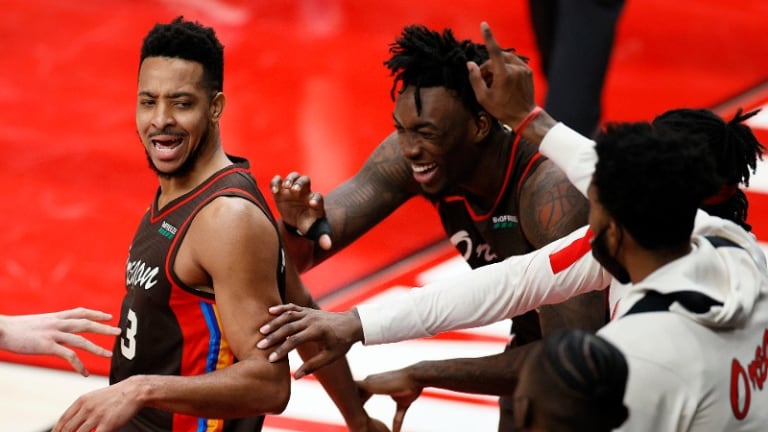 Optimistic Blazers 'Heading In The Right Direction' As Tough Finish Dawns
Portland's toughest stretch of the regular season happens to be its last.
Portland's toughest stretch of the regular season happens to be its last.
The Trail Blazers' toughest stretch of the regular season happens to be their last. Portland is winless in six tries against the Utah Jazz, Phoenix Suns and Denver Nuggets this season, not exactly a ringing endorsement of its prospects to avoid the play-in tournament as the postseason dawns. 
But amid the Blazers' stunning turnaround, Norman Powell is confident his team's up for the challenge provided by a three-game finish against Utah, Phoenix and Denver – pressure-laden stakes and previous results be damned.
"I think we're taking steps in the right direction. That started on the road trip; I thought we were playing great basketball offensively and defensively," Powell said after Portland's win over the Houston Rockets on Monday. "We know what's at stake. I haven't been here a long time, but I pay attention to the standings and I want to win. My main focus is winning. So it doesn't matter to me what past history is, our 0-6 record against these teams. If we go out there and handle our business and do what we need to do defensively, we're gonna give ourselves a chance, and we've been doing that night in and night out."
The Blazers own the league's best offense during their 8-1 surge, scoring 124.9 points per 100 possessions over that timeframe, per NBA.com/stats – far outpacing the second-ranked Miami Heat. But offensive success is hardly a surprise for Portland. It was a top-six outfit on that side of the ball even before C.J. McCollum returned from his wrist injury in mid-March.
What's most propelled the Blazers' of late, as Powell suggests, is indeed wholesale defensive improvement. Their 110.2 defensive rating since another dispiriting loss to the Memphis Grizzlies on March 25 ranks sixth in the league, per NBA.com/stats. Portland has been even stingier with its three-guard starting unit on the floor, sporting a 104.0 defensive rating for the season at large – comfortably better than the Los Angeles Lakers' top-ranked mark.
Count that remarkable defensive growth as a reason why C.J. McCollum is optimistic heading into Portland's defining three-game finish. Another? McCollum, at a scorching 44.1 percent from three in the last nine games, was sidelined for half of the Blazers' six losses to the Jazz, Suns and Nuggets.
"We're heading in the right direction," he said. "Play two tough opponents then we finish with another tough opponent against the Nuggets. I think we should have won that Nuggets game at home, but it is what it is. I don't think I've played any games against the Suns. I don't think I played against Utah. It'll be a tough game, but we'll be ready."
Forgive McCollum for getting confused; he's played in both of Portland's losses to Utah. Unlike Powell, McCollum insists he isn't keeping a close eye on the standings, parsing the countless scenarios that will decide whether the Blazers stay sixth in the West or move a spot in either direction before the postseason.
Even if they aren't all acutely aware of the standings in real time, though, it's safe to say McCollum and his teammates will play with the urgency befitting must-win games regardless. After all, Portland's essentially performed under that pressure cooker since late April, yielding season-changing results. 
"We're gonna come out and play these games like they're playoffs," Powell said.