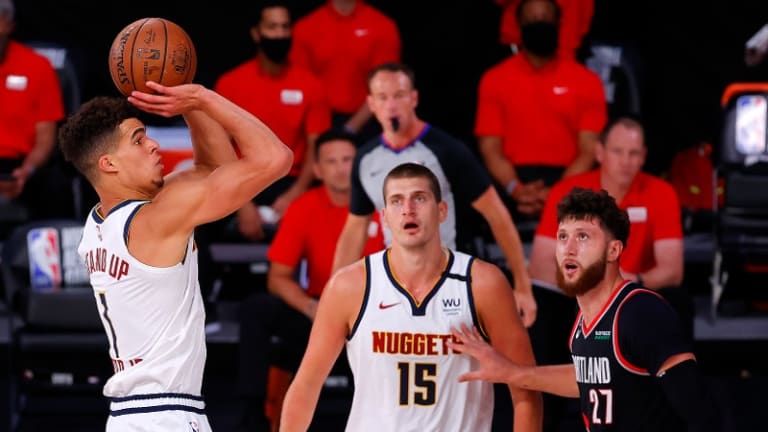 Portland's Best Bet At Playoff Success? A First-Round Series With Denver
Portland could meet realistic playoff expectations after all if the standings break right for a first-round matchup with Denver.
Portland could meet realistic playoff expectations after all if the standings break right for a first-round matchup with Denver.
The unfortunate reality of the Trail Blazers' abrupt late-season turnaround is that it hasn't done much to change their playoff ceiling. Even if Portland didn't swap Gary Trent Jr. for Norman Powell and played mostly winning basketball leading up to the last week of the regular season, it would still be considered a second-rung title contender at best in a loaded Western Conference. 
That label is an optimistic assessment of the Blazers' championship hopes. Seven wins in eight games, even with a 19-point(!) average margin of victory, haven't answered questions about how Portland plans to make life hard on superstar wings or deal with teams who own an imminent edge in size and athleticism. Concerns about the Blazers' offense against postseason opponents geared to stop Damian Lillard aren't waived away by Powell's hard-charging drives or Jusuf Nurkic's burgeoning comfort scoring and playmaking on the roll.
Winning a first-round playoff series should've always been this team's measure of success, a realistic if humble expectation that hasn't changed. What has is the likelihood of Portland pulling it off this season – and not just because Lillard and company are playing their best basketball at exactly the right time.
The Denver Nuggets deserve plaudits for more than surviving the season-ending injury to Jamal Murray. They're 10-4 since Murray tore his ACL on April 12, tied for the second-best record in basketball over that timeframe by ranking eighth in both offensive and defensive efficiency. Denver hasn't just beaten up on cupcakes, either, six of those wins coming against teams north of .500. The Nuggets' +5.6 net rating over that timeframe is actually slightly better than their mark before Murray went down, per NBA.com/stats.
But no one around the league will be scared of Denver come playoff time without the Blue Arrow in its quiver. 
Nikola Jokic is probably the best offensive player in the world, a three-level cheat code of high-arching jumpers, highlight-reel dimes and all-court playmaking control. Michael Porter Jr. has leveled up this season, and Aaron Gordon gives the Nuggets a viable matchup for LeBron James, Luka Doncic and Kawhi Leonard, not to mention some extra supporting punch offensively.
Denver is every team's preferred first-round matchup for a reason, though. Getting the most out of Jokic defensively still caps his team's ceiling on that side of the ball against many playoff foes, and without Murray, the Nuggets lack a sustainable, threatening source of on-ball offense other than the deserving MVP frontrunner. The intricate two-way recipe Denver needed to win a title just doesn't exist with Facundo Campazzo, P.J. Dozier and the recently signed Austin Rivers in Murray's place.
Denver currently sits fourth in the Western Conference, a game-and-a-half back of the LA Clippers for third with four left to play. It's safe to say the Nuggets don't want to move up even if they could; staying at fourth would give them a real chance at not meeting the Clippers or Los Angeles Lakers until the Conference Finals.
That's an ideal potential path for the Blazers, too. But getting there would mean overtaking the Dallas Mavericks for fifth, and Portland possessing the head-to-head tie-breaker won't matter if Dallas – a half-game up on the Blazers – takes care of business against a soft finishing schedule. The Mavericks, obviously, wouldn't mind the prospect of a first-round matchup with Denver and avoiding the LA teams before a berth in the NBA Finals is on the line, either. They'll be fighting during the final week of the regular season, just like Portland.
The odds are still in Dallas' favor. FiveThirtyEight projects the Mavericks to finish a full game ahead of the Blazers, and the latter's remaining opponents have more at stake.
But there's also plenty on the line for Portland, and Dallas hasn't exactly been consistent in a season full of stunning single-game outcomes league-wide. Will the Blazers get the break they need to finish fifth? Murray's absence means Portland's postseason fate – plus some franchise-altering decisions this offseason – could very well hinge on it.