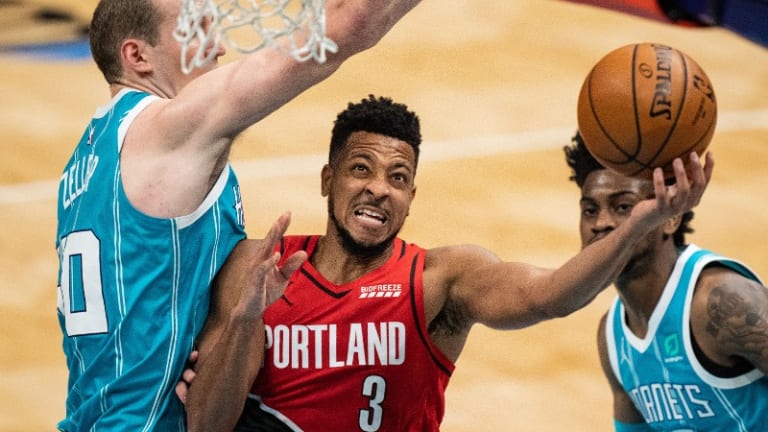 Struggling Blazers Routed By Hot-Shooting, Short-Handed Hornets
Portland, playing without Damian Lillard, was out-hustled and out-executed from the beginning against Charlotte.
Portland, playing without Damian Lillard, was out-hustled and out-executed from the beginning against Charlotte.
Notes, analysis, observations, clips and more from the Trail Blazers' ugly 109-101 loss to the Charlotte Hornets on Sunday at Spectrum Center.
Portland lost this game in the first quarter, when Charlotte dropped 44 points on 77.2 percent shooting, draining seven triples and doling out 11 assists. The Blazers didn't help themselves offensively, shooting 8-of-20 overall while missing multiple open looks and failing to play with pace and movement in the halfcourt. But Portland's defense, obviously, was the far bigger issue. Terry Stotts' team just didn't show up to play on Sunday, lacking almost any semblance of intensity and connectivity defensively. Terry Rozier hit a few tough shots en route to his 17 first-quarter points, and Miles Bridges, tough for the Blazers to contain all night, is clearly in the midst of a breakout while shouldering more ball-handling duties without LaMelo Ball and Gordon Hayward. There's just absolutely no excuse for Portland's porous first-quarter defense, though. That it came against a team so sorely short-handed as the Hornets, who also played without Devonté Graham, only makes their video-game offensive numbers more damning of Portland.
Rondae Hollis-Jefferson, just signed to a second 10-day contract, got a surprise start versus Charlotte with Damian Lillard sidelined. His presence wasn't the Blazers' problem defensively in the first quarter, of course. Hollis-Jefferson and Jusuf Nurkic were the only Blazers playing with near enough energy and activity early. Regardless, Portland's embarrassing first-quarter defense isn't exactly an endorsement of Hollis-Jefferson getting regular minutes given the breadth of his offensive limitations. Hollis-Jefferson, unfortunately, didn't notch a single minute at small-ball center – the only position where he's found regular success over the past two seasons. Why? What Hollis-Jefferson's complete lack of shooting range does to the geometry of the floor. Merely spacing to the short corner on the weak side of the court should be a non-starter for forwards not named Zion Williamson.
Offense, by the way, ended up being the side of the ball where the Blazers struggled most. Charlotte managed just 65 points after the first quarter, shooting 35.5 percent from the field and committing 12 turnovers as the result of some regression to the mean and pepped-up Portland defense. The Blazers can live with a single-game defensive rating of 113.5, over two points better than their bottom-two mark for the season's duration. What they can't survive is C.J. McCollum and Norman Powell combining for 39 points on 38 shots in a game played without Lillard, while their starting forwards combine for seven points – all from Hollis-Jefferson. Offensive execution was a problem for Portland all game long, its collective shoot-first instincts too often taking hold. Needless to say, the Blazers really, really missed the incessant pressure Lillard puts on defense in the halfcourt.
Derrick Jones Jr. was a healthy scratch on Sunday, Hollis-Jefferson ostensibly taking his spot in the rotation. Don't count on Stotts to stick with that direct swap going forward, but it's telling Jones' minutes were cut instead of Nassir Little's. Jones' two-way impact on the Blazers can be tough to decipher given the way defenses treat him away from the ball. Solid as he is as an on-ball defender and spectacular as he can be as a shot-blocker, Jones' defense just hasn't been good enough to compensate for the rippling effects of his lack of shooting. Demoting Jones, tough as it would be given the player option on his contract for next season, is a move worth considering. But flat replacing him with Hollis-Jefferson? Let's just hope that dynamic played out against Charlotte because Portland, barred from signing him to another 10-day once his current deal expires, wanted an extended look at Hollis-Jefferson in a seemingly winnable game.
Carmelo Anthony went on a vintage heater in the fourth quarter, scoring 11 straight points midway to suddenly bring the Blazers within single digits as the game clock read 4:20. 'Melo poured in 16 points during the final stanza altogether, but his hot hand got the best of him once he made's Portland's comeback actually seem feasible. Anthony forced up several shots in the game's final minutes, on multiple occasions looking off teammates to shoot over multiple defenders. He even slowed down a fast break on which the Blazers had numbers, turning his back to the rim for a missed turnaround. Portland only had a long-shot chance to win on Sunday because of Anthony's earlier onslaught, but his ball-hogging after it was finished was the biggest reason his team utterly failed to capitalize from there.
Up next: home on Tuesday versus LA Clippers, 7:00 p.m. (PST)