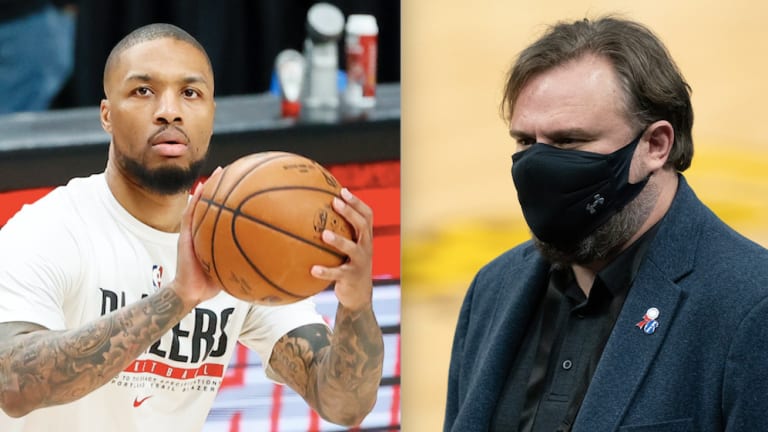 Report: Sixers Covet Trade Package to Flip for Damian Lillard
The Sixers are intent on trading Ben Simmons for a package they could eventually flip for Damian Lillard, per Jake Fischer of Bleacher Report.
It's been an open secret for weeks that Daryl Morey is highly unlikely to make a trade with the Trail Blazers that doesn't bring Damian Lillard back to the Philadelphia 76ers. And even as his dreams of swapping Ben Simmons for Lillard as soon as possible fade further and further from reality, Morey still has ambitions of effectively using his disgruntled star point guard to acquire Portland's.
According to Jake Fischer of Bleacher Report, the Sixers only have eyes of trading Simmons for a package of players and picks that could eventually be flipped to the Blazers in exchange for Lillard.
For the Sixers and president Daryl Morey to move Simmons, it will be with an eye toward maximizing the prime of Joel Embiid, who signed a $196 million, 4-year extension Monday night. Therefore trading Simmons now for anything short of a haul that could immediately be flipped for Lillard, in the event he does request a trade, would be a devastating blow for Philadelphia's front office, and their efforts to pair Embiid with a bonafide superstar. 
Confirming recent intel and momentum on Lillard's status in Portland, B/R also reports that the expectation league-wide is for him to enter 2021-22 committed to Chauncey Billups and the Blazers. If Portland underperforms, Lillard could revisit forcing his way out of Portland before February's trade deadline.
Despite Simmons still avoiding contact with Philadelphia's decision-making brass, including Joel Embiid, the Sixers are reportedly still comfortable with the possibility of tipping off next season with the former No. 1 overall pick on the roster—at least if no trade offer is made to Morey's liking.
The Minnesota Timberwolves and San Antonio Spurs are known suitors of Simmons. Though both teams could potentially put together trade packages of young players and future picks for Simmons that would be enticing to Philadelphia in a vacuum, B/R notes the Sixers' return from Minnesota and San Antonio likely wouldn't be enough for them to subsequently land Lillard.
Talk of a three-team swap between Portland, Philadelphia and the Golden State Warriors—ostensibly sending Lillard to the Sixers, Simmons to the Warriors and prospects and picks to the Blazers—was "categorically denied" by multiple parties, too, according to Fischer. Simmons, remember, apparently has no interest in playing in Rip City.
Where does this intel leave Simmons and Lillard? No different from where they've been for weeks. Unless Lillard has a sudden change of heart about tipping off 2021-22 in Portland, expect more of the same going forward, too.
The ball is in Philadelphia's court. The more that rumors swirl, the more it appears Lillard's situation can't even begin to be resolved until the Sixers make a decision on Simmons.
[Jake Fischer, Bleacher Report]