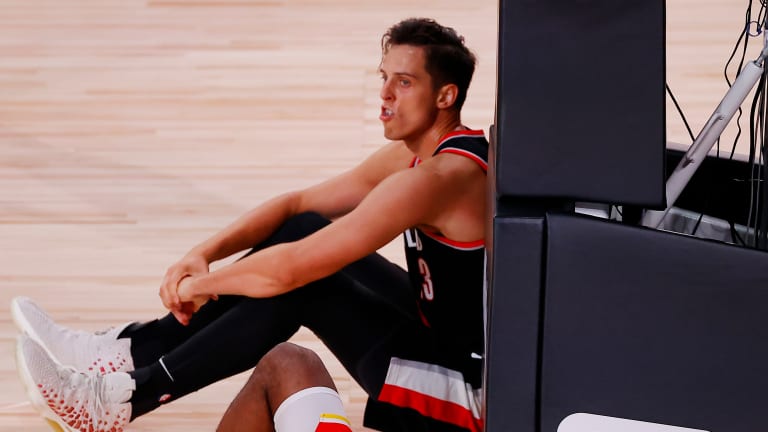 Report: Zach Collins Re-Fractures Troublesome Left Foot
Zach Collins has reportedly suffered another setback to his left foot, an injury that puts his Blazers future in doubt.
Zach Collins' long-awaited return to the floor must be put on hold once again.
The Trail Blazers big man has re-fractured a bone in his troublesome left foot, according to Shams Charania of The Athletic and STADIUM.
Collins missed the entirety of the 2020-21 season after undergoing a second surgery on his left ankle, which he originally injured during the NBA's restart in the Orlando bubble last August. There was optimism that Collins would be able to return for the postseason, but that possibility was contingent upon the Blazers advancing deep into the playoffs.
Collins hasn't played since August 13, 2020, Portland's regular-season finale in the bubble. He'd missed all but three games of the 2019-20 season prior to returning in Orlando, the result of a dislocated shoulder suffered in the Blazers' third game of the season that required surgery.
Collins is a restricted free agent this summer, meaning Portland will have the opportunity to match any competing contract offer he receives. Previous expectations were that Collins could decide to play the 2021-22 season on a one-year qualifying offer, giving him the opportunity to re-enter the market next summer as an unrestricted free agent.
Collins' re-injury, obviously, complicates that dynamic, especially given the Blazers' cap crunch. At this point, it's hard to believe Portland will feel comfortable spending $7 million next season on a player perhaps unlikely to take the floor until 2022-23.
Collins, 23, has proven himself an active, versatile defender during his time with the Blazers, emerging as one of the league's best rim-protectors on a per-play basis. He's flashed the ability to stretch the floor from beyond the arc, too, an attribute that combined with his defensive chops gives Collins the hypothetical chance to become a high-impact two-way big in the modern NBA.
Unfortunately, Collins can't begin realizing that potential on a game-by-game basis until his body begins to cooperate—time the win-now Blazers may not be able to afford him.