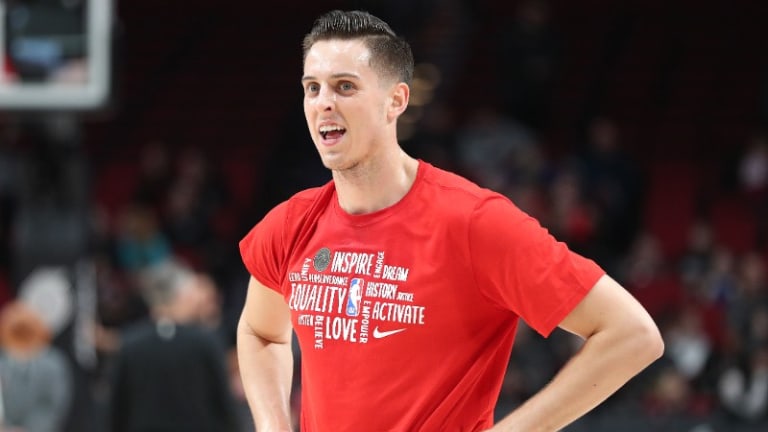 Zach Collins Could Be Back For Playoffs, But Won't Rush Return
Zach Collins provided The Athletic's Jason Quick with an update on his health status in wake of surgery to repair a broken left ankle.
The Trail Blazers have gotten a bit better defensively since Jusuf Nurkic returned and Norman Powell debuted late last month. Their 113.7 defensive rating over that timeframe ranks 22nd in the league, and is nearly three points better than their porous season-long mark.
It's still not good enough. Portland remains 29th in defensive rating overall, and certainly didn't offer much resistance to the Memphis Grizzlies in another nail-biting loss on Friday night.
Needless to say, the Blazers could use a defender like Zach Collins. Just because he's progressing from injury and could make a major difference for his team defensively, though, hardly means the oft-injured big man will rush back to the floor before he's completely healthy.
"I want to come back this season, and I'm not counting it out," Collins recently told Jason Quick of The Athletic. "But I'm not guaranteeing myself coming back. I'm a competitor and I want to come back and play, so that's my goal, but I'm not putting a lot of pressure on myself to make that happen."
Collins went under the knife on December 30th for a second surgery on his balky left ankle. Portland initially prescribed his return to the lineup at four-to-six months, and The Athletic reported in February that the team was hopeful Collins could come back for the playoffs, if not the end of the regular season.
A return before the postseason is no longer in the cards. But if Portland gets far enough in the playoffs, Collins could potentially be back on the court when the Blazers need him most.
"The only way I could come back is if we are in the playoffs," he told The Athletic. "That's just how my timeline has worked out. When we (had a second surgery) it was a four-to-six month thing, and we all knew it was going to be closer to six months for me."
Portland, losers of four straight and 3-9 in April, obviously doesn't look like a team capable of winning a playoff series. Even if the Blazers defied expectations and pulled it off, expecting significant contributions from a healthy Collins is setting yourself up for disappointment. The postseason pressure cooker is tough enough, and Collins hasn't played since August 13th.
The margins matter even more in the playoffs, though. Could Collins conceivably provide a few minutes of positive impact in a game Carmelo Anthony and Enes Kanter prove too flammable defensively? Don't rule it out altogether.
But first, Collins needs a long-awaited clean bill of health. Even if he doesn't come back this season, all signs point to him getting it soon.
[h/t Jason Quick, The Athletic]