Chicago Bears 2013 Offseason Preview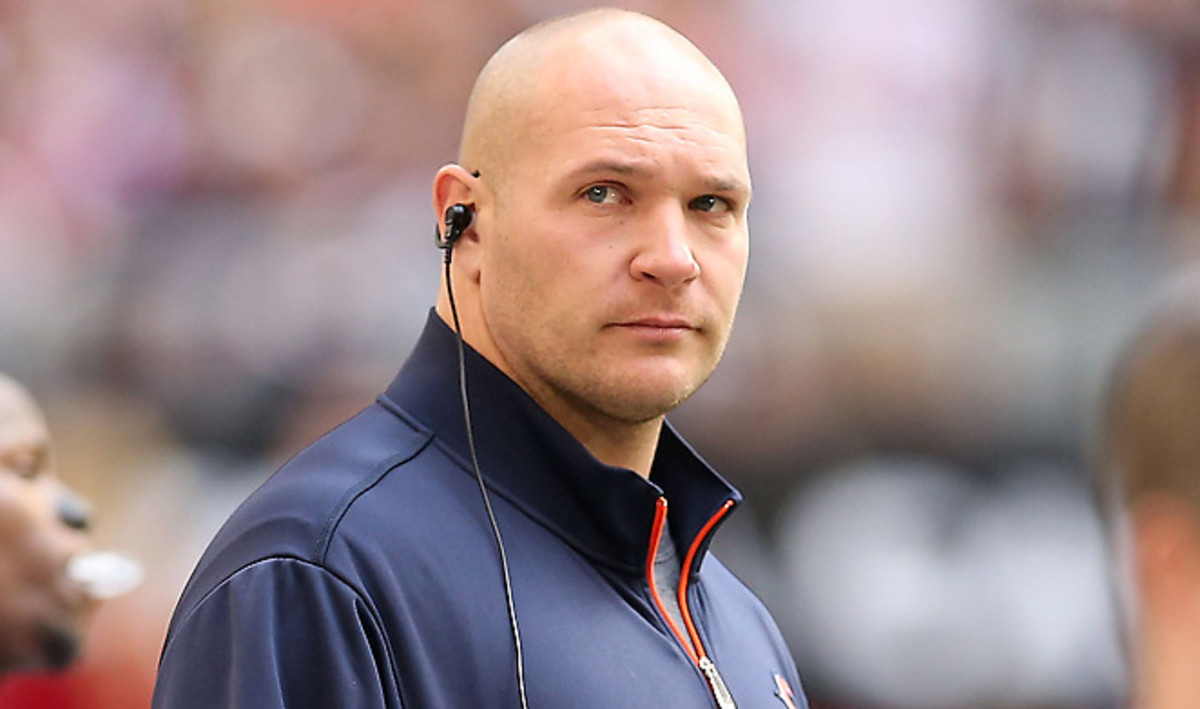 SI.com is laying out offseason road maps for all 32 teams as they start their journey for the Lombardi Trophy -- two teams per day, from the teams that need the most work to contend in 2013 to the ones that are in pretty good shape. See them all.
2012 Record: 10-6 Key Pending Free Agents:Jason Campbell, QB; Israel Idonije, DE; Lance Louis, G; Henry Melton, DT; D.J. Moore, CB; Nick Roach, LB; Chris Spencer, G; Brian Urlacher, LB List of Draft Picks (pending compensatory picks): 1 (20), 2 (50), 4 (116), 5 (148), 6 (180), 7 (212) Available Cap Space: $14 million GM/Coaching Moves: Hired coach Marc Trestman, offensive coordinator Aaron Kromer, defensive coordinator Mel Tucker.
2012 Season Recap
The season started auspiciously for the Bears, who won seven out of their first eight games -- their plus-120 points scoring differential at that point led the league -- and looked like Super Bowl contenders at the end of October. But they lost their way in the second half. After scoring 19 touchdowns in the first eight games, they had only nine TDs in the final eight games, dropping five of six games during one stretch. The Bears became only the second team to start 7-1 and miss the postseason since the NFL expanded to a 12-team playoff format in 1990.
There were positive developments, to be sure. Wide receiver Brandon Marshall registered career highs with 118 receptions for 1,508 yards and 11 touchdowns. The defense returned six interceptions for touchdowns in the first seven games -- an NFL record -- and the Bears finished the season as the No. 1 team in takeaways (44) with a plus-20 turnover ratio. Cornerback Charles Tillman became the first NFL player to force four fumbles in one game when he tortured the Titans in Week 9.
It seemed like the Bears had all the ingredients to be successful on offense -- a legitimate No. 1 wide receiver (Marshall), a complementary running back tandem of Matt Forte and Michael Bush and a healthy Jay Cutler at quarterback -- but an inefficient line and conservative play-calling dragged it down. The offense finished 28th in the league.
Ownership's patience with Lovie Smith finally ran out and the coach was fired after nine seasons. After advancing to Super Bowl XLI in February 2006, the Bears failed to make the playoffs in five out of the last six seasons under Smith.
Stat To Feel Good About
24. The Bears' number of league-leading interceptions, including nine by cornerback Tim Jennings.
If It Ain't Broke ...
Age notwithstanding, the defense remains one of the best in the NFL. During Smith's tenure (2004-12), the Bears ranked first in the league in takeaways, three-and-out series forced and third-down percentage. In addition, they were fourth in scoring defense. End Julius Peppers, linebacker Brian Urlacher (if the team brings him back in free agency), and cornerbacks Tim Jennings and Charles Tillman are playmakers who give offensive coordinators headaches but should give Trestman peace of mind.
Troubling Stat
29.63. Percentage of catchable balls Kellen Davis dropped (8 of 27), the highest percentage of all tight ends who were targeted at least 40 times in 2012, according to Pro Football Focus.
Must Fix It
The 6-foot-7 Davis is a competent blocker, but he is not a reliable receiver. He was never able to gain Cutler's trust and probably won't be back in 2013 despite having a year left on his deal. There are several capable tight ends who could be available in free agency, including Martellus Bennett, Anthony Fasano and Fred Davis.
More On The To-Do List
1. Upgrade the offensive line. It's something the team failed to do a year ago -- and paid the price for its neglect. Pro Football Focus ranked Chicago's line 30th in the league in 2012 after being last the year before. The Bears need an upgrade at one, if not both, tackle spots, and also need to find a guard. With both Louis and Spencer scheduled to hit the free-agent market, the line could lose depth at guard.
2. Start a youth movement on defense. Although Peppers (33), Urlacher (35) and Tillman (32) are linchpins, all three players are starting to age. Thirteen seasons have taken their toll on Urlacher, who missed the final four games last year with a hamstring injury and is starting to have durability issues. The trio won't be around forever, so the Bears need to start bringing in potential successors.
3. Bring out the best in Cutler. The Bears gave up a king's ransom to acquire the strong-armed Cutler from Denver in 2009, trading quarterback Kyle Orton as well as first-round draft picks in 2009 and 2010 plus a third-rounder in '09. So far, Cutler has shown more promise than productivity. He has thrown more than 20 touchdown passes only twice in four seasons, has never had a passer rating higher than 86.3, and is only 1-1 in playoff games. In addition to improving the line and giving Cutler another receiving weapon or two, the Bears need to light a fire under the quarterback.
What We'll Be Saying In July
For the first time in 41 years (since the days of Abe Gibron), the Bears have a head coach whose background is rooted in offense. Trestman has built a reputation as an offensive wizard and a quarterbacks guru during his many coaching stops, and he will call the offensive plays. Bears fans should have reason to be optimistic about the offense in 2013.
The Bears won't undergo a rebuilding as much as a reloading. A lot of pieces already are in place for the offense to be more potent. What it needs most are capable linemen, and that should be in place by the time training camp starts.
Chicago is not that far away from being a playoff team -- it proved that in 2012 -- but it could still look like only the third best team in the NFC North. The Packers are the kings of the division until proven otherwise, and the arrow on the Vikings is pointing up after they made the playoffs last year for the first time since 2009. The Bears should be capable of making the division a three-team race to the finish.
SEE ALL OF SI.COM'S OFFSEASON PREVIEWS