Finding right O-linemen still vital, but what does that mean nowadays?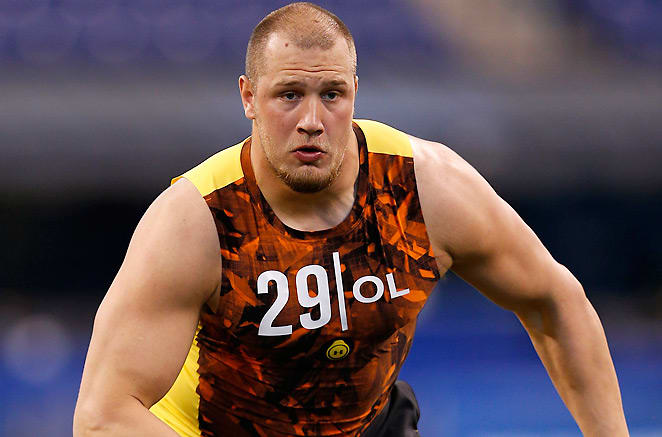 INDIANAPOLIS -- The deepest position in this year's draft is offensive line, where personnel people believe Texas A&M left tackle Luke Joeckel could highlight a class in which at least six linemen are chosen on Day 1.
If that happens, it would be not only the fifth time in six years that a minimum of six offensive linemen were chosen in the opening round, but also a continuing departure from the recent past.
From 1997-2007, teams selected six or more offensive linemen in the first round only once, including seven years in which four or fewer were taken that high. But in the four years that followed there were eight, six, six and eight selected in the opening round (the streak finally was broken last year when four were chosen).
"The evolution of the game into more of a passing league (because of rules changes/enforcements) has forced teams to get quality linemen early in the draft," one team executive said, "that way you have a better chance of getting plug 'n' play starters to protect the big investments at QB!"
The issue of protecting the quarterback is even more pronounced these days, with some teams incorporating read-options into their offense. The system allows signal-callers be threats with their legs as well as their arms. Last season Washington, Carolina, Seattle and San Francisco were among those that used variations of the "Pistol," a modified shotgun in which the quarterback lines up 5 yards behind the center with a running back directly behind him and then moves laterally before handing off to the halfback or keeping the ball himself on a designed run.
It's too early to say whether the system will stick in the NFL because, one, the potential for injury is heightened when quarterbacks leave the relative comfort of the pocket, where rules restrict where and how they can be hit by defenders; and two, defensive staffs, after being caught off guard, to some extent, last year, are using much of their offseason energy to come up with schemes to slow the read-option.
As teams arrived last week for the annual Scouting Combine in Lucas Oil Stadium, one of the questions confronting them was whether the read-option is changing the way they go about evaluating offensive linemen. After decades of looking primarily for big, physical, move-'em-out types, might they now place a greater premium on athleticism? Not surprisingly, there was no consensus, although the large majority of personnel people and coaches says the evaluation process is the same.
"You're either a power football team or a finesse team, that doesn't change," said one general manager, who asked that his name not be used. "People are getting way too wrapped up in the Pistol. The run game is based on angles, with players who use their athleticism to create angles or who use power to create angles. Players have gotten so big and strong that it's hard to physically move anybody anymore unless you can create angles. Only a handful of guys can come off the ball and move guys with power. You need angles."
For seemingly forever, teams looked for power blockers. Bigger and stronger was often viewed as better. Some coaches, however, believe athleticism is equally important -- if not more important -- when running read-option schemes designed to get the quarterback on the edge of the line and into the second level of the defense.
"No doubt, it impacts your evaluation of linemen," said a running backs coach. "Because of the in/up/out technique that you have to use, the slip-through blocks you have to use, you've got to have a guy that has a knack for doing that because it's not an easy thing to do. You have to be athletic. If you're not, your quarterback is going take more hits, and those hits can be deadly if you don't make the blocks."
This year's crop of linemen is considered to be one of the deeper pools in recent years. Scouts say there doesn't appear to be a jaw-dropper within the group, but instead are a number of good to very good players who, while maybe not dominant, should help teams for a number of years.
The tackles are led by Joeckel, Central Michigan's Eric Fisher, Oklahoma's Lane Johnson, and Alabama's D.J. Fluker; each is at least 6-foot-5 and 300 pounds. The guards are paced by Alabama's Chance Warmack and North Carolina's Jonathan Cooper. Both are listed at 6-2, which is shorter than some scouts desire; however the players' body of work more than mitigates any concerns about lack of height.
Multiple scouts said they expect at least 10 offensive linemen to be selected in the first two rounds, which would mark the sixth straight year that has happened. (It happened just twice from 2001-07.)
"There are a lot of skilled-athlete linemen in this draft, so you may see more athletic guys being taken early by teams that want to run (the read-option)," said one longtime offensive coach. "If you couple this style of offense with athletic linemen to complement the athletes you have behind them, now you've got something. You've got a juggernaut."
Washington, Seattle, San Francisco, Carolina, Philadelphia and Oakland (in the season finale) incorporated a form of read-option in their offenses last season, and the results got the attention of defensive staffs as well as statisticians. The Redskins, Seahawks and 49ers">49ers each made the playoffs and finished first, third and fourth, respectively in rushing yards. Much of that was due to their quarterbacks, who ranked first (Robert Griffin III, 815), third (Russell Wilson, 489) and fourth (Colin Kaepernick, 415) in yards rushing at that position.
"There's no question it creates advantages when you have a quarterback who can throw from the pocket and is able to run, as well," said one general manager whose team has utilized the read-option. "The advantage is in the secondary, where defenses have to use an extra guy to account for the quarterback. Now you get more generic looks in pass defense, and it creates angles and a softer front seven for the run game.
"I can see why more teams would want to use more Pistol stuff, but you've got to have the right guys to do it -- and I'm not just talking about the quarterback. You have to have the right linemen, too."