No Peyton this time, but quarterback market is cranking to life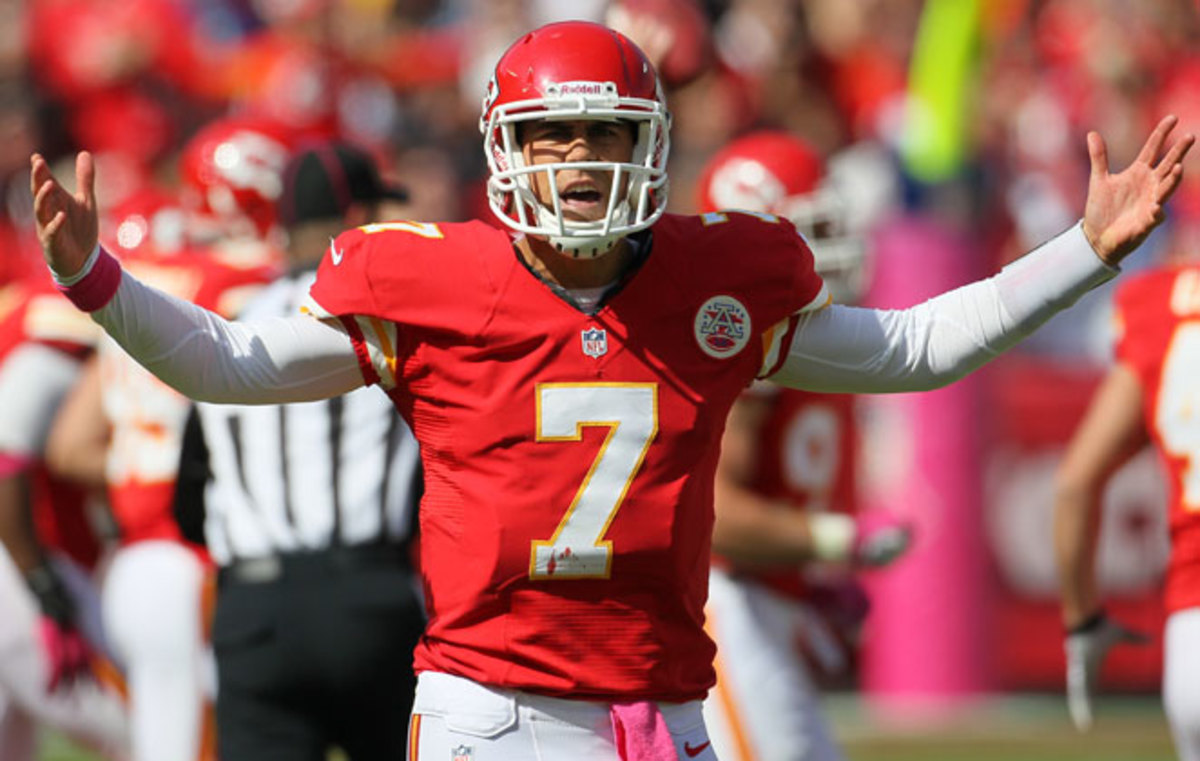 Compared to last year's headline-fest in both the first round of the draft and free agency (see Peyton-palooza), it has been a relatively sleepy NFL offseason for quarterback movement. Especially since ex-49ers">49ers starter Alex Smith found his new work address weeks ago, and Seattle backup Matt Flynn may not be going anywhere in 2013.
But Thursday's news at least started to put a little dent into that nothing-to-see-here perception on the quarterback front, thanks to some intriguing developments and a few potential scenarios to track.
? Matt Cassel saw his disappointing Kansas City tenure end in the morning, but by mid-afternoon he already acquired a somewhat new sheen to him thanks to a quick multi-year deal being struck with Minnesota.
? All indications point to Cardinals-ready-to-move-on-from-Kevin-Kolb-Update-Yes.html?sct=uk_t2_a14" target="_blank" linktype="Normal" category="ArticleHyperlink">Kevin Kolb being handed his walking papers in Arizona before Saturday, when he's due a $2 million roster bonus, and the thrill-a-minute Jets-could-pounce.html?sct=uk_t2_a15" target="_blank" linktype="Normal" category="ArticleHyperlink">New York Jets are reportedly among the interested parties if he is released.
? And rumors continue to peg Cleveland and maybe Tampa Bay as possible suitors in trade competition for the services of New England backup Ryan Mallett, the 2011 third-round pick who is wasting away on the Patriots' bench behind one Thomas Edward Patrick Brady Jr. (I didn't know he had all those names, did you? I thought his middle name was The Franchise).
These moves, even if they all happen in some form, aren't earth-shaking transactions, of course. But they all possibly would be quite significant nonetheless, because if you think about it, you know exactly what Minnesota, the Jets, Cleveland and Tampa Bay have in common: Starting quarterbacks who aren't exactly invulnerable to challenge from a newly acquired No. 2.
Be it Christian Ponder with the Vikings, Mark Sanchez in New York, Brandon Weeden with the Browns or Josh Freeman in Tampa Bay, there are no guarantees or lasting job security to be had this season. They're all on trial for their jobs, no matter what their coaches or front offices say publicly. And that means Cassel, Kolb and even Mallett could be No. 2s for somebody upon arrival, but No. 2 with a bullet.
Cassel and Kolb are an interesting matched pair of sorts. Remember, they were both so attractive and productive as backups and sometimes starters on playoff-caliber teams they elicited the Chiefs and Cardinals to trade for them in 2009 and 2011, respectively, with both clubs lavishing them with huge new contracts even before they had played a game for their new teams. Both organizations said basically the same thing back then, that they wanted to take care of their new franchise quarterbacks, and give them the confidence their monster contracts were meant to convey.
How'd that work out for you, Chiefs and Cardinals? At least Kansas City got a 10-win season, a division title and a playoff trip out of Cassel's four-year stay in the heartland. Arizona is still waiting for Kolb to stay healthy and deliver, and it's too late anyway for coach Ken Whisenhunt's and general manager Rod Graves' purposes.
Cassel and Kolb couldn't get it done as full-time unquestioned starters, but that's where they may be in luck this offseason if they wind up as alternative options for new teams. They'll be back in their more comfortable and familiar setting of being the challenger, without the pressure of huge expectation or the burden of a franchise quarterback contract. That can do wonders for some guys' confidence and performance level.
After dealing with the reality of Brady in New England and either Donovan McNabb or a red-hot Michael Vick in Philadelphia, something tells me Cassel and Kolb aren't going to sweat it too much if it's Ponder and Sanchez standing between them and another starting opportunity.
Free Agent Tracker & Grades
For now, Cassel is the only veteran quarterback we know for certain will get a prime chance to relaunch his career in a new NFL venue. The Vikings were happy with the way Ponder ended the season on a high note, leading Minnesota (with Adrian Peterson's strong assist) to a Week 17 upset at home against Green Bay and into the playoffs as a 10-6 wild-card team.
But while the Vikings won't couch it as a quarterback competition between Ponder and Cassel, they know they had to find someone to push their third-year passer in every way, because 2012 backup Joe Webb certainly didn't. Webb's surprise start as an injury replacement for Ponder in the first round of the playoffs at Green Bay was his unmasking. He bombed, forcing Minnesota to find a proven backup quarterback option to at least give themselves an insurance policy behind Ponder.
It's OK if Cassel thinks he's in Minnesota to battle Ponder for the starting job. Ponder hasn't done enough just yet to deserve no hint of competition, even if the Vikings did invest a top-12 pick in him in 2011. Cassel, after all, does have the resume that allows him to interject himself into the starting discussion at some point. He started 47 games in Kansas City, and 15 in New England in 2008, and in 2010 threw for 3,116 yards with 27 touchdowns and only seven interceptions for the division-winning Chiefs. And his work with the '08 Pats, who he helped lead to an 11-5 non-playoff finish in the injured Brady's absence, put him on the NFL map to begin with.
Kolb has less of a track record as a starter, but it may not matter if he lands with the Jets, who were a quarterback disaster zone unto themselves last season. New York has five QBs on the roster at the moment, but there doesn't seem to be a starting option of note among them: Sanchez, the newly signed David Garrard, Tim Tebow, Greg McElroy and Matt Simms.
With new Jets offensive coordinator Marty Mornhinweg having successfully coached Kolb in Philadelphia for four years (2007-2010), and Kolb being comfortable in the West Coast offense, it's a natural fit to put them together and hope the one-time second-round pick can rekindle the talent that made the Cardinals give up so much to get him two summers ago.
But compared to Cassel and Kolb, Mallett is the real unknown in this year's potential quarterback carousel drama. The Browns and Bucs, both looking to give themselves another arm to consider besides their inconsistent first-round picks, Weeden and Freeman, are reportedly the teams mulling a deal for Mallett. Cleveland owner Jimmy Haslam has said the team will get competition for Weeden this offseason and Bucs officials have offered something less than an iron-clad promise that Freeman is their guy, case closed.
The backup quarterback options are rapidly dwindling for Cleveland and Tampa Bay. Smith was swapped to Kansas City. Drew Stanton signed in Arizona. Matt Moore re-upped in Miami. Bruce Gradkowski jumped to Pittsburgh. And Derek Anderson re-signed with Carolina. With Cassel gone and Seattle seeming in no hurry to move Flynn, the top-shelf No. 2 possibilities are few. It's either compete for Kolb once he's cut loose, go after ex-Bills starter Ryan Fitzpatrick, sign Jason Campbell, or make an offer that pries Mallett out of New England.
The Browns and Bucs know they both have a young and promising passer on their roster, but one who has yet to nail down their starting job and render any quarterback questions moot. In Mallett they'd be taking a bit of a flyer on a guy who has done little real work backing up Brady, but who came into the NFL in 2011 with a lot of folks predicting he'd be a difference-making player in time. The question is: Has the former Arkansas standout developed or gathered dust in his two seasons of mostly standing on the Patriots sideline? No one really knows just yet.
A trade involving Mallett might take all the way up until the draft to develop, so the Browns and Bucs can probably afford to stay patient and see what transpires. But as this week showed us, the NFL's quarterback carousel isn't quite as dormant as we presumed. It's not in high-profile motion like last year, when Peyton Manning and the anticipation for the draft's big-name passers sucked up all the oxygen in the league. But when it comes to quarterback news, maybe this offseason won't be quite so sleepy after all.