Suddenly confident Chargers could be this year's Cinderella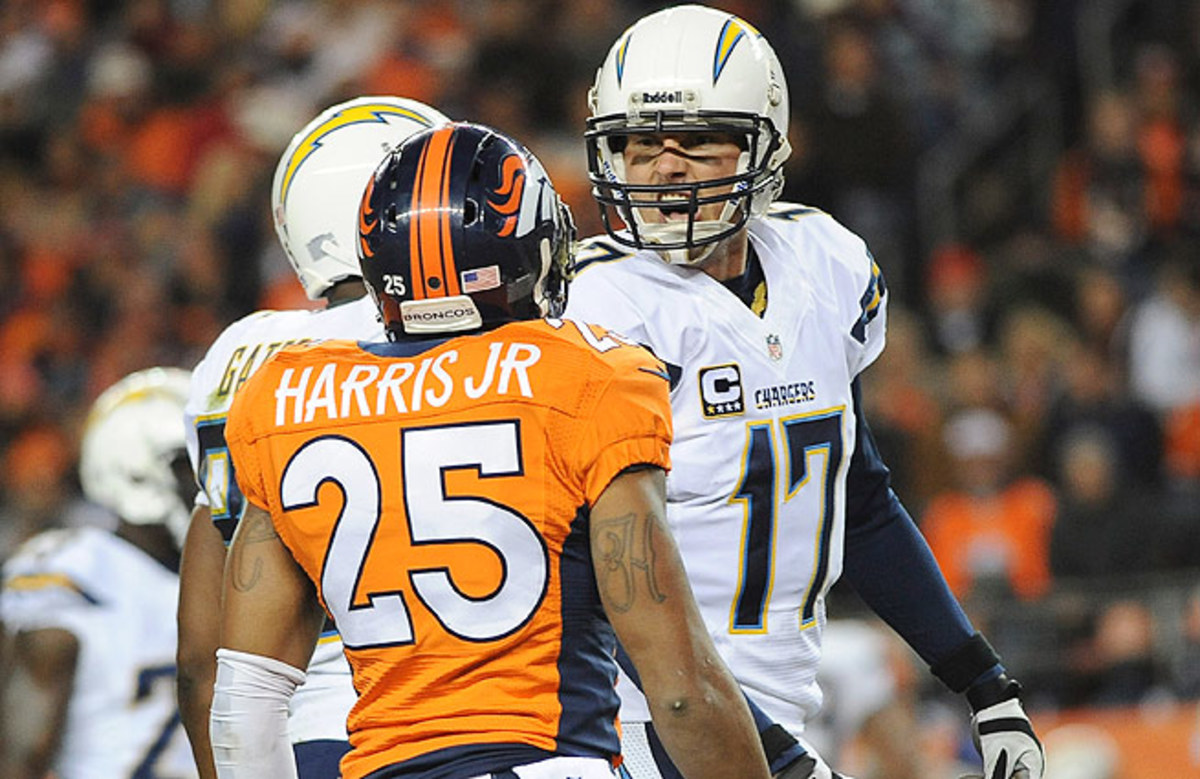 • This weekend was the second time in four years that three of the four home teams lost in the first round, with both No. 6 seeds advancing to the final eight. The Saints and Chargers both got the road win despite holding onto the bottom rung of the playoff ladder, and No. 5 San Francisco made it a very good weekend for the wild-card qualifiers. Only Kansas City's mind-boggling 28-point blown lead at Indy on Saturday kept the wild-card teams from going a perfect 4-0 this weekend.
In 2010, Green Bay won at Philadelphia in the first round and went on to go 4-0 in January and claim its latest Super Bowl title. Baltimore was the other No. 6 seed that season, and won easily at Kansas City in the first round, before losing by a touchdown at Pittsburgh in the divisional round.
• Pretty good weekend for the brothers Pagano. Chuck's Colts author a comeback win for the ages Saturday against the Chiefs, and John's sixth-seeded Chargers pull the upset of the first round in Cincinnati.
That means a full 25 percent of the NFL's final eight this season have a Pagano on their coaching staff. And half of the remaining four-team AFC playoff field. But both Chuck, the Colts head coach, and John, the Chargers defensive coordinator, have to hit the road next week for major challenges in New England and Denver, respectively.
• And the beat goes on and on and on for the Chiefs and Bengals in the playoffs. Make that the beatings. The misery index just spiked again in Kansas City and Cincinnati. The Chiefs haven't won in the playoffs since the 1993 season, and have now lost an NFL-record eight consecutive postseason games, with a stunning seven one-and-done playoff trips in the past 20 seasons.
The Bengals have waited even longer, failing to win a playoff game for the 23rd consecutive season after losing to the visiting Chargers. This was the fifth playoff berth of the 11-year Marvin Lewis coaching era, but all five have produced one-and-done experiences. Cincinnati hasn't earned a postseason victory since beating the Houston Oilers in the first round of 1990.
• OK, that stat about teams winning the Super Bowl after they visit Philadelphia in the Eagles' home-openers in each of the past four seasons is getting a little more serious in light of San Diego's unexpected playoff berth, and then its first-round upset win against the Bengals.
New Orleans in 2009, Green Bay in 2010, the Giants in 2011 and Baltimore in 2012 were the visitor in Philly's home-opener, and all four went on to take the big confetti shower. San Diego drew that straw against the Eagles this season, and now Mike McCoy's team has surprisingly made the league's final eight.
• Hard to underestimate the return of Sean Payton in the Saints' success this season, but as I've thought since the offseason, the hiring of Rob Ryan as the defensive coordinator is the even bigger factor in New Orleans' renewed prominence. Even with Payton back calling the plays and the shots for that high-powered offense, the Saints couldn't have won this season if nothing had changed on what was a historically bad defense.
The Saints had to gut out their 26-24 win at Philadelphia Saturday night, and I'm not sure what part of the New Orleans' defensive effort was more impressive. Holding the NFL's leading rusher, LeSean McCoy, to just 77 yards on 21 carries? Keeping DeSean Jackson without a reception until the last three minutes of the third quarter? Giving up just three first-down conversions in 12 third-down situations? Or limiting the high-flying Eagles offense to a relatively paltry 256 total yards?
The Saints running game (185 yards on 36 carries) helped their cause immeasurably against the Eagles, but Ryan's defense led the way to the franchise's first road playoff win in history, and gives the Saints more than a fighting chance next week at top-seeded Seattle in the NFC divisional round.
Philadelphia made its run once No. 1 cornerback Keenan Lewis left the game with concussion symptoms in the third quarter, but getting the job done without its best defensive talent is a trend Ryan's defense has gotten used to this season. Key performers like safety Kenny Vaccaro, cornerback Jabari Greer, outside linebacker Will Smith, linebacker Jonathan Vilma, defensive end Keyon Coleman and cornerback Patrick Robinson all went on injured reserve at some point this season.
• Not that I love their upset chances, but the Saints would seem to be in a pretty good place as they head for Seattle. For one, they got rid of the can't-win-on-the-road narrative to a certain degree with their victory at Philadelphia, and secondly, they'll be hell-bent on avenging that 34-7 loss to the Seahawks at CenturyLink Field on Monday night in Week 13.
Seattle isn't 27 points better than the Saints, so Pete Carroll's team might be psychologically set up for over-confidence next Saturday afternoon. And we all know the divisional round can be a killer for the top seeds, coming off a bye, as Denver in 2012, Green Bay in 2011 and New England and Atlanta in 2010 have recently proved.
In fact, in the last five NFL seasons, six out of 10 of the No. 1 seeds have lost in the divisional round, a pitiful .400 winning percentage that could have been even worse if it were not for the aberration of 2009, when both the top-seeded Saints and Colts made the Super Bowl. Saints fans have to love those numbers, not to mention San Diego rooters, with the No. 6 Chargers headed for No. 1 Denver on Sunday.
• I'm sure Kansas City is painfully aware of this, but I don't know that I've ever seen a team score 41 points in just less than the game's opening 41 minutes and still have a fight on their hands. But it was 41-24 Chiefs with 4:12 left in the third quarter, and then the Colts outscored Kansas City 21-3 over the course of the game's final 19:12.
One thing about the NFL becoming such a predominant passing league is that comebacks of that magnitude are much more possible, given that teams run hurry-up offenses so much more often and effectively.
"We said coming out of halftime, we've got one drive and if we don't score, we're going to be in our 2-minute offense the rest of the game,'' Colts quarterbacks coach Clyde Christensen told me from the winning locker room. "We ended up throwing the early interception in the third quarter, they score a touchdown [to make it 38-10], and we had to just start throwing completions and see what happened. That's the only philosophy you can have at that point. You can't look at how big the mountain is, you just have to start climbing.''
• If I were a Chiefs fan I wouldn't want to hear it, of course, but that would have been a monumentally crippled Kansas City team advancing to the divisional round if it had been able to hang on against the Colts. With Jamaal Charles, Brandon Flowers and Donnie Avery facing a week of concussion protocols, and Justin Houston (leg) and Knile Davis (knee) both coming up lame in Indy, either the Patriots or Broncos might have been drawing the easiest assignment of the NFL's final eight. And yes, I know the Kansas City JV team played its butt off and should have beaten the Chargers in San Diego in Week 17.
• I always wonder if NFL players, in the midst of an epic game like the Colts' comeback against the Chiefs, know they're involved in something that will go down in football history. It apparently depends on who you talk to. Indianapolis tight end Coby Fleener, Stanford grad, had a sense of what was unfolding Saturday in Lucas Oil Stadium.
"[Colts offensive tackle] Gosder Cherilus actually said something to me before the game, like this could be one of those playoff games we used to watch on NFL Films when we were kids,'' Fleener said. "He said, 'That could be us today.'''
It was all of that, and more.
• Colts receiver T.Y. Hilton probably deserved more credit for Indy's miracle win, but he got somewhat lost in Luck-Mania. All Hilton did was set a new team playoff record for catches and yards, with his monstrous 13-reception, 224-yard, two-touchdown day. The guy Hilton bumped from the Colts record books? Hall of Famer Raymond Berry, who in the momentous 1958 NFL title game caught 12 passes from Johnny Unitas for 187 yards and a touchdown, helping Baltimore to its landmark 23-17 win in overtime.
Wow. There is breaking a record, and then there's surpassing a legend. At least on one magical day.
• It was an unmistakable success overall, but what a strange season in Kansas City. The Chiefs were a defensively led team in the first half, with 35 sacks in the opening seven games and playmakers galore on that side of the ball. Offensively, Kansas City couldn't score much in the season's first two months, then really found its groove and became a high-powered attack for much of the season's second half. And in the end, 44 points on the road in the playoffs wasn't enough for an injury-depleted Chiefs defense to protect and get the win.
• It didn't prove to be their day of validation, but the truth is Andy Reid and Alex Smith turned Kansas City's football fortunes dramatically for the better this season. The minute Reid and Smith joined forces in K.C., it looked like a quantum upgrade for the Chiefs at the game's two most pivotal positions -- and it was. Kansas City didn't win a game it should have on Saturday in Indy, and there's no excuse for that, but they're in markedly better shape at head coach and quarterback than they were at the end of the 2012 season.