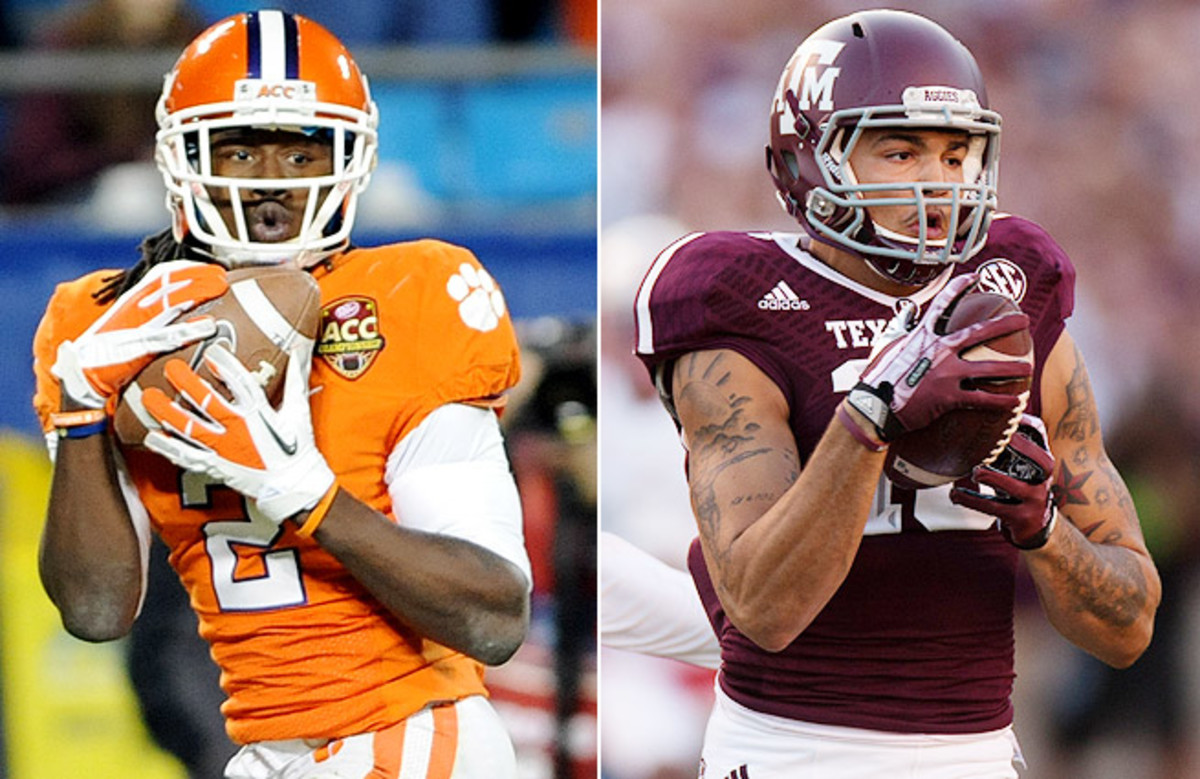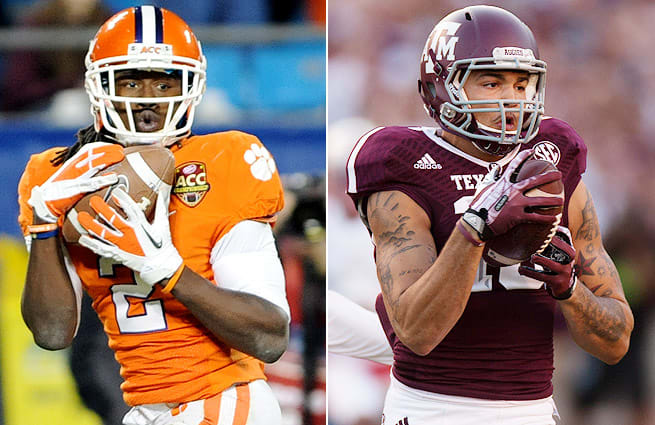 Of the four quarterback-needy teams that reside in this draft's top five, the Browns are the team I'm most convinced will take a first-round QB. Cleveland simply has no starting option behind the rehabilitating Brian Hoyer. But then again, Cleveland also owns the No. 26 pick, so maybe there are plenty of options from that perspective. Many mockers are linking the Browns to Fresno State's Derek Carr, either at No. 26 or possibly even No. 4. But Carr in the top five is an obvious reach, and Cleveland should not be in the mood to gamble with so much on the line in its latest rebuilding effort. Manziel may not be the first choice of new Cleveland offensive coordinator Kyle Shanahan, who lived through (barely) the media blitz known as the RGIII phenomena in Washington, but if I'm the Browns, I'm banking on the guy who has won most of his biggest games and plays like he isn't afraid to have all the pressure put on his shoulders.
17. Baltimore -- Ha Ha Clinton-Dix, S, Alabama
The Ravens are having the kind of strong offseason you'd expect them to assemble after getting the smelling salts treatment under their noses: coming off a playoff-less season for the first time since the close of the Brian Billick coaching era in 2007. And having Clinton-Dix, the top-rated safety, waiting for them at 17 makes this one of the easier draft debates conducted in the Ravens' war room.
18. NY Jets -- Marqise Lee, WR, USC
Both Lee and LSU's Odell Beckham Jr. are explosive, playmaking receivers who would be expected to walk right into the Jets' starting lineup opposite free-agent signee Eric Decker. Lee didn't have a monster 2013 season, but his tape doesn't lie. He knows how to exploit the gaps in a defense and get deep, and he would add the much-needed vertical element to New York's passing game that 2012 second-round pick Stephen Hill has been unable to provide.
19. Miami -- Zack Martin, OT, Notre Dame
Martin could either start his NFL career at right tackle, opposite free-agent signee Branden Albert, or perhaps move inside and upgrade the Dolphins' well-known need at left guard. But either way the Miami offensive line continues its near total makeover after the debacle of 2013. The Dolphins should embrace the karmic do-over that drafting another offensive lineman named Martin presents.
20. Arizona -- Anthony Barr, OLB, UCLA
The Cardinals, perpetually in search of more pass rush, would be very fortunate indeed to see Barr get to them at No. 20. The former Bruin carries a top-12 grade in the estimation of many teams, and while he isn't a polished product, having played only two years of defense, he'd upgrade an Arizona defense that is only an improved pass rush away from being first rate. If Barr is gone, a defensive end like Missouri's Kony Ealy or Auburn's Dee Ford would represent the next best pass-rush option. And if Bridgewater lingers this long, Arizona might opt for Carson Palmer's eventual successor.
21. Green Bay -- Calvin Pryor, S, Louisville
There are a lot of teams ahead of the Packers who could spoil this almost-perfect scenario for Green Bay, but Pryor would be a draft-night gift for a secondary that has lacked a consistent playmaker in the deep middle since Nick Collins' exited the lineup in early 2011 with a serious neck injury.
22. Philadelphia -- Odell Beckham Jr., WR, LSU
Beckham features both DeSean Jackson's burst and elusiveness, as well as the added element of being dangerous in the return game. There are defensive needs for a pass-rushing end or cornerback that could take precedent in Philly, but Chip Kelly is running this show, and he likes offense. What better way to turn the page on the Eagles' Jackson era than by replacing him with a younger and hopefully better version?
23. Kansas City -- Brandin Cooks, WR, Oregon State
Cooks is quick and elusive and exactly the matchup nightmare that the Chiefs need to diversify their passing game. He's a proven playmaker with good hands and the speed to challenge and disrupt a defense, creating plenty of yards after the catch. Defenses won't be able to key almost exclusively on No. 1 receiver Dwayne Bowe when Cooks is working his game in the slot.
24. Cincinnati -- Kony Ealy, DE, Missouri
The Bengals are going to be looking for defensive help in the first round, and while there's good reason to add a cornerback or maybe a defensive tackle, the departure of Michael Johnson in free agency and the knee injury to Geno Atkins should make adding pass rush the top priority. Ealy has NFL size and a solid collegiate track record for rushing the passer, and his versatility should help him adapt quickly to the pro game.
25. San Diego -- Louis Nix III, DT, Notre Dame
The Chargers can go a lot of different ways in pursuing a defensive upgrade, with top-notch cornerbacks Kyle Fuller of Virginia Tech, Bradley Roby of Ohio State and Jason Verrett of TCU still on the board, as well as an edge rusher like Auburn's Dee Ford. But the best value at No. 25 might be Nix, the draft's best pure nose tackle. Nix has a Jamal Williams-like quality to his build and game, and nose is certainly not a position of strength at the moment in San Diego. Nix would also make it two ex-Irish defenders in two drafts for the Chargers, joining linebacker Manti Te'o in sunny SoCal.
26. Cleveland -- Kyle Fuller, CB, Virginia Tech
If the Browns don't go quarterback at No. 4, as I have them doing with Manziel, many expect Carr to land in Cleveland in this slot. That would certainly cut down on the size of the first-round quarterback gamble, but I have the Browns taking another cornerback with the pick they received from Indy in the Trent Richardson trade of last year. Fuller is either the second- or third-best cornerback in the draft, depending on the analyst, and his athleticism and cover skills would supplement a secondary led by No. 1 cornerback Joe Haden.
27. New Orleans -- Dee Ford, DE, Auburn
The Saints defense came a long way last season, but still has use for another edge rusher who can play a disruptive role in the gambling, bring-the-blitz style game that coordinator Rob Ryan favors. Ford's reputation for having a non-stop motor will make him a favorite of Saints fans, much the way rookie safety Kenny Vaccaro did last year. In this stage of the first round, taking a shot on a pass rusher with upside is usually a sound approach.
28. Carolina -- Bradley Roby, CB, Ohio State
Given the depletion at receiver and offensive tackle in Carolina, those positions probably rate Def Con 1 in terms of urgency. But the best value is likely to be at cornerback, where Roby and TCU's Jason Verrett remain available. Roby has top-20 talent, but his so-so 2013 season has dropped his stock. The Panthers might be the one to benefit from it.
29. New England -- Ra'Shede Hageman, DT, Minnesota
As it turns out, the reported demise of Vince Wilfork's tenure in New England was greatly exaggerated. But that doesn't change the fact the Patriots need to prepare a succession plan for the defensive front. Hageman might require some development, but he has a great blend of size, athleticism and playmaking skills. If Notre Dame nose tackle Louis Nix gets past No. 25 San Diego, he'd have to be on New England's radar screen as well.
30. San Francisco -- Jason Verrett, CB, TCU
The 49ers don't have many holes, but their top two would have to be at cornerback and No. 3 receiver. From that standpoint, San Francisco appears well-positioned at No. 30. Verrett is a feisty, undersized slot corner who battles and finds the ball, and there are receiving options to be had as well. Florida State's Kelvin Benjamin doesn't fit the slot role at 6-foot-5, 235 pounds, but he's a big, athletic target who might be too enticing to pass up.
31. Denver -- Xavier Su'a-Filo, G, UCLA
The Broncos offensive line got exposed by Seattle's defensive front in the Super Bowl. All the great work Denver has done this offseason to get locked and loaded and chase a ring again would go to waste if Peyton Manning didn't have time, or the good health, to work the pass pocket. Su'a-Filo is ready to start from Day 1, and he's versatile enough to play at either guard or tackle. Stanford's David Yankey is the other top-rated interior offensive lineman of which to keep track.
32. Seattle -- Kelvin Benjamin, WR, Florida State
With no Golden Tate or Sidney Rice to draw some of the coverage away from Percy Harvin, the Seahawks have need for a big-body receiver who can go up and out-jump defenders for the ball. The 6-5, 235-pound Benjamin would give Seattle a potentially deadly red-zone weapon to utilize.