Everything's Faster in Texas
The Texans had a need for speed after a slow offensive season in 2015, so they gave their new quarterback some fast friends in the draft. The result is one of the NFL's biggest offseason makeovers. Plus reader mail
Often in covering NFL teams, we listen to what teams say rather than watch what they actually do. Normally, this is a mistake, because NFL teams are well-trained, even when the sky falling, at saying all is well. This spring, all we've had to do is watch the moves made by Houston to see the Texans knew their offense was simply not playoff worthy in 2015, and major surgery was vital.
At season's end, unreliable quarterback Brian Hoyer and aged-out running back Arian Foster were jettisoned, and the team moved on from three other starters: center Ben Jones, right guard Brandon Brooks and wideout Nate Washington.
The Texans' real need: speed.
• TEN TEAM NEEDS UNFULFILLED: Andy Benoit identifies glaring roster holes remaining with draft, free agency complete
Last season, Houston was 31st in the league in average yards per play, 29th in average per pass play, 28th in yards per rush, and 25th in a hidden-yardage area, average per punt return. There are factors to all of those numbers, but the biggest two: quarterback efficiency and speed. Pure, unfettered speed.
"Well," agreed coach Bill O'Brien, "that was certainly one of the things we felt we had to address at the end of the year."
Brock Osweiler is the big gamble at quarterback, with the Texans paying $18 million a year for seven career starts—and not altogether reliable ones at that. And three-down running back Lamar Miller comes from Miami to be a slightly faster version of what Foster used to be. Guard Jeff Allen should fit seamlessly at right guard. That's not where the speed came. The draft provided that. Nearly as important as Osweiler/Miller, collectively, were the four offensive pieces GM Rick Smith and O'Brien added in the draft:
• Notre Dame wide receiver Will Fuller (40 time: 4.32 seconds), who will learn both key receiver sports (split end, flanker) and likely begin at flanker, opposite DeAndre Hopkins. Fuller had too many drops last year at Notre Dame. "But he's a good tracker of the deep ball," O'Brien said, "and a good route-runner." On-target throws from Osweiler downfield will be key for Fuller, who will be measured against the more complete receiver, Josh Doctson, picked one slot after him by Washington.
• Ohio State receiver (and former quarterback) Braxton Miller (40 time: 4.50), likened to strong slot receiver Julian Edelman by Hall of Fame GM Bill Polian. Miller will start in the slot, but also will be tried in four-receiver formations on both sides. Basically, because Miller doesn't have the experience of the prominent receivers in this draft, O'Brien's just going to have to see in training camp what he can do, and how fast he can transition to the pro game. Can he be physical enough to be ping-ponged in the slot the way good ones so often are?
• San Jose State rusher/returner/slot back Tyler Ervin (40 time: 4.41), a really interesting prospect because the Texans just don't know exactly where he'll fit. He could start as a third-down back and punt-returner, because he has the kind of first-step burst that can make defenders miss. O'Brien isn't sure where Ervin will play, but he knows he needs some speed in the backfield. Ervin's not exactly Darren Sproles, but his addition is vital to what was a plodding running back group.
• Notre Dame center/guard Nick Martin has plenty of experience starting at center (that's likely where he fits here), and he's the only guy here who doesn't fit the speed profile. But he does fit the long-term center need.
How cool will this be? On the first series of the season, the Texans could call for five players to touch the ball who weren't on the team five months ago. Osweiler, Lamar Miller, Fuller, Braxton Miller and Ervin. On the first defensive shutdown of the season, Ervin could be sent deep to make something happen on a punt. O'Brien's excited about the potential, starting with Fuller.
• 10 THINGS I THINK I THINK: Emily Kaplan finds a good fit for Brian Hoyer, addresses minicamp makeovers and much more
"He's one of those guys who can run all day, and stay fast," O'Brien said. "A lot of his drops had a common theme—contested catches. We'll work on that. And he'll get stronger, so he wins those balls."
After the draft, I thought no teams changed as much on one side of the ball as Jacksonville's defense, including the re-emergence of Dante Fowler, who didn't play last year because of a knee injury suffered in the spring. But the more I look at Houston, with either five or six new starters (possibly four in ball-handling spots), the more I think the Texans have changed as much, and as famously, as the Jags.
Now onto your email...
* * *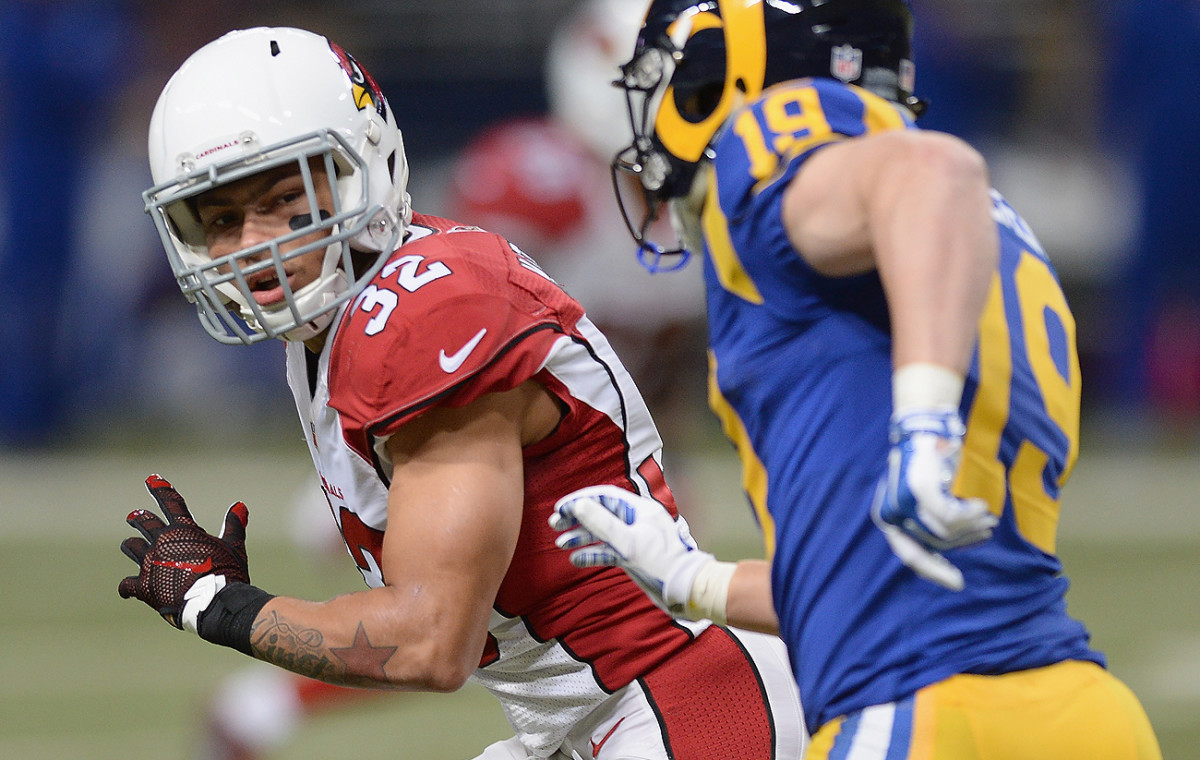 DRAFT BUSTS
Peter, I love your chart showing 2013 first-round busts vs. who was drafted in that slot this year. What I would love to see is that chart continued for rounds two, three and four. Given that the draft is actually a crapshoot, I have a sneaking suspicion that third and fourth-round draft picks are just as likely to be successful as first-round picks and for less money to boot. I haven't seen this analysis anywhere as most people limit their data to the first round. MMQB seems like the perfect place to get to the bottom of this.
—Jamiel S., N.J.
Let's do it a different way. Let's take the first 10 picks of the first round, second round and third round of 2013, and see how they stack up. Among the top 10 picks of 2013, there are only three good to very good players: tackle Lane Johnson of Philadelphia, pass-rusher Ziggy Ansah of the Lions, and wideout/returner Tavon Austin of the Rams. The other seven players have struggled: Eric Fisher, Luke Joeckel, Dion Jordan, Barkevious Mingo, Jonathan Cooper, Dee Milliner, Chance Warmack. ("Struggled'' is putting it mildly.) That's a 30 percent hit rate. That is awful.
In round two, among the top 10 picks are no major failures, the way Jordan and Cooper have been—and Mingo and Milliner are close. There are three standouts: tight end Zach Ertz of the Eagles, cornerback Darius Slay of Detroit, and running back Gio Bernard of Cincinnati. There is one more solid starter (Jonathan Cyprien of the Jags), and just outside the top 10 of the round are Kawann Short and Le'Veon Bell, two Pro Bowl types.
The top 10 of round three contains three excellent players: Tyrann Mathieu of the Cardinals, Travis Kelce of Kansas City and defensive tackle Bennie Logan of the Eagles. I'd say the three best of the top 10 of the third round are better, collectively, than the three best of the top 10 of the draft. After that, the pickings are slim: guard Larry Warford is the best of the lot of the other seven in the round.
• MONDAY MORNING QB: Peter King catches up with Adrian Peterson to talk Texas floods, Super Bowl rings and so much more
THE NFL IS THE CORLEONE FAMILY
The NFL stopped being a "family" thing for me in 1995 when the Browns were taken away. I'll bet if you were to talk to people in Baltimore, St. Louis, Houston, and other cities who lost teams, they would feel the same way. It's a business. That's it. More to the point, it is a monopoly that has somehow gotten too big for itself. Sending brownies to a draft pick's mother does not fix that. "Leaking" this action? PLEASE. Your praise of this action? Mr. King, you are better than this. Maybe the NFL is family… the Corleone family.
—David W., Pittsburgh
I wouldn't treat this like the seventh game of the World Series, David. It's a cool gesture. Nothing more, nothing less. 
ASININE DRAFT GRADES
I just wanted to add something to your remark that grading a draft right after it is asinine. I think even years after it, you better admit that luck is a big factor. My favorite quote in this regard is from Mike Shanahan. After one of Denver's two Super Bowl wins, one reporter told him how smart he was to draft Terrell Davis in the sixth round, and Shanahan answered, "No, if we were smart, we would have drafted him in the first round." It is so true, because if you know what kind of players TD, Antonio Brown or Tom Brady are going to be, you would draft them immediately. So staying humble is a very important part of drafting in the NFL in my opinion.
—Otmar, Vienna, Austria
All true. But the fact is that there have been lots of players who turned out to be big stars who were drafted late or went undrafted. Teams don't use fifth, sixth and seventh-round picks thinking, "None of these guys will ever pan out." They think each player they choose has several qualities that could, combined, make a good player at the next level. And in some cases, a great player at the next level. I'm not sure I would call it luck, for instance, looking at all the good running backs Denver has drafted late, or guys they've signed as undrafted free-agents. Mike Shanahan wanted a certain kind of running back, a one-cut-and-get-upfield-with-decisiveness-in-the-hole, when he coached. When he was in Denver, he told his longtime running backs coach, Bobby Turner, to look for down-the-line backs they could draft late or sign as free agents. The following is a list of backs he either drafted late or signed off the street and who gained 1,000 yards for him Denver or Washington:
Terrell Davis, sixth round, 1995.
Olandis Gary, fourth round, 1999.
Mike Anderson, sixth round, 2000.
Reuben Droughns, waivers, 2002.
Alfred Morris (Washington), sixth round, 2012.
Ron Wolf used to draft a quarterback late in most drafts, smart ones with average to above average arms who could incubate behind Brett Favre and either be good backups or trade bait. Matt Hasselbeck (sixth round, 1998) turned out to be good for them and excellent for Seattle and pretty good in a pinch for Indianapolis. So while I agree with your point about luck and humility, I think there's more to it than that.
• BUSINESS OF FOOTBALL: Andrew Brandt shares his final draft thoughts
QBS AND COLLEGE COACHES
Question for you regarding QBs in the draft. Feels like every year around draft time there's rumors that one of the QBs will get drafted by his ex-college coach who is running an NFL franchise now (like Marcus Mariota and Chip Kelly last year, Christian Hackenberg and Bill O'Brien this year, etc). Do you have examples of that scenario actually happening? I can't think of any.
— A.M., Hungary
I have looked back since 2000, and the only scenario that comes close is Steve Spurrier in Washington in 2002. Very strange era in Washington history. Spurrier gets hired, the hot college coach, and Washington drafts Tulane quarterback Patrick Ramsey in the first round. But Spurrier also brings in two former passers of his at the University of Florida: Shane Matthews and Danny Wuerffel. And the three of them alternate the job that year, and Spurrier goes 7-9, and it's chaos. Now, for the others in recent years that went from college to the NFL … In 2007, Bobby Petrino took no one from Louisville to Atlanta; Lane Kiffin got hired in 2007 out of USC, and Al Davis saddled him with LSU's JaMarcus Russell. Pete Carroll went from USC to Seattle in 2010 and imported no quarterbacks in the draft in 2011 or '12. Greg Schiano went from Rutgers to the Bucs in 2012 and took no quarterback till 2013—North Carolina State's Mike Glennon in round three. Chip Kelly, from Oregon to Philadelphia in 2013, did take a PAC-12 guy in round four, but it was USC's Matt Barkley. And when Jim Harbaugh went from Stanford to the Niners in 2011, he imported a Nevada quarterback—Colin Kaepernick. So your memory is quite right.
HIRE ANNIE APPLE
Saw this comment and thought, of all the people in football media with the ability to offer this lady a forum, wouldn't you be the best? Seems a perfect fit. Make it happen. She sounds like someone I'd love to read on a regular basis!
—Ken M.
Interesting proposal, and I have had such a thought. But I've spent enough of the parent company's money this off-season, and I think I'm at my limit. Good idea, though.
A SOFTBALL TBT
Thought Peter King would enjoy this, as he was the coach of this team. From a Montclair Times sports page last week:
Fifteen Years Ago (2001) May 5: Montclair third-grader Molly Joyce, a third baseman on the Murph's Sports Center White Sox of the Montclair Junior Girls Minor Softball League, records an unassisted triple play in a league game at Mount Hebron Field.
—Kevin J.
Thanks for sending that along, Kevin. Molly Joyce—one of our all-time favorites to coach. A wonderful girl with a good softball head on her shoulder. I remember that day well, a Saturday early in our season, and Molly had the presence of mind to tag out two base-runners who were not as smart at softball as she was. It's the only unassisted triple play I've ever seen in person.
• Question or comment? Email us at talkback@themmqb.com.