I've read the legal brief from Tom Brady's legal team, designed to get one final legal challenge of his four-game suspension heard in New York. I still think his chances of winning are equivalent to the Browns' chances of winning a playoff game this year. But if Brady has a prayer of avoiding the suspension, I do believe his team has focused on the two smartest things to convince the Second Circuit roster of 13 judges to hear the appeal en banc—by the entire court—as it's called.
One: The appeal by veteran high-profile attorney Ted Olson on Monday included a simple focus on the 2011 Collective Bargaining Agreement, which states that "uniform/equipment violations" have a first-offense fine of $5,787. Commissioner Roger Goodell bypassed this sanction when levying his four-game ban of Brady, because he exercised his power to pushing Brady for "conduct detrimental to the integrity of, or public confidence in, the game of professional football." Olson's point: Goodell and the NFL Players Association bargained for the schedule of fines and sanctions in 2011, so the commissioner can't take what he rules to be a first violation of an applicable rule and automatically turn that into conduct detrimental … and, I might add, especially considering Brady's home and road performance. At home, home equipment personnel handle the footballs on the sidelines. On the road, the visitors have nothing to do with the football once they arrive at the stadium. Yet Brady's numbers over the past decade are virtually identical at home and on the road (identical plus-96 touchdown-to-interception differentials at home and on the road for games between 2006 and 2014).
"The penalty schedule [for the equipment violation] is precisely where the starting point of this should be, and where this should have ended up, if there was any evidence at all," said a member of Brady's team, attorney Drew Tulumello of the Washington-based firm Gibson, Dunn & Crutcher, in a phone interview late Tuesday. "[Goodell] didn't even discuss it. Arbitrators have some latitude, but you can't make up the process after collectively bargaining it."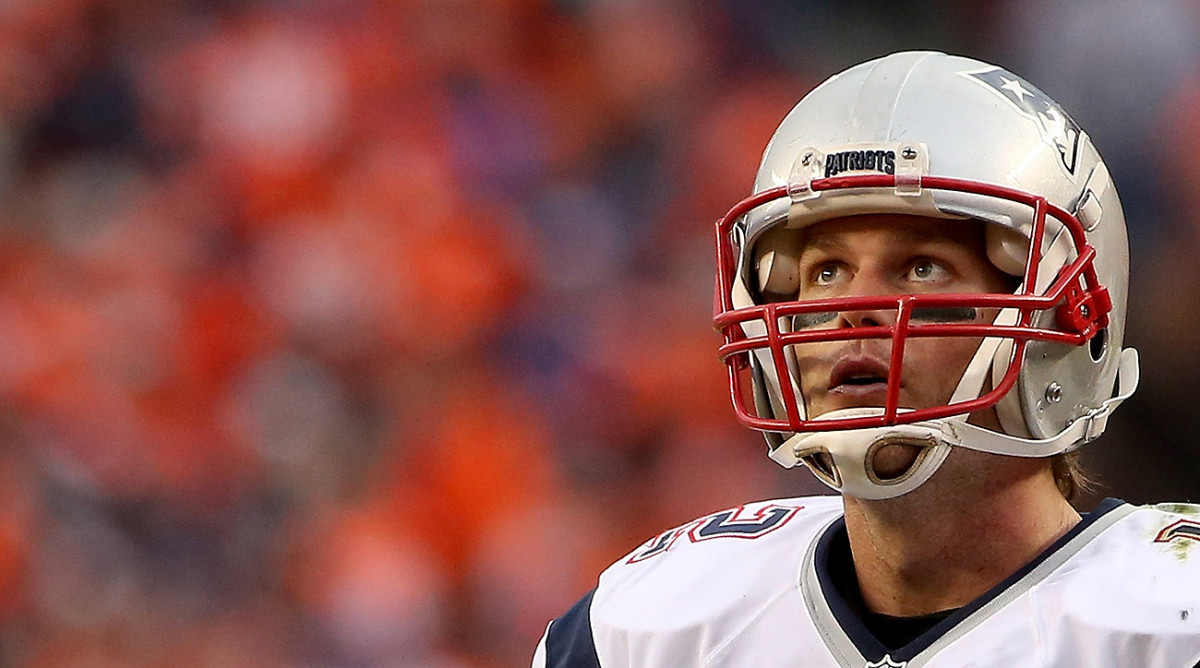 Two: Olson wrote in his petition Monday that this case is not about Brady versus Goodell—but rather about "all unionized workers who have bargained for appeal rights." In other words, Olson tried to make the point that this case must be about all laborers in the Second Circuit—which covers the states of New York, Connecticut and Vermont.
"We want to give the court the opportunity to correct its mistake, and to bring the law into conformity with other circuits," Tulumello said. "The en banc process was designed exactly for these circumstances, where they can be corrected. Our point is that this is about much more than Brady versus Goodell. This court has now laid down rules of labor law that fundamentally contradict rules applied by other courts. We don't believe the Second Circuit will ignore it."
• THE TROUBLE WITH ANDREW LUCK: The Colts QB has all the talent to recapture his magic, but Andy Benoit says he needs the right pieces around him
But that would be in opposition to this court's history. As the Boston Globereported, one-third of 1 percent of the Second Circuit's cases in the en banc system were heard between 2000 and 2010. Thus, this is a Hail Mary of a legal brief. Beyond that, there's a shot just as long: getting heard by the Supreme Court.
A few quick points that I wondered about in my conversation with Tulumello:
• Asked if there's any chance Brady would settle the case if the NFL offered him, say, two games instead of four, Tulumello said it was "hypothetical" and wouldn't answer.
• Asked if the union was going to further lengths for Brady than it would for other players, Tulumello said, "For as long as I've worked with the players association, it's always about the principal, and standing up for players' rights. You don't know which cases will raise important issues. We defend the rights of all players."
• Tulumello has worked closely with Brady on the case, and I asked him about Brady's mindset, and his feeling as the case approaches its 18th month. "I probably should not get into that," Tulumello said. "But he has been steadfast and extremely, extremely easy to work with. He could not be more courteous and helpful in trying to do the right thing."
Expect there to be a wait of between four to six weeks before the Second Circuit rules whether it will hear the case. A failure there would lead the Brady team to the Supreme Court. Again, unlikely.
* * *
The floor now is open to those opposed to me not using the Washington team name. Most of you think I am incorrect, or some version of that. Your reaction to my Tuesday column—and I'll comment at the end of the emails on this subject:
• WHY I STILL WON'T USE R-WORD: Peter King re-affirms his stance on Washington nickname after recent newspaper poll
YOU'RE WRONG ABOUT THE 'R' WORD DECISION
I find Peter King's commentary on using the term "Redskins" the problem with today's society. This political correction nonsense has to stop. I am part Native American and not offended by the term. At what point do we quit trying to accommodate everyone? If you try hard enough you could find someone who's offended by every team name for some reason. It's Peter's choice not to use the term, just as it's my choice not to read his articles. I'm offended he's offended.
—Marty B.
IT IS NOT A RACIST TERM
Of course you wouldn't address a group as Redskins—because no one calls them Redskins! It's not a racist term because no one uses it as a racist term! I've heard way too many racist comments in my life and even though I grew up 15 minutes from an Indian reservation and had two Indians at my wedding, I've never heard anyone use Redskin in a derogatory way. If you approached 10 million Americans and said the word Redskin, I'm guessing 9,996,879 would think 'sports team.' Language evolves. Most importantly, it's about context. People can't say it's OK to use the N word in rap music but you can't use Redskin? Talk about hypocrisy.
—Rick A.
NO TOLERANCE FOR NATIVE AMERICANS
You have stated your opinion on the Redskins' name numerous times over the past several years.  Most Native Americans disagree with your opinion.  Your lack of tolerance for their views is quite telling for someone who preaches tolerance at every turn.  Will you for once admit that what you really want isn't tolerance, but acceptance of your views by all, and the subsequent demonization of anyone who refuses to see things your way? The fact that you think the rest of us care about hearing your oft repeated opinion over and over again only shows your elitism and arrogance.
—Francis W., Inman, S.C.
THE WORD IS OFFENSIVE ONLY TO WHITE JOURNALISTS
Your words on the Redskins name confuse me. The Washington Post is generally regarded as the bible for all liberal news sources. They are the ones that paid for and facilitated this study of Native Americans across the country in regards to the Redskins name. A study in which 90 percent of those polled said they have no issue with the Redskins name. I'd say the people have spoken and this is no longer an issue, but then I read your comments. When is enough enough?! It's becoming more and more apparent that this is only offensive to white journalists. NATIVE AMERICANS THEMSELVES say this isn't offensive nor an issue with them. I don't think it's right of you as a journalist to promote your personal views on a matter when those who should be offended aren't.
—Chris B, Kalamazoo, Mich.
THE AUDIENCE OF NATIVE AMERICANS WOULD NOT OBJECT
What if the audience was an entirely Native American high school with the football team named Redskins voted by the people or students. I'm fairly certain those people would not be offended if you call them Redskins—they named their own football team that. Get off your high horse, get real, and try reporting on some actual news. You don't want to use the R word in your articles, then I just won't read them. What do you have against Dan Snyder anyway? Clearly this is personal.
—Kevin F.
ONCE AND FOR ALL, GIVE IT A REST
Okay Peter, where in your opinion do we stop? Change the Redskins name because it offends 106 of those polled.  So right after that let's poll all those Vikings, or descendants of Vikings, and if more than 20 percent are offended let's change the name. And how about anyone offended by Panthers as it might be a reference to the Black Panthers. Let's poll them as well. And of course the atheists might be offended by the name Saints so let's poll them to see how many are offended by that name. If you really think we should change the Redskins because 21% of those polled were offended then you have to be fair and poll the rest. If not why not?
—Doug, Atlanta
THIS ARGUMENT SEEMS WEIRD
Imagine being in front of an auditorium with 500 people from Green Bay and saying "Good evening Packers." If you are in a steel factory in Pittsburgh, would you start by saying "Good evening dear Steelers?" I don't know. It sounds as weird as the Redskins speech. I can bet if we polled guys from Green Bay we can get 10 percent of people being offended by the name "Packer", or 20 percent that don't like to be called "Cheesehead."
—Luis
AND THANK YOU
Thank you for your column this morning. It is the way I feel. I am African American over the age of 55. I grew up in the sixties and I find the N-word offensive and I don't care if the user is African American. It is still offensive.
—Otis G. 
YOUR STAND IS CORRECT
I congratulate Peter King for taking the correct stand on the Washington team nickname. Someday—and it might be decades before it happens—that name will change.
—Chelsea
I am grateful for the all the reactions, most of them against my opinion on the subject. A few thoughts about your thoughts:
• THE NFL, THE GRANT MONEY AND THE BUSINESS OF CONCUSSION RESEARCH: Jenny Vrentas explains the intersection of these things and the complicated explanation for the league's actions in the NIH study
1. I did not write this column to grandstand. I wrote it because last week a highly respected newspaper issued the results of a poll on the subject, and the results were surprising to the general public. I felt, as someone who had been publicly out front on this issue three years ago, that a short column (about 600 words) expressing my opinion on it was in order on my website.
2. The column is not an attempt to scream, "Agree with me!" It's simply my opinion. If you disagree, we'll all live.
3. I still believe that if you were addressing a group of Native Americans, you wouldn't begin with, "Good evening, Redskins!" Even the most ardent of fans of the team understand that a term some in a crowd would find offensive would be a bad way to greet people. And if you would shy away from using it in a crowd of Native Americans, what does that say?
4. To those who think this issue is offensive only to white journalists, I'll have some of what you're drinking.
5. There is no team name in football that would be potentially disrespectful to one-fifth of those you're referring to with the name. And there is no way that if the team were being founded today that the ownership of the team would christen the team with the name the Washington franchise has now.
6. If a professional team was founded today, in any sport, in any place, would the owners of that team consider naming it what the Washington NFL team's name is?
On with a few more of your thoughts from my Monday column.
ON NFL'S MILITARY MONEY
I don't completely disagree with you on the NFL/military angle, but why does everyone seem to fault the NFL? The military has PR campaigns throughout the nation, constantly recruiting young men and women. The NFL honors the troops, sure, but this is pretty big PR on a national stage, across the nation, almost every week. Most companies would gladly pay for the exposure the NFL offers the military. And if you think that NFL greed is a problem, please note that while the NFL is a multi-billion dollar business, the military is a $600-billion business. If Congress and the military thinks that PR is worth it, let them pay for it...not try to strong arm the NFL into giving up valuable airtime (or other revenue-generating time and effort) for free.
—Dan, New Orleans
I disagree. The NFL wraps itself in the flag every weekend. To take money from the government for it is just wrong. I'll never think it's right.
ON BUD GRANT'S YARD SALE
I have to say it was a real blast to read about an American icon like Bud Grant holding his annual yard sale. It harkens back to a time when the players and coaches of NFL teams could actually be your next door neighbor. Many people know that in addition to playing and coaching in the NFL, Bud Grant played for the Minneapolis Lakers during their first two seasons but how many know that Bud Grant is a bit of a CFL legend? Bud came to Winnipeg in 1957 to play for the Blue Bombers. He was a three-time all-star as an offensive end (split end or tight end) and still holds a CFL record for intercepting five passes in a playoff game. Yes, Bud played both ways throughout his career. He also became the youngest coach in CFL history, up until that time, when he became the Bombers player-coach at age 30.
—David S., St. John's, NL, Canada
Thanks for writing, David. Bud's one of my favorite people.
• 'WE GOT FISHING LURES!': Bud Grant is ready for 12th annual yard sale
A PILOT WRITES ABOUT MY TRAVEL NOTE
I am an airline pilot and couldn't help but chuckle on your travel note this week.  Agreed it may seem inane to have to go through the delay but thought I'd give my opinion on the why. As for the Flight Attendant, he/she probably has been trained not to make "repairs" on the off chance of making it worse.  The MX tech...well sometimes they are quick, sometimes not. A lot depends on what else is happening. On the paperwork...once MX is called in, it is entered into the logbook and is also determined to be mission essential or not. My suspicion is since it was in the passenger section and near to the emergency oxygen access, it is mission essential so it has to be closed out...and documented. For my company, we can't leave the gate without it because of the FAA requirement to have all write-ups either closed or deferred (non mission essential) lest we risk a fine. The reason being is the crew and the passengers want to know that all required work is done...and the log is that proof. The person doing the work has to sign it off, then a supervisor has to release it. This can take a little time. Unfortunately sometimes the paper works takes longer than the fix. Hope that sheds a little light. Doesn't eliminate the frustration I know.
—Jelly
First of all, thanks to you for putting up with numbskulls like me who complain about the dumbest things. I totally get it. But in this case, had this little compartment above my seat simply swung open, I'd have reached up and closed it. That's all that needed to be done. There was nothing to fix. It was a latched compartment that needed to be closed. I don't know. For people to have to potentially miss connections at O'Hare over something like this (and our plane was jammed, and the angst on board was audible) seems silly. But I mean it when I say thanks. I so appreciate the job, often thankless, that pilots and abused flight attendants do.
ONE ROSTER CUT
I'm not saying changing to one final cut to 53 players is the most important issue the owners may discuss, but I give it more importance than you seem to. Many teams, especially the lower level ones, rely on many of those first-wave cuts to shore up their rosters and it helps to have the extra week to get them acclimated to a new system. Having one final cut would, to me, be a significant burden on both the players trying to make the team and the teams hoping to improve themselves. Thoughts?
—Dave K., Albuquerque, N.M.
Excellent point, Dave. I hadn't thought of that. But that's got to be one of the reasons why owners turned down that proposal at the league meetings Tuesday.
BRADY'S SUSPENSION COULD BE A GOOD THING
While I understand Tom Brady's desire to appeal his suspension, I wonder if it's in the Patriots' best interest for him to actually win it?  Brady's going to start the season at 39, and, despite his desire to play to 100, a 39-year old body is a 39-year old body. How bad it would it be for the Pats to see whether Jimmy Garoppolo is the quarterback of the future (which may be a season or two away) and have Brady enter the playoffs with four fewer games of being pounded?
—Jim M., Montpelier, Vt.
Very smart of you, Jim. I'm not sure if the Patriots are sitting at 1-3 after the first month that many New England fans will be in such a philosophical mood. But there is a good point to be made here—that if the Patriots never give the backup a chance to show what he's worth, then how will you or anyone know what he's truly worth, and how will any team know if he's a future starter?
• Question or comment? Email us at talkback@themmqb.com.