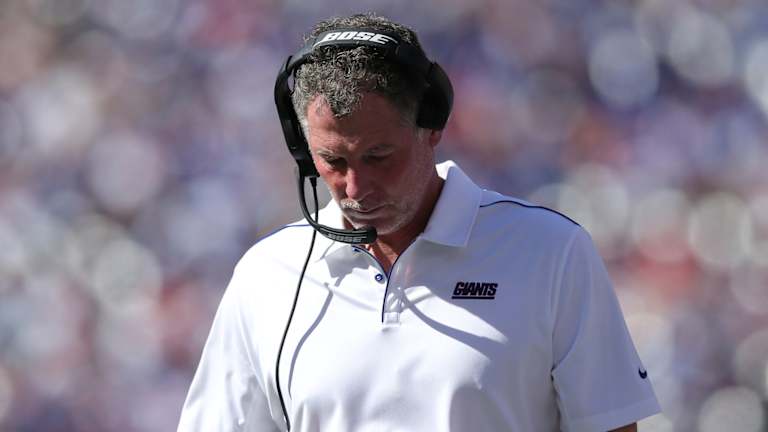 Breaking Down the Giants Offense at the Bye
The Giants offense has been unable to build on a somewhat positive four-game finish to the 2018 season. Here's a look at what's gone wrong and why Giants fans might still want to feel good about the future.
Unlike the Giants defense, the offense, at least at the start of the season, returned mostly intact except for receiver Odell Beckham Jr, traded to the Cleveland Browns in the off-season.
In his place, the Giants signed veteran Golden Tate, but Tate was handed a four-game league-imposed suspension. And two games into the 2019 season, the Giants decided to pull the plug on long-time franchise quarterback Eli Manning in favor of launching the Daniel Jones era.
Unfortunately for the Giants, head coach Pat Shurmur's system has not built off last year's progress in which the Giants, in their final eight games of the season, averaged 358.8 yards on offense and 27 points per game, while also rushing for at least 80 yards on the ground in seven out of their last eight games.
As of the 2019 bye, the Giants are ranked 24th in the league in total offense, averaging 322 total yards, and their 20.3 points per game tie them with the Titans for 23rd in scoring.
As if all that's not disappointing enough, the Giants have only converted 39% on third down and have converted 14 trips inside the red zone (51%)
What's gone wrong, and what kind of hope is there moving forward?
Offensive Line
On paper, the Giants offensive line was vastly improved thanks to the acquisition of right guard Kevin Zeitler via trade and the signing of veteran right tackle Mike Remmers. Both men joined a group that included second-year left guard Will Hernandez, who was coming off a solid rookie season, left tackle Nate Solder, who underwent off-season surgery to clean up an ankle issue; and center Jon Halapio, who was returning from a season-ending broken ankle.
The first two games the promise was there. According to Pro Football Focus, the Giants allowed an average of 10.5 pressures per game in the first two weeks and helped the running game average 140 yards per game.
But then came the injuries, most notably the high ankle sprain suffered by running back Saquon Barkley. The Giants also switched to rookie Daniel Jones in Week 3, a promising player but one who was still getting acclimated to the speed of the game.
These changes resulted in an increase of pressures (13.1 per game) allowed, and a decrease in rushing yards per game (82.75/game).
This doesn't mean the offensive line has played well. Solder has struggled at left tackle, allowing the second-most sacks in the league at his position (eight) while Halapio is tied (with five others) for having allowed the third-most sacks (two) by a center and has allowed the fourth-most pressures (18) by a center.
The pass protection has regressed from 2018, where the Giants allowed the sixth-most sacks in the NFL (47) with a 7.5% sack percentage of quarterback Eli Manning. Through nine games this year, this unit has allowed 34 sacks and is on pace to surrender 60.
It also should be noted that, per Pro Football Focus, Daniel Jones is averaging 2.68 seconds to throw the ball, whereas Eli Manning averaged 2.53 seconds. Also, Jones, who is said to be more mobile than Manning, has a 9.7 sack percentage to Manning's 2.2%.
Where the offensive line has also had issues is in picking up stunts and twists. It also hasn't helped that Barkley, though not part of the offensive line, has struggled with his pass protection, allowing three sacks (tied for third-most on the team with Remmers, Zeitler, and Eric Smith) and seven pressures, the seventh most on the offense.
Running Game
Despite suffering a high ankle sprain in Week 3, Barkley returned seemingly ahead of schedule, missing only three games.
Since his return, Barkley has averaged 41.3 rushing yards per game and is coming off a career-worst game against the Jets, where he rushed for only one yard on 13 runs, a game in which he was hit behind the line of scrimmage on 11 of those rushing attempts.
While one could argue Barkley does not look quite healthy since returning from his injury, there has been little to no running room for him as the tailback has only been able to accumulate 29 total yards on the ground in the previous two losses.
Put it all together, and the Giants rushing attack is averaging 94.2 yards per game, down from last year's average of 103.1 yards per game.
Passing Game
Sterling Shepard and Evan Engram were believed to have been the focal point in the passing game after the Beckham trade, especially given their respective 2018 campaigns in which Shepard had 66 catches for 872 yards and four touchdowns and Engram 45 catches for 577 yards, and three touchdowns).
The Giants were also counting on Golden Tate, a free agent signing, to give the receiving game some additional firepower.
However, injuries and Tate's suspension has kept this unit from being available at the same time. Shepard has missed six games with two different concussions, while Engram has missed two games, one with a knee injury and last week with a sprained foot.
Thus far, Shepard has 25 catches for 267 yards. Engram still leads the Giants in receptions (44) and receiving yards (467 yards) and has three touchdowns, but since returning from his knee injury, he's recorded 11 receptions for 94 yards and one score in three games and missed last week's contest against the Jets due to a sprained foot.
After missing the first two games because of a hamstring injury, rookie Darius Slayton ranks second on the Giants in receiving with 27 catches for 394 yards and five touchdowns. He is also coming off his best game as a pro catching ten balls for 121 yards and two touchdowns against the Jets and has two-multi touchdown games in his last three contests.
Reason for Optimism
In Jones, who has completed 63% of his pass attempts for 1,984 yards, 15 touchdowns, and eight interceptions while also rushing for 208 yards and two touchdowns, the Giants have their franchise quarterback. Jones' biggest issue remains ball security, an issue he and the coaching staff have been trying to fix going back to the summer.
Mix Barkley, Engram, Shepard, Tate, Slayton, Hernandez, and Zeitler, and the Giants look to have a solid nucleus on the offensive side of the ball.
But there is still some more work to be done. The offensive line will likely need at least two, if not three, new faces next year at center and both tackles. But the biggest issue with this offense is optimizing the talent use.
Can Shurmur, who has said that he has no intention of giving up the play-calling, find ways to be creative in getting Barkley out in space? Will the Giants rely less on Engram as an in-line blocker and move him around more than they have?
These and other questions are worth watching over these final six games.