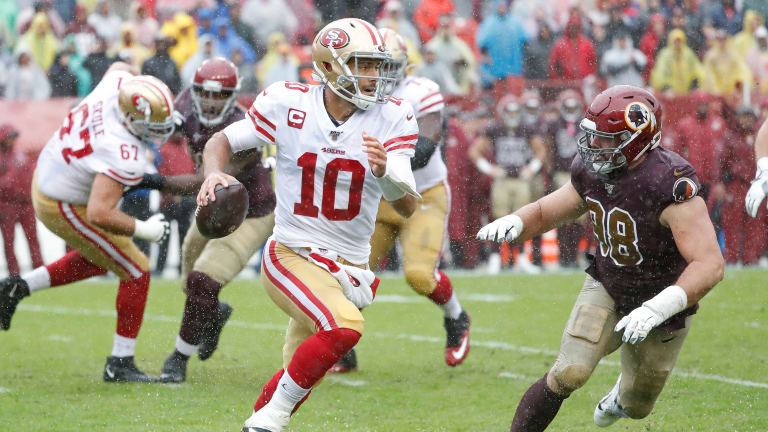 The other side: San Francisco 49ers
Jose Sanchez of SI 49ers Maven gives his take on how things look from San Francisco's perspective heading into Sunday's game with the Panthers.
1. The 49ers are 6-0 for the first time since 1990. What did they figure out in the off-season that's contributed most to the undefeated start?
Well the seeds for the success so far this season were planted back in 2017 when Kyle Shanahan first took over. Much to contrary belief, the 49ers have been improving themselves each and every season. People tend to forget that the 49ers didn't have a legitimate starting quarterback last season. That pretty much derailed their season. Now that the 49ers have Jimmy Garoppolo back, the offense is finally able to run optimally. It also helps that they have continued to add pieces like Nick Bosa, Dee Ford, Richard Sherman. For 49er fans, this isn't that shocking. The framework was laid two years ago and everyone is now starting to see the pieces come together.  
2. How big is the trade for Emmanuel Sanders and who — other than Jimmy Garoppolo — stands to benefit the most?
Tremendously huge. That is a move that says "we're all in" only except the 49ers didn't have to overextend themselves. The wideouts have been extremely underwhelming, but that is mainly due to how Shanahan runs his offense. What he has been trying to build is the Patriots' model of an offense. That is rely on tight ends and slot receivers. Trading for Emmanuel Sanders allows the 49ers to attack defenses in new ways. Other than Garoppolo, George Kittle is the one that benefits most because defenses will have to think twice about putting all of their focus on him. It'll leave them exposed against Sanders as well as the other receivers who will now see match-ups against lesser corners thanks to Sanders acquisition. Pretty much everyone who is a receiver benefits greatly from him. 
3. San Francisco's defense has been smothering opponents — something you can do when you have so many first-round picks up front. Talent aside, what do they do schematically that helps maximize the talent?
Give all the credit to defensive coordinator Robert Saleh. He's brought all his knowledge and concepts over from his Seattle and Jacksonville days to formulate his own unique cover-3 system. What he essentially does is drop everyone into coverage and let the pass rush do it's thing. Considering the immense amount of talent on that defensive front, it makes sense why he can go about this play style. The defense doesn't dial up too many blitzes, but when they do they're hitting home roughly 80% of the time per ESPN. It's like a pitcher in baseball. You get fastball over and over again that you have no idea when that curveball is coming. Best trait of all in Saleh's scheme is adaptability. He's not stubborn with his system and will make adjustments where he see's fit.
 4. What about the Panthers most concerns San Francisco? 
Christian McCaffrey. Christian McCaffrey. And oh yeah ... Christian McCaffrey. This guy is a phenomenal talent. He's easily in the MVP discussions right now. I'm very curious to see how the 49ers' defense is going to try and take him out of the game. Without him, life will be tougher on Kyle Allen, who has been praised by almost every coach and player of the 49ers this week. Kwon Alexander, Fred Warner and maybe even Jimmie Ward will bare the responsibility of trying to bottle McCaffrey up. Now whether they can do it or not is yet to be seen. I'm excited to see how this specific match-up plays out. 
5. What are your predictions for the game?
 I think this is actually gonna be a closer game than what everyone thinks. Panthers have been rolling and are coming off their bye week. They've had plenty of time to rest and prepare for the 49ers. However, it's still hard to see the 49ers not winning this game. They just added Sanders, which gives their offense a new dynamic. If the defense can slow down McCaffery somewhat, they'll be in good shape. Kyle Allen will be put to the test against one of the best pass rushes in the league. Overall, 49ers will remain undefeated in this one. 
Final score: 49ers 31, Panthers 24
For more about the 49ers, visit si.com/nfl/49ers and follow on Twitter at @49ersMavenSI.