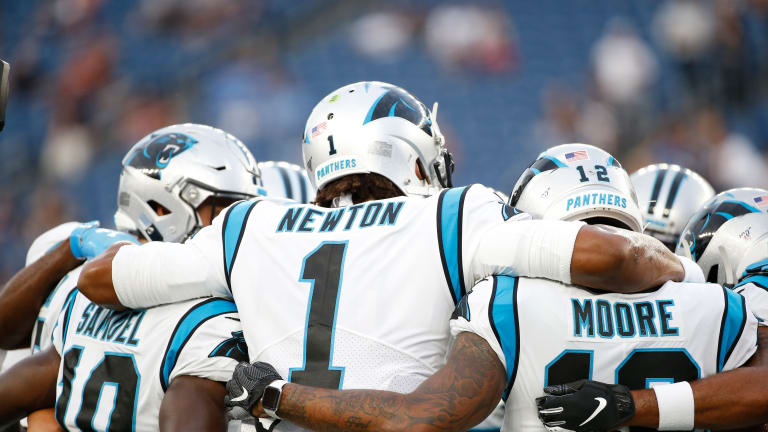 NFL.com Ranks Panthers as No. 18 Team Heading Into 2019 Season
After and offseason of ups and downs, the Carolina Panthers will head into the regular season as NFL.com's No. 18 best team.
The Carolina Panthers have a lot to prove this season.
After imploding halfway through the 2019 season, the Panthers have gained some considerable depth. Cam Newton's shoulder injury was often blamed for the failed season, and the offensive line was horrendous. All of this paired with a shaky defense led to a 7-9 record -- after the Panthers began 6-2.
Over the offseason, the Panthers went out and made some huge acquisitions through free agency and the draft. They were able to build on the defensive front with the addition of Bruce Irvin, Brian Burns, Gerald McCoy and Christian Miller. The offensive line got significantly better with the additions and Matt Paradis and Greg Little. Also, Cam and some vital offensive lineman have returned to full health.
With all that being said, there are realistic conversations that involve the Panthers and contenders in the same sentence. But, NFL.com's Dan Hanzus isn't quick to jump on the bandwagon, after ranking them as the No. 18 team heading into the regular season.
Not every team is terrified of its place kicker -- it just seems that way. The Panthers could have been in that position after veteran mainstay Graham Gano developed a left-leg injury that sent him to injured reserve. Luckily, the fabulously named Joey Slye stepped up in August and inherits the job from Gano. Slye hit a 59-yarder against the Steelers, his third conversion from 50-plus yards this preseason. Playing in the ultra-competitive NFC South, having a dependable kicker could be the difference between 11-5 and 8-8. That makes Slye one of the most important players on this Panthers team. Yeah, I said it. Respect the kicker! Meanwhile, Cam Newton is on track to start Week 1 after injuring his foot in Week 3 of the preseason. Related note: That was the final preseason game Ace Boogie will ever play. Hope you saved your ticket stub.
Rightfully so, the Panthers don't have much clarity on how the kicker position will go after Graham Gano was put on IR. But, Joey Slye looked incredible during the preseason and isn't a bad replacement.
Newton did sustain the mid-foot sprain during the preseason, but he seems to be healthy and ready to start Week 1 against the Los Angeles Rams. The only thing that could impede the Panthers -- is if they have a slow start to the season. A slow start may lead to a mental bog in the organization, which will lead to another disappointing season.
A lot of the weight will be put on Newton's shoulders, but he does have guys like Christian McCaffrey and Luke Kuechly to hold the team up.