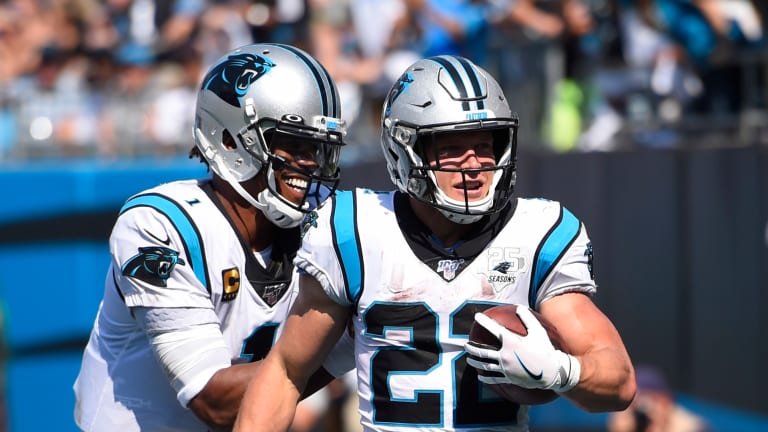 Why Aren't Panthers Throwing Deep?: 'Norv Picked C-Mac For Fantasy'
Why wasn't Cam Newton slinging deep passes in Week 1? It may have to do with Norv Turner's fantasy football team. Joking.
Sunday's season opener for the Carolina Panthers didn't feature anything close to an aerial attack.
The Panthers' 30-27 loss to the Los Angeles Rams was full of short passes and rushes -- primarily from Christian McCaffrey. Cam Newton couldn't seem to get the deep ball going, or even his own legs for that matter. His gameplan seemed to be simple and it was reliant on getting the ball out as quickly as possible.
Reporters asked Ron Rivera if Newton was limited in any way during the game, and he simply said no.
So, why did he only throw one pass for more than 20 yards in the game?
"I think Coach got CMac up for fantasy this week," Newton jokingly told reporters during Tuesday's press conference. "I think that's what it is! Doggone Norv picked C-Mac for fantasy. I should've went over and seen who he was drafting in his league. That's probably why we aren't doing any deep passes, right? Cause he ain't pick me for his quarterback. Now it's all making sense.
"I was wondering why Coach kept calling those Wildcat plays. I'm about to go check with Coach right now. I could've scored, really, without the Wildcat addition. He just didn't want me to score. Coach been holding me back."
But, really though. Newton said that he didn't see a fitting time to throw a deep ball, and it doesn't get deeper than that.
"If it's going to hinder us from winning, I don't want to throw it. But if it's going to make us win." Newton said.
Newton and the Panthers are adamant on the fact that his shoulder is no longer bothering him. There's also been speculation that he just can't throw the ball more than 20 yards.
"You're only asking because of my shoulder," Newton said. "How 'bout this, talk to the defensive coordinator for Tampa and don't think I can throw the ball over 20 yards and see where that gets you. How 'bout that?"
Thursday night against the Tampa Bay Bucanneers will be another test to see where his arm strength is.