Sean Payton and Albert Breer talk Saints QB Competition in MMQB
Sports Illustrated's columnist Albert Breer spoke with New Orleans Saints head coach Sean Payton his latest edition of the Monday Morning Quarterback (MMQB).
Sports Illustrated's columnist Albert Breer spoke with New Orleans Saints head coach Sean Payton his latest edition of the Monday Morning Quarterback (MMQB).
Here's an excerpt of their conversation:
The Saints' coach talks about how the team prepared well in advance for it's long-time QB's retirement. Plus, the NFL's new plan to grow internationally, scouts dish on Justin Fields's pro day, non-QBs who helped themselves at pro days and more.
It was eight or nine days ago, two weekends after Drew Brees made his retirement official, that the now ex-Saints quarterback and his coach of 15 years, Sean Payton, were playing 18 holes. They talked about their kids. They spoke of family and work schedules. They talked like old friends would and, despite the major page-turning that had just taken place, Payton doesn't recall the day of golf now like it was any more significant than any other round.
And so along those lines, as Payton and I talked on Thursday afternoon when I asked whether Brees wanted an update on the Saints' quarterback situation, the coach who'll be guiding it answered that wasn't even necessary.
"Oh, no, he's real close with these guys," Payton said. "He's been on top of this, and we've been on top of this for a lot longer period of time than anyone else."
Indeed, March 14 didn't come out of nowhere for anyone with a keycard to team's Metairie, La. facility—I'm assuming Brees's still works—nor were the Saints ever going to be caught off-guard at the game's most important position, as the greatest player in franchise history worked toward the end of a historic career.
If you've paid attention, the work Payton and GM Mickey Loomis have done traces back to the spring of 2017. The previous September, with a five-year, $100 million deal done in 2012 set to expire, the quarterback and team struck a one-year extension. It was the first in a series of short-term, team-friendly contracts (he did another in 2018 and his final one last year) that signaled the quarterback designating himself as year-to-year.
So Payton and Loomis dug into the 2017 draft class and fell one pick short of landing Texas Tech phenom Patrick Mahomes, whom Payton had fallen for; then, a few months later, put in a waiver claim on an intriguing Packers exile named Taysom Hill. And as was the case with Mahomes in 2017, the Saints had affection for Oklahoma's Baker Mayfield in 2018, but landing him, as Mayfield's stock rose, was never all that realistic, which played a part, four months after that, in the team flipping a third-round pick to the Jets for Teddy Bridgewater.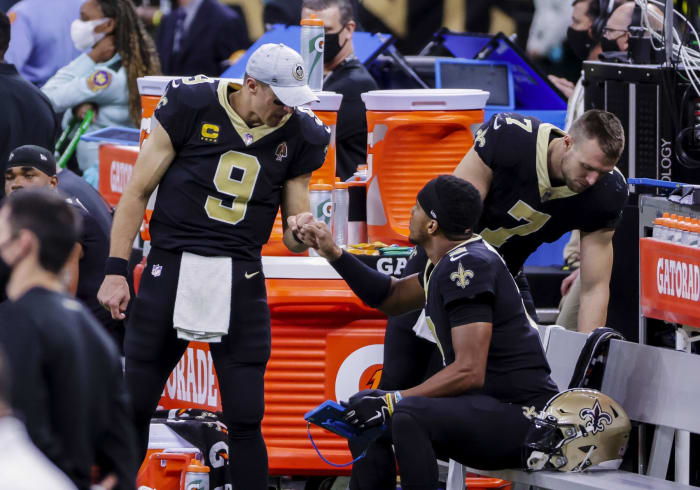 "I think that would be fair," Payton said, "[to say] we've been in the quarterback business."
Which is to say, no, Brees, didn't need an update, because he's been sitting front row for this the whole time. And, yes, the Saints have prioritized being prepared for Brees to walk away for nearly half a decade now.
But all that doesn't make what'll happen the next few months in New Orleans any less significant.
Click here to read the complete column as Albert Breer gives more details about his conversation with Sean Payton in his  MMQB article on Sports Illustrated.