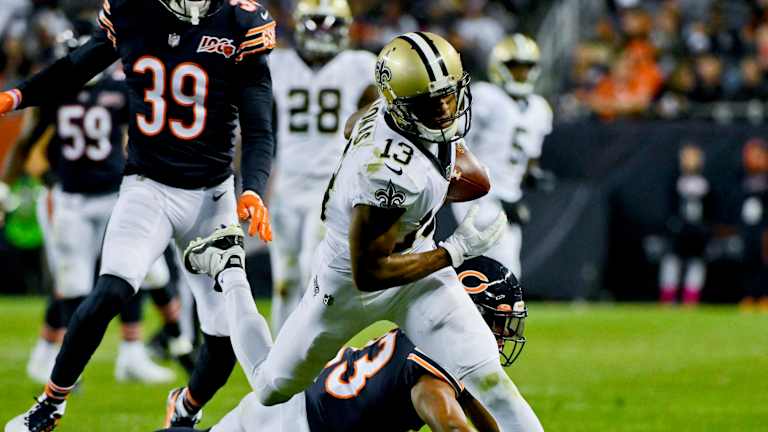 Smackdown Battles Shutdown: Thomas vs. Peterson
A marquee one on one showdown between one of the best receivers and one of the best cornerbacks in the NFL will go a long way in determining the winner of Sunday's Saints vs. Cardinals battle.
There are many battles within the battle of any sport, certainly they exist within any game played in the National Football League. One-on-one matchups will often determine the outcome of a football game. When the New Orleans Saints host the Arizona Cardinals on Sunday afternoon, several of these head-to-head showdowns will go a long way in deciding who emerges victorious. One such face-off will occur every time the Saints throw the football: Wide receiver Michael Thomas versus cornerback Patrick Peterson. 
Michael Thomas is in his fourth NFL season since being drafted in the second round (47th overall) by New Orleans in 2016 out of Ohio State. Thomas has had over 1,000 yards receiving in each of his previous three seasons, and is well on his way to surpassing that mark again this year. He is coming off a record breaking campaign in 2018, where he had 1,405 yards on a league leading 125 receptions, both franchise records, while scoring 9 touchdowns. Thomas leads the league so far in 2019 with 62 catches for 763 yards, scoring 3 touchdowns. 
For his career, Michael Thomas has caught 383 passes for 4,550 yards and 26 touchdowns, setting all-time league records for production within a player's first four seasons. He was awarded a record breaking contract this offseason, agreeing to a five year extension with the Saints worth up to 100 million dollars, with 61 million guaranteed. Thomas has made most NFL defensive backs into his own personal toys, but now gets a shot at one that many consider to be the best. 
Cornerback Patrick Peterson is in his ninth year, all with Arizona, entering the league as the 5th overall selection in the 2011 draft.  Peterson has made the Pro Bowl in all eight of his previous seasons and considered as one of the top cover cornerbacks in the league. He has 23 career interceptions, 12 fumble recoveries, and has forced 19 fumbles. Peterson has the athleticism and man-to-man coverage ability to match up with any of the NFL's top pass catchers.  He often is assigned to the opponent's top wideout and has often made them irrelevant during a game. 
Peterson served a six-week league suspension to start the season, with his first game back being his team's win over the New York Giants last week. His return to the Arizona lineup will undoubtedly improve a Cardinals pass defense that ranks 25th in the league.
Thomas shoulders a huge load of the Saints passing offense. He has been targeted 78 times this season. The next most targeted player for New Orleans is running back Alvin Kamara with 39, while Ted Ginn's 30 targets is the next highest among Saints wide receivers. Despite the heavy workload, very few defenses have been able to contain the 26-year-old wideout.  He has hauled in 77.4% of the passes thrown to him in his career, and nearly 73% of his career receptions have resulted in a first down or touchdown.  Thomas has five or more catches in every game this season and has had at least 8 receptions for over 85 yards in six of seven contests. 
What makes Thomas successful against most coverage defenses is his precise route running, particularly through intermediate zones. Peterson himself is a fine technician that prides himself on studying the tendencies of his opponent. The 29-year-old cornerback can shadow his assignment all over the field and has excellent ball-hawking skills to create turnovers. 
Two major advantages for Thomas is how he uses his body so expertly to shield defenders from the ball and his excellent hands to make the tough catches in traffic. The receiver's strength and 6'3, 212-lb frame should be an edge over the 6'1, 203-lb Peterson, who can struggle against physical receivers. However, Peterson's great recovery speed gives him the athletic advantage over Thomas and possibly preventing any "deep shots" against him. Thomas excels the best in intermediate routes where most of these battles will take place in the Mercedes-Benz Superdome.. 
New Orleans quarterback Teddy Bridgewater has won five straight starts in relief of injured starter Drew Brees. The Saints passing game has continued to have success due to the abilities of their All-Pro wide receiver. Bridgewater did not hesitate to heavily target Thomas, especially in key situations during the winning streak.
Michael Thomas and Patrick Peterson are each among the NFL's elite, and both have consistently flourished against the league's top competition. This one-on-one face-off will not only provide viewers entertainment on every snap, but will be a major factor in determining who wins Sunday's game.