Hurt fans cast pall over Johnson's Daytona 500 win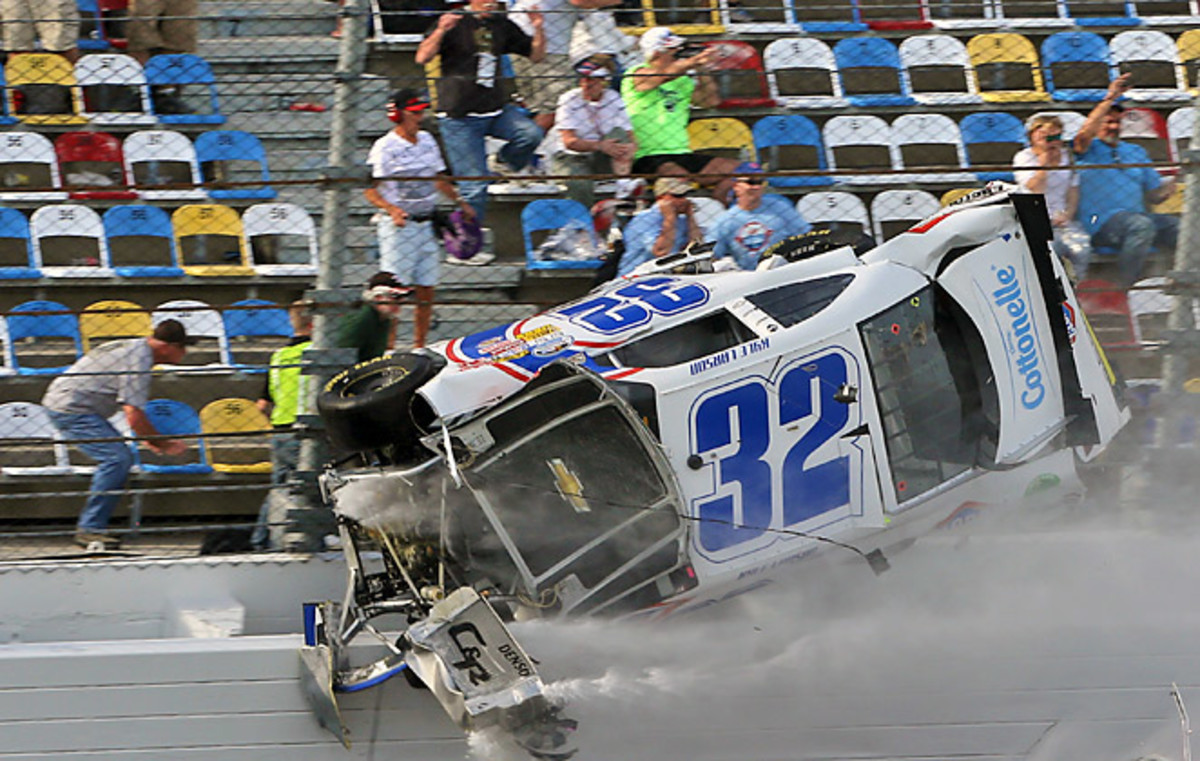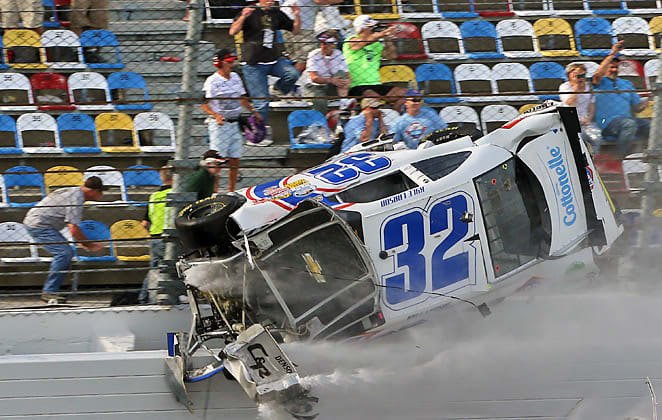 DAYTONA BEACH, Fla. -- At 10:09 a.m. Sunday at Daytona International Speedway, well before the stock cars had rolled onto the starting grid for the 55th running of the Great American Race, Stephen Bowman stood on the storied track near the finish line. He gazed into the towering grandstands, searching for Section I, Row 5, Seat 49. Peering through the gray Florida morning, balancing himself on the steeply banked asphalt, he finally spotted the place where, 18 hours earlier, he could have been killed.
"It was like a bomb went off and then metal shrapnel shot over a large area," said Bowman, 46, a plant superintendent in Kokomo, Ind., pointing to his seat. "One in our group got hit by a metal clamp. A tire came flying over the fence. I was sure that people were going to die."
ESTES: Daytona 500 didn't produce thrilling racing promised with new Gen-6 cars
Bowman's story of horror -- and so many others from the Nationwide race on Saturday at the 2½-mile tri-oval -- overshadowed everything else at Daytona this past weekend. What is believed to be the highest injury toll from a race-related accident in NASCAR history (in terms of number of fans injured) cast a pall over both Jimmie Johnson's victory on Sunday in the Daytona 500 and Danica Patrick's historic afternoon (she became the first female to lead a lap in the race and finished eighth, another best for a woman at Daytona). Many drivers admitted that the Saturday carnage had left them shaken on Sunday. "I had a sick feeling all day, all morning, since I got up this morning, and last night about what happened yesterday at the end of the race with the fans," said Mark Martin after he had finished third in the 500. "[It's] something that we cannot have happen."
Added Dale Earnhardt Jr., who came in second on Sunday, "I was just waiting for word on how everybody was, not really ready to proceed until you had some confirmation that things were looking more positive."
*****
With two laps remaining in Saturday's second-tier Nationwide race, Bowman rose from seat 49, Row 5, Section I, and started shooting video. Up until then, he had only taken still photographs. But like everyone else who follows NASCAR closely, Bowman firmly believed that a big, ferocious, fiery wreck was going to occur over the final five miles of the race, and he wanted to record it for posterity.
MCCANN: Who can watch fan-filmed videos of Saturday's wreck?
Daytona is famous for producing the Big One: the multi-car wrecks that can take out up to half the field. Because restrictor-plates are placed in the carburetors at Daytona and Talladega to keep top speeds around 195 mph, the cars travel around these superspeedways in big packs. The slightest driver miscue can cause one car to bump into another and then, with an accordion-like effect, in a few heartbeats 20 cars can slam into each other in a whirl of smoke and twisted metal. For many fans, this is the seductive allure of plate racing: knowing that the Big One is coming, especially when drivers grow aggressive in the closing miles of a race.
On Saturday's final lap, the leaders charged through Turn 4 at 190 mph. Bowman aimed his camera at the cars that were now coming directly at him as he stood in the tri-oval section, not far from the finish line. On the track, Regan Smith, who was in the lead, moved to block a fast-approaching Brad Keselowski. The two made contact, Smith lost control, and -- in an eye blink -- the crash that Bowman had hoped to see was barreling right at him. But then horror: Kyle Larson's No. 32 car went airborne and was shredded by the catch fence. A tire flew over the fence and whizzed by Bowman's head. Pieces of Larson's car, which was sheared in half, shot into the seats, some of the shrapnel traveling as high as the upper deck. The engine stopped only feet away from Bowman, who was showered with water and oil.
Immediately Bowman, who wasn't hurt, and other fans in his row scanned the area: the head of one fan, according to witnesses, was covered in blood; another had a leg sliced open from calf to thigh; a child was on the ground and bloodied; a few adults were also crumpled on the concrete beneath their seats and motionless. Uninjured fans in the upper deck screamed for help, yelling that they had friends that needed medical assistance.
"It was the scariest thing I've ever seen," Bowman said as he rewatched the video on Sunday morning. Bowman's hands literally were shaking as he relived the moment in which 28 people were hurt (including two critically). "It was unreal, like a really bad dream."
Mark Taylor, 54, of Tucson, Ariz., was close to Bowman in Row 12, Seat 18. "It happened right in front of us and I thought, 'Oh my God, people are going to die,'" Bowman recalled Sunday morning. "It was surreal. Right after it happened everyone got really, really quiet, because we were all in shock. Then the next thing you know there's like 30 ambulances on the scene and it was chaos. But I'm going back to my seats today. Lightning doesn't strike in the same place twice, right?"
It didn't on Sunday, as the Cup drivers appeared to be more cautious than usual in the final laps of the Daytona 500. But, even after Johnson won and the celebratory fireworks were blasted into the sky and Johnson did a burnout on the frontstretch, there wasn't the sense of joy and excitement that usually pervades the garage and the grandstands after the most significant stock car race of the year.
Only miles away, at Halifax Health, seven people were still hospitalized. And that's the image -- fans hurt -- that we'll most remember from this past weekend at Daytona.