Donovan says he has 'a long way' to go to get back to U.S. team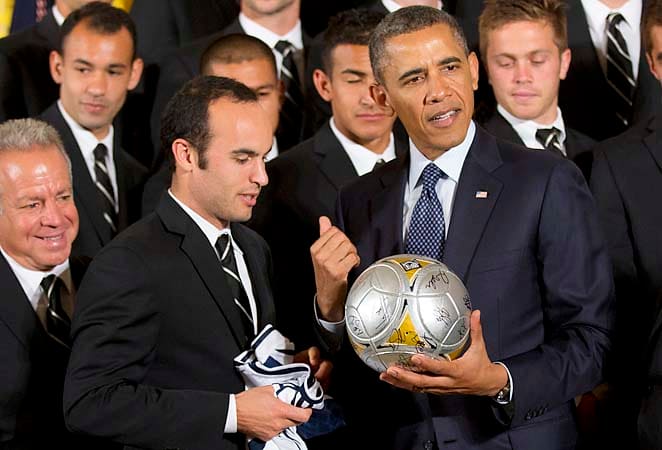 Landon Donovan hopes to regain his place on the U.S. national team.
Back with the Los Angeles Galaxy after a sabbatical of nearly four months, the 31-year-old midfielder said Thursday he wants to help the U.S. qualify for next year's World Cup.
"I realize that I have a long way to go, both on the field and off the field, to work back into the national team, and that's my goal,'' Donovan said after a training session with the Galaxy at Georgetown. "I miss being a part of that. I want to represent my country again.''
Donovan, who joined the Galaxy ahead of their visit to the White House Tuesday, said he will not play in Los Angeles' match Saturday at Toronto but could return as a substitute in upcoming games.
A member of three World Cup teams and the American career scoring leader, Donovan has been watching the national team from a distance. The U.S. is 1-1-1 in the final round of qualifying from North and Central America and the Caribbean following Tuesday's 0-0 tie at Mexico. It was just the second time the U.S. secured a point in Mexico in World Cup qualifying.
"I was so proud to watch, so proud to be just an American fan,'' Donovan said. "Forget about a player or a teammate.''
Donovan hadn't appeared in a match since Dec. 1, when the Galaxy won their second straight MLS title. He took the extend break to "get the enjoyment back'' and already has missed Los Angeles' first three league matches and CONCACAF Champions League quarterfinals.
While Donovan has had brief loan spells with Bayern Munich and Everton in recent years, he has spent most of his club career at MLS. He's been with the Galaxy since 2005.
"I've known a lot of these guys for a long time, and I think they understood how badly I needed some time away,'' he said. "I'm fortunate to play for a team like this. There are probably a lot of other teams that would not have been as accepting.''
U.S. coach Jurgen Klinsmann didn't consider Donovan for his roster against Mexico but has said he is open to a return. It depends on Donovan's condition and form.
"He certainly hasn't agreed with a lot of my choices, and that's understandable,'' Donovan said. "He's always been very respectful. He's always been supportive, and now my task is to find my way back in. And there's certainly no obligation on anyone's part to let me back in. I've got to earn my way back.''
Galaxy teammate Omar Gonzalez, who has emerged as a starting central defender in all three qualifiers this year, would welcome Donovan's help as the American try for their seventh straight World Cup berth.
"It could be great for us,'' Gonzalez said. "He's just another option to threaten teams behind. He brings a lot of speed. Teams respect him. Teams respect who he is, and he's also a great leader.''