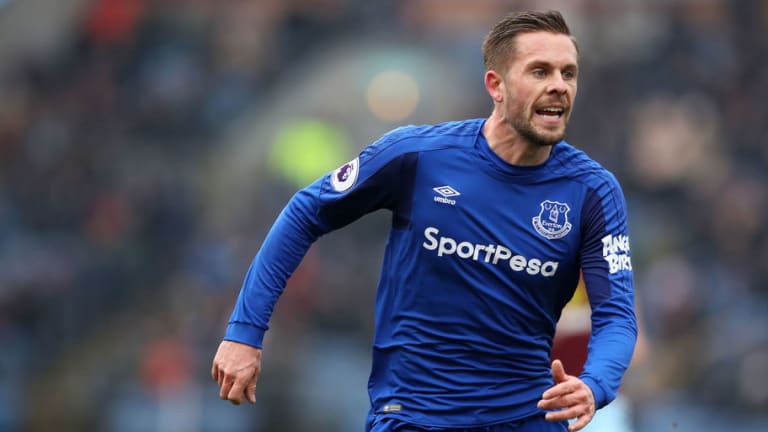 Everton Star Gylfi Sigurdsson Vows to Return From Injury 'Stronger & Fitter Than Ever'
Everton star Gylfi Sigurdsson has vowed to come back from his injury 'stronger and fitter than ever' as he continues his recovery.
The Icelandic international suffered a knee injury during Everton's 2-0 home win over Brighton earlier in March and has now begun his road to recovery with club officials claiming he is making steady progress.
He will now follow a recovery programme designed by the club, and speaking to the club's official website, Sigurdsson went into further detail about what the programme includes. He said: "It is going well and I am steadily making progress each day.
"I have not had any setbacks, I am off the crutches and out of the brace and almost back to walking normally. I have to get through a lot of exercises with the physios and on the machines – and the hands-on treatment as well. 
"Then there is work in the pool and in the gym. Everything I have been doing is helping me a lot and I am feeling the benefit of it."
After reports emerged suggesting he may miss the start of the World Cup, Everton manager Sam Allardyce later rubbished the reports and insisted that he expects Sigurdsson to feature for Everton again before the end of the season.
The 28-year-old went on to praise the Toffees' medical team and claimed he is surrounded by the right people who will assist him with his rehabilitation. 
He added: "The medical team have been really good and kept me busy in the past few weeks, they want to get the work in.
"They are really good, not just as physios, but you need to work with people you enjoy being around – and they are those types of people as well, which helps enormously when you are dealing with an injury for any length of time. It makes the work in the gym that bit easier."
Despite the fact he is only set to miss a few weeks of action, Sigurdsson admitted his lack of patience watching his teammates compete, however also believes he will return from the injury a better player.
He said: You can understand why it is difficult for the players who have long-term injuries when they have to watch the boys going out training every day. Thankfully, mine is not a long one, but it is just part of the game.
"Everyone has injuries during their career and you just have to get through it. I am not very patient, I have to be honest. I like to get things done quickly. But I know this is going to take time and I will have to be patient and make sure I am not rushing it.
"I have been very lucky with injuries in my career and, hopefully, I will come back stronger and fitter than ever."
Whilst the midfielder continues to recover from his injury, Everton will need to adapt quickly to life without him as they now look to rediscover the form they showed prior to the current international break - which saw them win back-to back-games against Brighton and Stoke.
They'll face the league leaders Manchester City at Goodison Park on Saturday as they look to leapfrog Leicester into eighth place in the Premier League table.