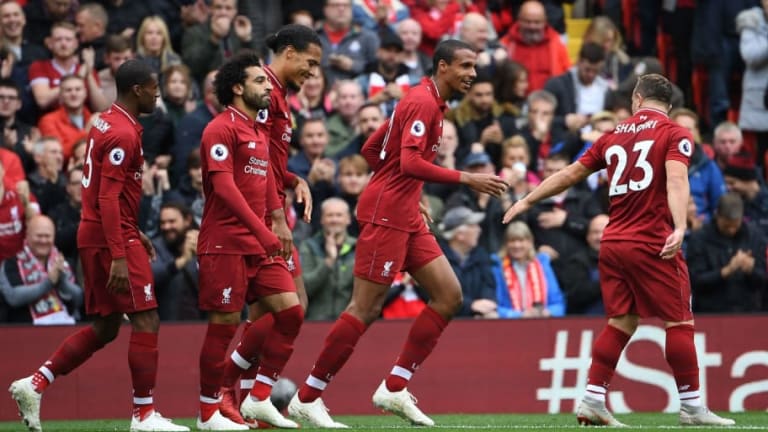 Xherdan Shaqiri Admits He Was a 'Really Cheap' Signing & Claims Former Teammate Is 'Jealous'
New Liverpool signing Xherdan Shaqiri has claimed he was a bargain signing for the club this summer, while hitting back at former teammate Charlie Adam's criticism of him.
Shaqiri joined the Reds from relegated Stoke City this summer for around £13m, in a move Jurgen Klopp described as a 'no brainer'. 
In an interview with The Evening Standard, the winger revealed he has no regrets about moving to Liverpool, adding he was eager to work with Jurgen Klopp.
He said: "I had a few options because I was really cheap! I was maybe one of the cheapest players in this crazy market. 
"The good thing was Liverpool came really early. They called Stoke City and for me it was clear when they came because I wanted to work with Jurgen and I knew him a long time.
"I didn't want to hear anything else at that moment and said let's do this.
"It was important that the coach wanted me and he called me and said, 'I want you in my team'. It was clear to come here to progress this club to getting better and more successful.
"I'm settled in very well and I'm very happy to be here and to try to make my focus to learn every day and help this team to progress and go forward."
Shaqiri has started life at Liverpool promisingly, receiving plaudits for his 45-minute display against Southampton earlier in the month, in which he had a direct part in two of Liverpool three first half goals. 
However, not everyone is a fan of the Swiss star, with former teammate Adam criticising Shaqiri in an interview with talkSPORT. 
The Scottish midfielder, who also played for Liverpool, suggested Shaqiri was among those responsible for the club's relegation.
Shaqiri responded by saying: "I think it's just frustration maybe or jealousy because I had a good move. 
"I was surprised that he spoke like this about me but that is sometimes the character of a player.
"I know what he said was totally wrong because at that time I played there - especially when times were hard - I was there and I was scoring a lot of goals.
"I was one of the only ones who helped the team with goals in difficult games and he was that guy who took the red card in [important] league games and missed a penalty."