Grading the NBA draft performances of top college basketball programs
The NBA draft, naturally, will be evaluated mostly by how the professional teams fared. But as evidenced by the notable green-room appearances of college coaches like Kentucky's John Calipari, Michigan State's Tom Izzo and Kansas' Bill Self, the draft is also an advertisement for college programs. And, more specifically, it's a showcase of a school's ability to offer recruits a clear path to a handshake and bro-hug with commissioner Adam Silver.
So many variables enter these evaluations – decisions to leave school early that backfire, for example, often fall at the feet of the player and advisors who have little to do with the college program itself – but the picks are the picks in the end. Here are grades for several schools that had multiple notable players enter the draft.
Kansas: A+
Andrew Wiggins and his custom suit strolled onto the stage at Barclays Center before anyone else, the ear-to-ear smile from the freshman star worthy of the No. 1 overall pick by the Cavaliers. And despite surgery for a broken navicular bone that stoked questions about his future, Joel Embiid landed on his feet anyway, with the 7-footer scooped up at No. 3 by the 76ers. It's obviously difficult for any school to do better than two players selected in the top three of an NBA Draft. Kansas gets a little extra credit for both of its top prospects overcoming the respective knocks on them – Wiggins for his laid-back manner, Embiid for his health – to dominate the top of the draft board. Self's reputation as a coach who gets players ready for the pros quickly certainly got a boost Thursday.
Kentucky: A
Concerns about a possible foot injury also dogged Julius Randle in the pre-draft scuttle, and the 6-foot-9 double-double machine was not the first forward off the board. But he landed with the Lakers at No. 7 overall, a team that wanted him and for whom Randle could be a seamless for his willingness to battle on the glass. Fit is as important as draft slotting, and Randle couldn't have asked for much better. Likewise James Young slipped out of the lottery but landed with a Celtics team that can immediately use his shooting ability -- even if he could use some seasoning, as the 6-8 Young only turns 19 in August. Calipari got himself another two first-rounders, though, which is why he was all smiles in Brooklyn.
2014 NBA draft: Breaking down the winners and losers of this year's draft
Three first-round picks off one roster? There is little to complain about there for Bruins coach Steve Alford, who knows one of his job requirements is convincing top prospects that he can get them draft-ready. Whether Zach LaVine was miserable or overcome with relief at being drafted by the Timberwolves at No. 13, he nevertheless was a one-and-done prospect who averaged less than 10 points per game and landed in the draft lottery. What a country. Meanwhile, Jordan Adams changed his mind and elected to enter the draft after initially declaring he'd return to Westwood, and he had that decision validated by going in the first round at No. 22 to the Grizzlies. Finally, Kyle Anderson might have been one of the draft's biggest individual winners. He had to wait until pick No. 30 to hear his name called ... but the point guard with the 6-9 frame found himself picked by the defending champion Spurs, who know precisely how to maximize what Anderson offers, having just done it with Boris Diaw.
Jabari Parker said before the draft that he expected to go to the Bucks at No. 2, and Jabari Parker went to the Bucks at No. 2. The 6-8 scorer will be a focal point of Milwaukee's potential resurgence, teaming with Giannis Antetokounmpo to form a promising frontcourt for the future. And with Kyrie Irving, the No. 1 pick in 2011 and now Parker -- to say nothing of Jhalil Okafor, the No. 1 high school player in this year's class, who is expected to be a top pick next year -- Mike Krzyzewski can point to plenty of recent high draft picks when he wants to sell elite recruits down the line. Rodney Hood perhaps waited slightly longer than he expected. The 6-8 shooter deemed a likely pick in the teens landed with the Jazz at No. 23. Hood can step in right away, though, and it wasn't a precipitous enough fall to put a damper on the evening for Duke.
The night proceeded about as well as expected for the Wildcats' prospects. There has to be some extra credit for Aaron Gordon being the first surprise of the draft as the first power forward off the board at No. 4 overall to the Magic. The preposterously gifted Gordon wasn't going to last deep into the lottery regardless – the NBA actually had to adjust the vertical leap measuring mechanism at the combine, because it lacked the capacity to measure his jumps. And ultimately the 6-9 forward again exceeded his expected reach on Wednesday. Nick Johnson, meanwhile, went 42nd overall to the Rockets in the second round. On the one hand, Johnson left Arizona early because as a 6-3 combo guard, one more season in college probably wasn't going to affect his stock. On the other hand, Johnson surely would have preferred to go higher. But he's with a Western Conference contender that may well add a star in free agency this summer. A good night for Sean Miller and Co.
The Wolverines placed two players in the first round. Nik Stauskas landed with Sacramento at No. 9, which was the anticipated part, as the sharpshooter's camp figured his name would be called anywhere between picks No. 5 and No. 11. Mitch McGary, meanwhile, overcame a difficult sophomore season in which he played only eight games because of injury and failed a test for marijuana to land with the Thunder at No. 21. Given the questions the 6-10 forward had to answer, joining a top contender on which he will not be expected to carry the load is a fairly ideal ending. If there was any disappointment, it was Glenn Robinson III lingering on the board until the 10th pick of the second round and heading to the Timberwolves. There, he'll likely be expected to contribute quickly ... but it'll also be a team on the rebuild with the expected departure of Kevin Love. The potential for a trio of first-rounders didn't come to fruition, but John Beilein's program had reason to be proud on Thursday.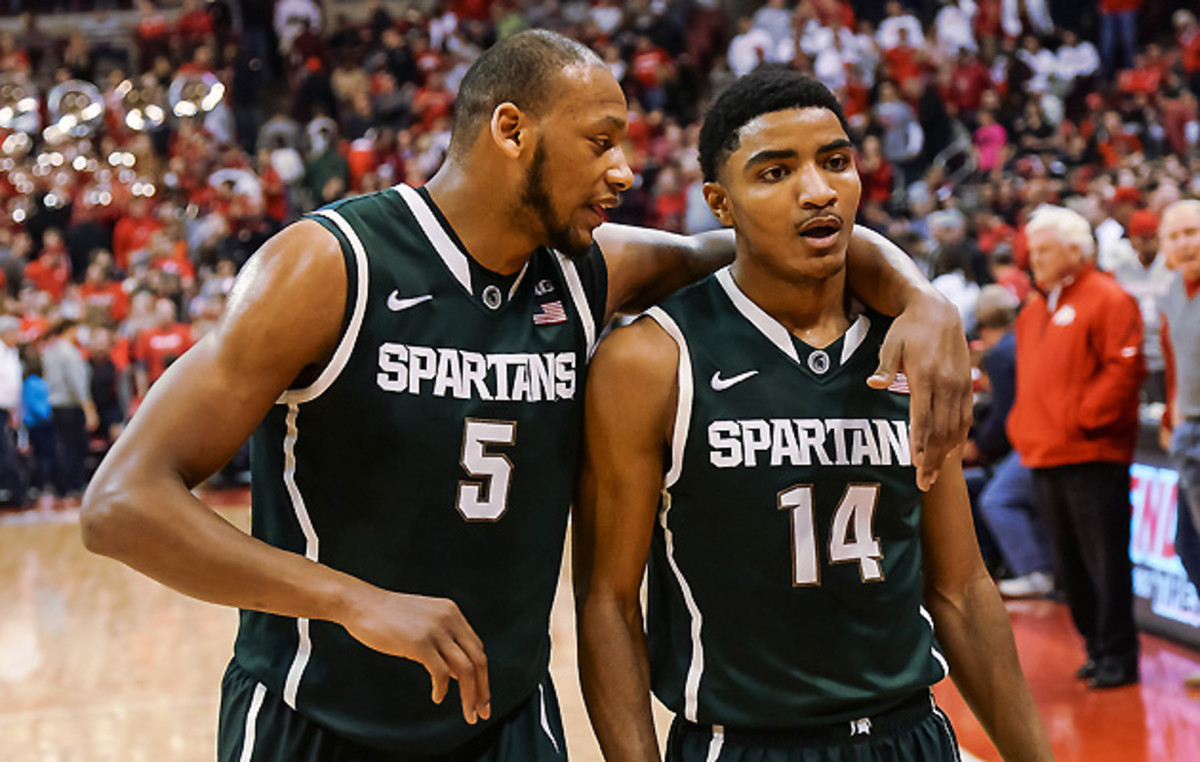 Michigan State: B
Both Adreian Payne and Gary Harris remained available for a fraction longer than some expected. Payne went to the Hawks at No. 15, landing just outside the lottery but essentially in the spot for which most had the 6-10 stretch power forward pegged. Harris had to endure a longer wait, snatched up at No. 19 and then sent to the Nuggets as part of the deal that brought Doug McDermott to the Bulls. That's a decent landing spot for a player who can defend and get out in transition ... but it was only hours earlier, too, that Denver brought in Aaron Afflalo via trade. There might be a logjam for backcourt minutes that Harris must overcome. Izzo won't complain about two top-20 picks, though. Harris might wonder, though, if he could have had a slightly better fate.
Marcus Smart was all smiles when the Celtics picked him No. 6 overall, with concerns about his shooting, his demeanor and his past (See: Fan, shoved) evidently extinguished in the run-up to the draft. One obvious point of discomfort is how Smart and Rajon Rondo can co-exist on the same roster, if at all, but that presumably will be worked out by the Boston front office over the summer. Bottom line: Smart might have been selected even higher in 2013, but a tumultuous sophomore season didn't truly hurt him. Shooting guard Markel Brown later landed with the Timberwolves at No. 44 overall in the second round. Brown wasn't going to be a first-rounder, and he'll potentially vie for minutes with fellow Minnesota draftee Glenn Robinson III, but at least he's with a retooling franchise that will give everyone a chance.
It's never a bad thing when a program's first player selected is not the player everyone expected to be its first player selected. In this case, Josh Huestis parlayed his defensive prowess and adequate shooting into a first-round landing spot with a contender. The Thunder selected Huestis at No. 29, which probably means they envision a specialized role for the 6-7 forward, but a top franchise clearly places a decent amount of value on what Huestis offers. Josh Powell followed 16 picks later, with the 6-foot-11 forward going to Charlotte. But the Hornets, who already have Cody Zeller and selected Noah Vonleh at No. 9, may not have enough minutes for Powell.
Shabazz Napier might get the chance to play alongside LeBron James, assuming the best player in the world elects to return to the Heat. The cost of that great fit was waiting until the Grizzlies chose him at No. 24 before moving him to Miami, when Napier was thought to be a possible pick in the teens. He likely isn't complaining, but it's a minor slip still. DeAndre Daniels, however, can't be altogether thrilled. He was one of the late deciders in the stay-or-go process, and the 6-9 forward was passed over until the second round, heading to the Raptors at No. 37. Might he have been assured of a first-round spot in 2015 after a year of consistently scoring, rebounding and blocking shots in Storrs?
C.J. Fair
P.J. Hairston earned a bit of deliverance, having been stripped of a season of college basketball due to NCAA rules violations and nonetheless winding up as a first-round pick. The 6-5 guard was picked by the Heat and then traded to the Hornets, and the questions about whether Hairston will be able to perform well and stay out of trouble not far from the same place he grew up have already been raised. James Michael McAdoo, meanwhile, went from the No. 8 prospect in the country coming out of high school to undrafted after leaving school following his junior year. It's fair to argue that the 6-9 McAdoo wasn't going to make a quantum leap, production-wise, with another year in Chapel Hill after three often underwhelming seasons. But even a slight jump might have earned him a spot in the 2015 draft.
It's not that Jarnell Stokes and Jordan McRae should be disappointed with second-round selections. That was probably the realistic expectations for both, even though there was a case to be made for Stokes' rebounding pushing him into the first round. (See SI.com's Luke Winn on that subject.) But Stokes getting picked and then moved along to the Grizzlies means he'll be a reserve in a frontcourt featuring Zach Randolph and Marc Gasol. And McRae getting picked by the Spurs at No. 58 overall and then getting shipped to the 76ers only means he'll have a slightly better shot at making perhaps the worst roster in the NBA.
Some lowlights for the Lobos: Cameron Bairstow landed in a decent spot with the Bulls at pick No. 49; depending on what Chicago does with Carlos Boozer, the 6-foot-9, 250-pound Bairstow could immediately become the power forward option behind Taj Gibson, who would slide into the starting lineup. And the Bulls are a franchise that values four-year players who work hard, like Jimmy Butler (Marquette) and Kirk Hinrich (Kansas). But early departures for guard Kendall Williams and center Alex Kirk did not have happy draft endings. Both went unselected on Thursday night. One positive for New Mexico is that coach Craig Neal doesn't need to run a program that spits out NBA prospects after a year or two. This was an advertisement for sticking it out in The Pit.