Stony Brook's Bedell to miss JMU showdown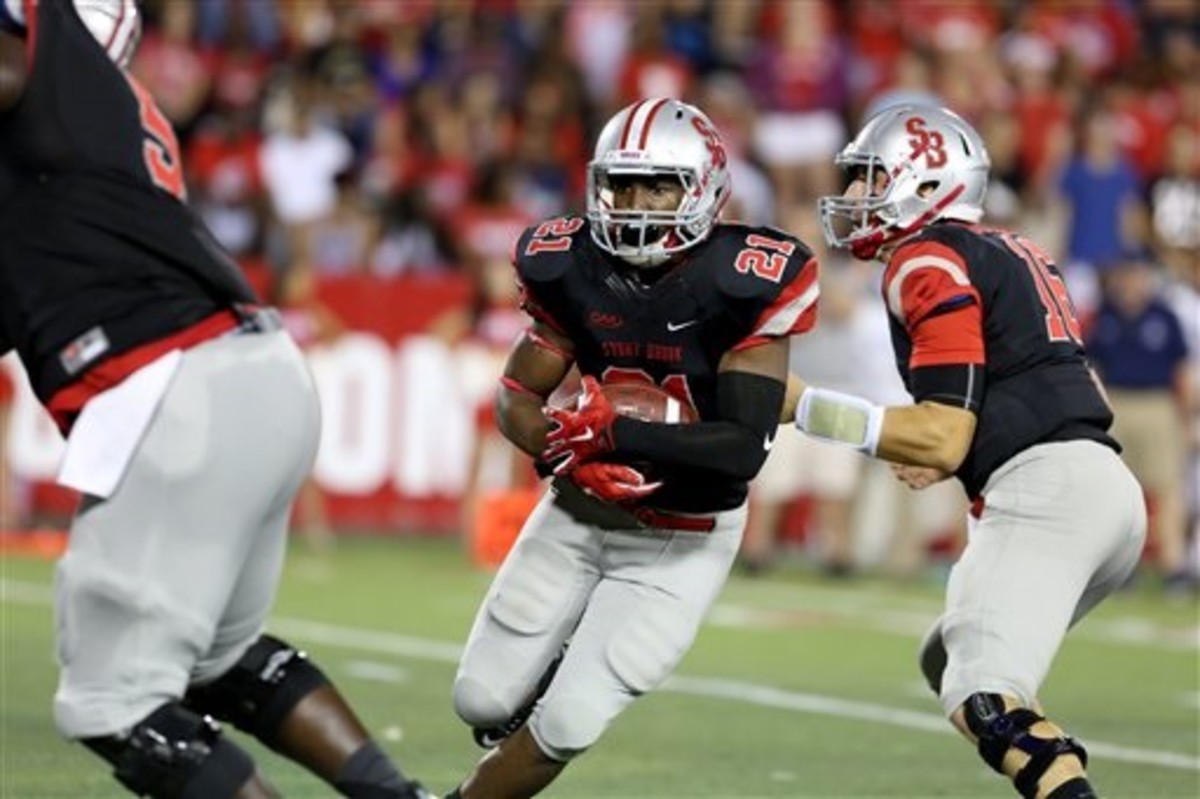 (STATS) - A matchup between CAA Football's top rushers has failed to materialize, hurting the chances for an upset in the conference's game of the week.
Stony Brook coach Chuck Priore announced that running back Stacy Bedell will miss Saturday's visit to unbeaten James Madison with a shoulder injury, but is hopeful he will return for next week's matchup with Towson.
"There will certainly be a difference," Priore said. "Stacy's an accomplished back at this level and obviously understands the offense, so there will be a drop-off."
Bedell has rushed for 118.0 yards per game to rank second in the CAA behind Dukes quarterback Vad Lee, who is averaging 125.8 and is the reigning STATS FCS Offensive Player of the Week. Last week, Lee ran for 276 yards and two touchdowns, threw for 289 and three scores and led JMU to a 48-45 road win over FBS foe SMU.
The victory moved James Madison, averaging 50.3 points to rank second in the FCS, up to No. 6 in the latest STATS FCS Top 25.
"You cannot go into the game and expect to stop them. You gotta go into the game and expect to control them, make them put long drives together and don't give them big plays," Priore said. "... Certainly we gotta stop the quarterback's ability to run the football, though, if there's one thing out there. We gotta limit the yards he gets on the ground."
Stony Brook entered last weekend on the verge of being in the rankings with the 26th-most votes, but lost 21-0 at William & Mary. Bedell was held to 28 yards on eight carries before getting hurt.
Bedell entered that contest leading all FCS players with 163.0 rushing yards per game to go with four touchdowns.
While the Seawolves are 2-1, including 1-1 in conference play, the Dukes are the only CAA squad which has yet to lose. They join No. 2 Coastal Carolina as the only 4-0 teams in the FCS.
James Madison coach Everett Withers is trying to making sure his team avoids a letdown against Stony Brook, which could challenge the high-powered Dukes offense after allowing an average of 12.0 points through three games.
"We're never looking past our next opponent, that's a big challenge for us this week because everybody on this campus is gonna pat these kids on the back, and we've talked an awful lot about that," Withers said. "We've talked an awful lot about how we're getting ready to play maybe a more physical and athletic team this week than we played last week."