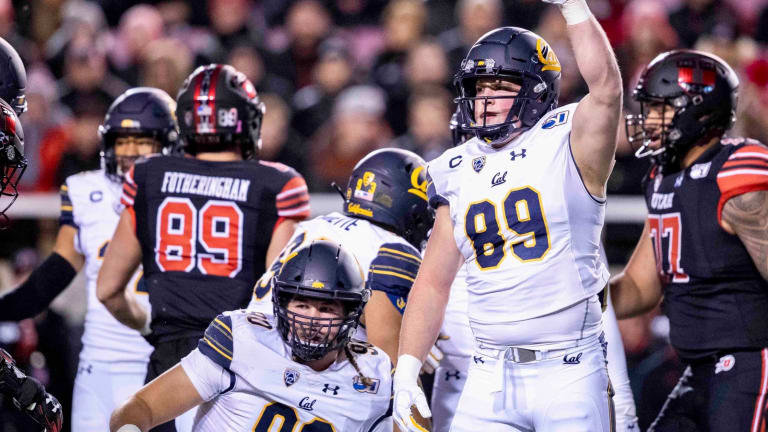 Cal Football: Evan Weaver Taken in 6th Round by Arizona Team That Embraces His Approach
All-America linebacker led the nation in tackles last season
The wait was long for Evan Weaver.
The former Cal linebacker, who led the nation in tackles and was named a consensus first-team All-American last fall, finally was chosen by the Arizona Cardinals in the sixth round of the NFL draft on Saturday.
Weaver, a native of Spokane, Wash., was taken with the 202nd overall pick.
To hear Cardinals general manager Steve Keim and head coach Kliff Kingsbury tell it, they grasped the essence of Weaver as soon as they met him in the days leading to the January 25 Senior Bowl in Mobile, Alabama.
"He's a guy that somehow (is an) over-achiever, however you want to say it. Highly instinctive, smart, tough, competitive. His production speaks for itself," Keim said. "Really, really excited about him. Met him at the Senior Bowl . . . he walked into the room and it was two seconds 'til you realized the saying, `It's better to say whoa than sic 'em.' Chill out a little bit. He's ready to roll and he's a tough guy."
Kingsbury recalled the occasion in vivid detail.
"Like Steve said, when you meet him at the Senior Bowl, he walks into that room and he's on fire and he's ready to hit people in that room. That's how he wakes up and that's how he goes to sleep. That's how you want 'em.
"He's definitely going to come in with a chip on his shoulder. That's kind of his edge out there on the football field. You talk to anyone in that program and they love what he's about. We felt, where he was at (in the draft order), it was a great fit for us."
Weaver said he merely wanted to make sure the Cardinals knew what he was about, as he explains in this sound bite: 
"I'm not going to change. I went in there like I always am -- fiery attitude, ready to talk, willing to say whatever," he said. "I wanted a team that knew what they were going to pick, not somebody that's two-faced. So they can get a real feel for me. . . . I walked in there guns a-blazing, saddles blazing. I was being myself, say what they needed to know. 
"I'm just happy they picked me and I'm at where I'm at. I think they made the best draft choice in the draft, with me especially where I fell."
The Pac-12 Defensive Player of the Year, Weaver is the third Golden Bears player drafted this weekend, joining safety Ashtyn Davis, who went at No. 68 overall in the third round to the New York Jets on Friday night. Safety Jaylinn Hawkins was a surprise fourth-round pick of the Atlanta Falcons on Saturday, chosen at No. 134 overall.
Weaver still was available on Day 3 of the draft because many teams weren't sold on his athleticism, including a 4.76 time in the 40-yard dash at the NFL scouting combine.
Consistently projected as a fifth- through seventh-round draft pick, he was the 25th linebacker chosen, the 10th inside linebacker.
Per the Cardinals' website, Weaver told Arizona reporters that he is fueled by "being underestimated my whole life, people overlooking me my whole life. Coming from a small town in Washington, playing football, you don't really get looked at a lot by colleges. Thankfully Cal picked me up, and now I got picked up by the Cardinals. I'm ready to roll and ready to prove people wrong."
Asked about his mindset on the field, Weaver said, "I hit people as hard as I possibly can. (I like) really taking the soul out of people. Once you get in the third, fourth quarter, they don't want to play any more, because they just don't want to hang with you."
Said Kingsbury, "That's a bit aggressive, but that sounds like him."
Here is audio from Weaver's media session with Arizona reporters.
ESPN's pre-draft analysis summed up what the skeptics were thinking:
"Weaver is a strong square-up tackler who tracks the ball well and does an above-average job of sifting through traffic between the tackles. He has slightly below average top-end speed, but he chases with excellent effort. He has the tools and the mentality to develop into a core special teams' player in the NFL."
Weaver jokingly admitted he had some frustrating moments during the wait to get a call on Saturday. He said there's a dresser in his room at home in Spokane that no longer exists, as he explains in the audio below: 
When asked directly why teams passed over a player with his credentials, Weaver said, "I'm just thankful the Cardinals picked me up. That's all I'm going to say. I can't wait to get in the building and just keeping people wrong like I'm doing.
"Thirty-one other teams passed up on me. You've got that one team that believed in me and that's all I care about."
ESPN's Josh Weinfuss, in post-draft analysis, tried to provide some context to how teams felt about Weaver.
"Weaver is a tackling machine and one of those players who might not look the part but will get the job done. All the scouting reports on him basically paint the same picture: Someone who isn't as athletically gifted as most NFL players but has a high football IQ, loves the game, sees the field well and thinks through plays at a high level. He's figured out how to make for whatever physical limitations he supposedly has by trying to play one step ahead of everyone else on the field. Regardless, he's been putting up big numbers since high school. He's the type of player who could contribute on special teams immediate for Arizona and eventually play himself into a bigger role."
As Weinfuss suggested, Weaver's counter to the doubters was consistent high-level production over the past two seasons. The 6-foot-3, 235-pounder, who came to Cal as a three-star defensive end, had 159 tackles as a junior in 2018 and led all of FBS last season with a school-record 182 tackles.
He had three games with at least 20 tackles in 2019.
Cal coach Justin Wilcox has said all season he believes there is a place for Weaver in the NFL.
"No, I don't have a doubt. He'll play. It'll be the right fit, the right place. You cannot deny production," Wilcox said. "The game of football on defense is don't let the other team go that way and cross that line. So you tackle them to prevent them from doing that.
"If that's what you're looking for, it's hard to deny."
The Cardinals chose defensive players with four of their first five picks. Clemson linebacker Isaiah Simmons, a fellow consensus first-team All-American, was the team's first-round selection, followed by defensive linemen Leki Fotu of Utah and Rashard Lawrence of LSU in the fourth round. 
"I feel like we got really good football players who are productive and, most importantly to us, have the football IQ and character we want inside our building," said Keim, noting that Wilcox and others in their draft class were captains on their college teams.
Weaver is the 10th Cal linebacker drafted since 2000, joining Devante Downs (2018-7th round), Khairi Fortt (2014-4th round), Michal Kendricks (2012-2nd round), Mike Mohamed (2011-6th round), Desmond Bishop (2007-6th round), Ryan Riddle (2005-6th round), Tully Banta-Cain (2003-7th round), Scott Fujita (2002-5th round) and Sekou Sanyika (2000-7th round).
*** Here is Weaver talking after Cal's victory in the Redbox Bowl: