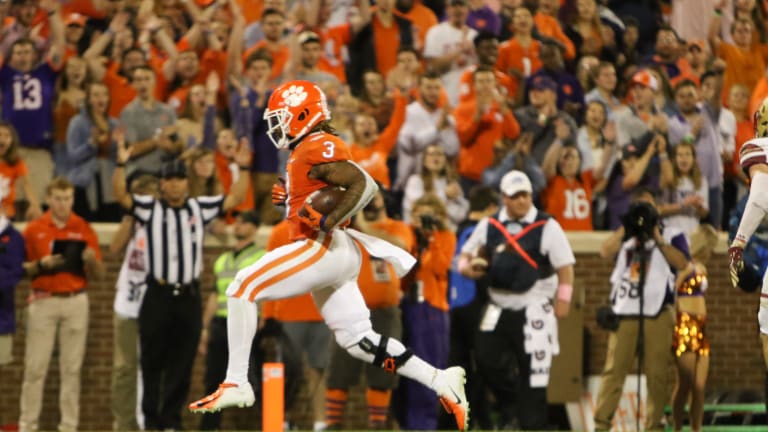 Grading the Tigers: The Boston College Game
Tigers earn near-perfect grades from their 59-7 win over Boston College
Here are our position grades for the Tigers, in their 59-7 win over the Boston College Eagles
Quarterbacks: A+
Trevor Lawrence was as close to perfect as he has been all season, as he completed 16 of 19 passes for 275 yards and three touchdowns
"The offense set the tone tonight. We had a fast and efficient offense. It was awesome," head coach Dabo Swinney said. "That's the first game we've had no turnovers since the National Championship last year. Hopefully, that's a sign of good things to come."
Running Backs: A+
For the third straight week, Travis Etienne looked like the back that started the season, as he amassed 109 yards and three touchdowns.
In total, the ball carriers for the Tigers amassed 302 yards on the ground.
"Rushed the ball for right at 300 yards. And Etienne, I mean back to back weeks, just outstanding," Swinney said. ""Travis Etienne continues to set the tone for us offensively." 
Wide Receivers: A+
The receivers, as a whole, caught the ball thrown to them.
As a group, the wide receivers caught 372 yards of passes from two different quarterback and accounted for four touchdowns—three of which were caught by Diondre Overton.
"I couldn't be happier for Diondre Overton," Swinney said. "He's a really good player, and it was awesome to see his hard work pay off tonight. He tied a school record with three receiving touchdowns."
Tight End: C
The tight ends get a passing grade because they were not a factor in either a positive or a negative way. The Tigers have, either by design because they don't have one they are comfortable throwing the ball to or because of lack of trust, all but removed the tight end from the playbook.
The Tigers tight ends caught only two passes for a total of 21 yards. It is hard to knock them down in their grade or to raise their grade when they have become a non-factor.
Offensive Line: A+
Three weeks ago the offensive line played their worst game of the season, the last two weeks have been their best of the season.
"Our offensive line was awesome. They took it over up front. I think we did end up with one sack," Swinney said.
Defensive: A+
The entire defense earned their supper, as they held the Eagles to only 177 total yards of offense, including 80 passing yards and 97 rushing yards—and added a scope-and-score touchdown by defensive end Logan Rudolph.
"On defense, we accepted the challenge and held Boston College to 97 yards rushing," Swinney said. "The best part was Chad Smith forcing that fumble and Logan Rudolph recovering it and rumbling to the end zone with it. I'm really proud of our defense. We had great preparation all week long.".