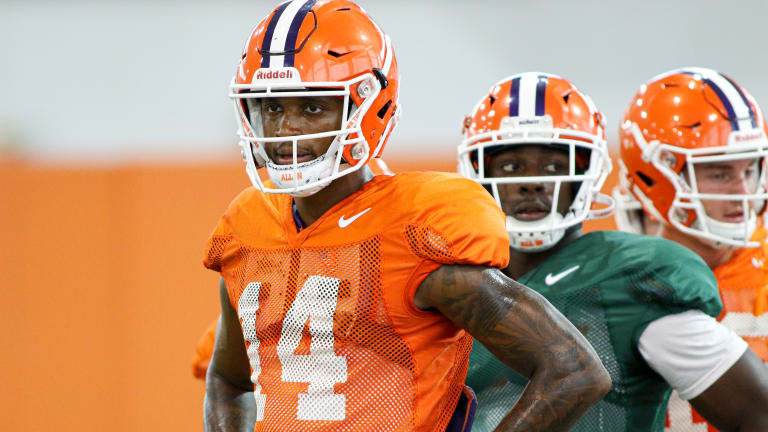 Overton Reaping the Rewards of Patience
One player who reaped the benefits of trusting the process is Overton.
CLEMSON — There are problems that are bad to have, and then there are problems that are good to have — and having too many wide receivers is a problem that falls into the later category for the No. 4 Clemson Tigers.
But when you have the likes of Tee Higgins, Amari Rodgers, Justyn Ross and a pair of ultra-talented freshmen like Frank Ladson Jr. and Joe Ngata, one might think that only having one ball to go around may cause problems if it wasn't for the way the coaching staff handles this talented group.
"I think we've had that issue for a couple of years. It's a good problem to have, but it can be a problem," co-offensive coordinator and wide receivers coach Jeff Scott said. "I think overall the best thing that helps us is the culture that Coach Swinney has created in the program — it's not about any one person. There Is absolutely zero entitlement in our program, from coaches down to players from quarterbacks, all the way through.
"Coach Swinney does a really great job stamping that out from the very beginning, actually even before they even get here. The presentation in the recruiting process, he lets them know very quickly that you have to earn everything you get, there's that mentality."
However, it is not only the idea that players have to earn everything they get as a Tiger that has helped quell some of the unrest that could have brewed over the years — it is also the fact the Tigers have no problem playing a lot of players.
Whether it is a Sammy Watkins, who started as a true freshman, an Adam Humphries, who was a two-star signee in the 2011 class and has been with the Tampa Bay Buccaneers since turning professional in 2015, or a Hunter Renfrow, a former walk-on who cemented himself into the hearts of the fan base, the Tigers have always had a willingness to play whoever deserves to play.
"The other side of that is Coach (Swinney) has a mentality that we are going to play a lot of guys," Scott said. "If you deserve to play you are going to get an opportunity to play. Doesn't mean you are going to play the same amount as that first guy, but you are going to get an opportunity to play. And then what you do with that opportunity really dictates how many plays you get.
"For us, I think we are a talented group, and my big challenge to this group of wideouts, since we really only have one starter coming back, oh and Renfrow, is going from potential to a group of production."
The good news for Scott and the rest of the coaching staff there is an incredible testimony to the way the Tigers handle their wide receivers in the NFL — where there are currently nine former wide receivers on NFL rosters.

Clemson's Millie Thompson Produces Rare Feat
CLEMSON, S.C. — Getting a no-hitter is rare. Getting one in a postseason game is rare. Doing it in the first ever postseason game you pitched, and it is your team's first time hosting a postseason game – now that is rare.
"I think that whenever we talk to the wideouts, I'm not trying to compare them to the guys that were here before them," Scott said. "I want Tee Higgins to be the best version of Tee Higgins, I don't want Tee Higgins to try and be DeAndre Hopkins or Mike Williams. I want him to worry about being the best version of himself. But within that, I am also always sharing the characteristics of the best of the best that have come through. And with us playing wide receivers, one of those is the guy that physically, mentally, can go and play.
"You look at the play that Mike William's made in the preseason game this past weekend. I remember him making those plays his redshirt junior season, he couldn't always make those plays his sophomore year."
One player who reaped the benefits of trusting the process is Overton. 
In Saturday's 59-7 win over Boston College, Overton recorded a career-high 119 yards on three receptions for a school-record-tying three touchdowns. It represented his first career 100-yard receiving game, surpassing a previous career high of 75 yards set against Florida State in 2018.

He also became the seventh player in Clemson history to record three touchdown catches in a game.
"It was awesome. That's a guy that goes to work every day," quarterback Trevor Lawrence said. "This is his fourth year, and maybe he hasn't gotten as much attention and as many catches and stats as some of the other guys. He's had opportunities to leave and play somewhere else, and he's stuck it out. He's a great person, and I couldn't be happier for him."

For Overton, Saturday's record-setting performance was the culmination of a journey that started four years ago.
"It's just a blessing. I've put in a lot of work and kept the faith," Overton said. "It's great to see it pay off. It's been a long time coming. I could have transferred and let my team down, but I just kept the faith and pushed through.
"I just knew that there was nowhere else like this. I knew that this was the best decision for me and I couldn't see myself anywhere else. I knew I needed to stay on this path."