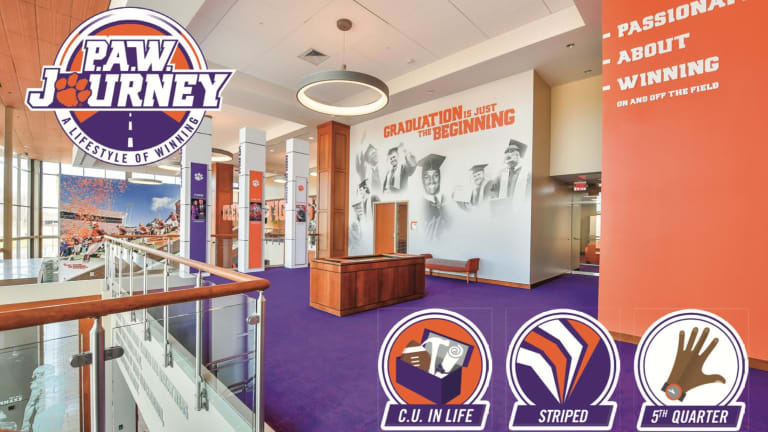 P.A.W Journey takes football players and turns them into men
Photo Courtesy: Clemson Athletic Department
Photo Courtesy: Clemson Athletic Department
Football might not be a lifelong profession, but what you learn from it em- powers you for a lifetime." This realization made by Jeff Davis, former Tiger All-America linebacker, captain of the 1981 national championship team and current director of player relations & external affairs, has formed the foundation of his professional career in Clemson's athletic department. It has culminated in the establishment of a new standard for student-athlete development.
While the recent construction of Clemson's new Allen N. Reeves Football Complex has naturally garnered wide- spread attention due to its grandiose appearance and luxurious features, the most significant characteristic of the new football complex is the presence of P.A.W. Journey, a program that redefines the experience of a college football student-athlete. The P.A.W. Journey suite greets you on the right as soon as you enter the facility, setting a clear precedent for the significance Head Coach Dabo Swinney has chosen to place on this transformative leadership initiative.
P.A.W., an acronym for "Passionate About Winning," encourages football student-athletes to maintain a continually competitive posture towards all aspects of the journey of life. Composed of three pillars that Davis believes best prepares football players for their future roles as leaders in their careers, communities and homes, P.A.W. Journey develops football student-athletes holistically.
"Our football student-athletes have to go to practice, lift weights and focus on their academics," said Davis when explaining P.A.W. Journey's philosophy, "Sometimes, life gets lost in all of that. So, my goal is for P.A.W. Journey to keep life at the forefront of their minds."
Striped, the personal growth pillar of P.A.W. Journey headed by Davis, is centered on the idea that Tigers are made
rather than born, and focuses on instill- ing character, confidence and conviction into the players. Charged with tasks that require them to identify their core values or construct personal and professional plans for their futures, Striped asks the players to identify who they are, what they believe and act according to those identities and beliefs.
Working closely with Davis is Savannah Bailey, who serves as director of life skills & community service and is responsible for the C.U. in Life pillar of P.A.W. Journey. Bailey creates, offers and aids the players in executing a variety of opportunities, such as civic engagement initiatives and preparatory workshops, that develop and enhance the life skills essential to their success at Clemson and beyond.
"Whether it's in the community, their hometowns or across the country, the players use their influence and passions to serve others," said Bailey. "P.A.W. Journey is able to broaden their world- view while supporting them in their own development."
Inspired by the concepts of educate, empower and engage, the C.U. in Life program has been integral to Clemson players taking part in life-changing experiences, such as annual service trips like the most-recent venture to Thailand in the summer of 2019.
Davis also works closely with Rashard Hall, former Tiger safety (2009-12) and director of career & professional development, who heads the third pillar of P.A.W. Journey, designated as 5th Quarter. The program promotes and provides professional development for football student-athletes.
From networking with professionals in their fields of interest, to attending work- shops on how to thrive in their careers, 5th Quarter emphasizes the importance of each Clemson player's accessibility to marketplace knowledge and experiences.
A shining example of the ground- breaking work being conducted through P.A.W. Journey's 5th Quarter program is the placement of dozens of players in micro-internships within different companies across the country this past spring. They were able to cultivate skills and increase their expertise and interests in fields such as product marketing, sales, entrepreneurship and company logistics among others.
With the abundance of commitments that college football requires of every player, the narrative for his evolution has always begun and ended with the sport of football. However, P.A.W. Journey is changing that narrative by viewing foot- ball as a gateway to countless growth opportunities and life lessons for its students. As a result of this exceptional student-athlete-driven leadership initiative, Tiger players are discovering that in earnest.
At its very core, P.A.W. Journey empowers Tiger players to be in constant pursuit of self-improvement. The message Davis often provides, "True champions always seek new victories," speaks to this pursuit and the understanding that the Clemson football student-athlete can achieve success on and off the field, now and for the rest of their lives.