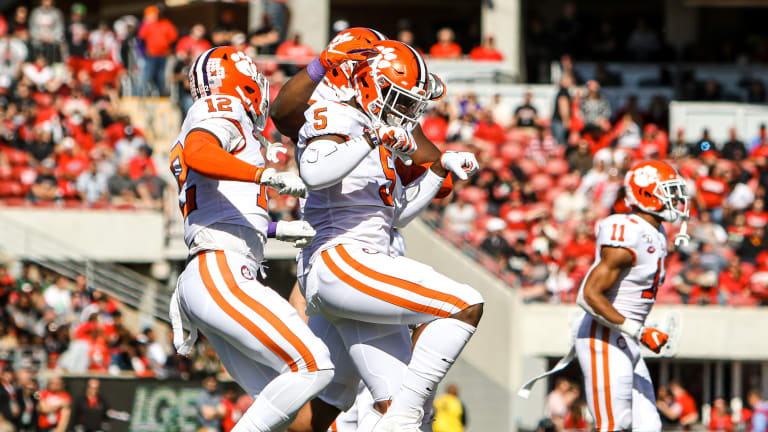 Wallace: 'We're Scary'
The 2019 Clemson defense is on pace to be better than the 2018 one that featured four NFL Draft picks and a bevy of uber-talented pieces.
CLEMSON — The 2019 Clemson defense is on pace to be better than the 2018 one that featured four NFL Draft picks and a bevy of uber-talented pieces.
In fact, the 2019 Tigers have had opponents throw 23 more passes, complete six more passes, but have allowed 101 less yards. Opponents completion percentage is 3.11% less than last season and have allowed only five passing touchdowns.
Against the run, opponents have rushed 37 less times for 55 less yards and have two less touchdowns.
In terms of total offense allowed, the Tigers have allowed 14 less plays, have given up 156 less yards, decreased their average yards per play by .22%
Turnovers forced also favors the 2019 Tigers, as they have amassed five fumbles (7 in 2018) and 10 interceptions (4 last season) to give them a +4 margin over last season.
The scary thing is that the 2019 team is far from a finished product.
"Very proud. We preach on being consistent, and I feel like we've been doing that all season," safety K'Von Wallace said. "The scary thing is we're only getting better. We've still got a lot of corrections to make. We're a scary defense.
"Definitely one of the best I've been on. Last year was a good defense, good team overall, going 15-0, something that had never been done, best ever. And when it's all said and done I believe that this could be the best defense to ever come through Clemson."
Wallace believes that the defenses success this season is a result of the Tigers being more versatile than they have been in years past.
"Just what we can do, the versatility we have, the great front we have, the great back end we have," Wallace. "It's not that big of a drop-off in my opinion. Through the first seven games I believe we did better than last year's team, anyway. But just our togetherness, us playing as a team as one collective unit, and the fact that we can continue to get better is something scary. We'll see in the games ahead, but I believe that this can be a special defense."
The versatility that the Tigers have shown this season can be credited to defensive coordinator Brent Venables, who has emptied his proverbial bag of tricks this season in hopes of putting his players in the best position to make plays.

In previous years, the Tigers have been predominantly a four down lineman team, but that changed this season. The Tigers have still used their traditional 4-3 look, but have also incorporated a 3-4-4, 3-3-5 and even a 3-2-6 at times, making life extremely hard on opposing offenses.
"We've got a great coach that drives to be the best," Wallace said. "Each and every year he starts all over and pushes us to get the best out of us. Us being a mature and elite and having great leadership in the back end has also helped us on the defensive side. That experience we have on the back end is definitely big for us. I believe that defense can only get better."