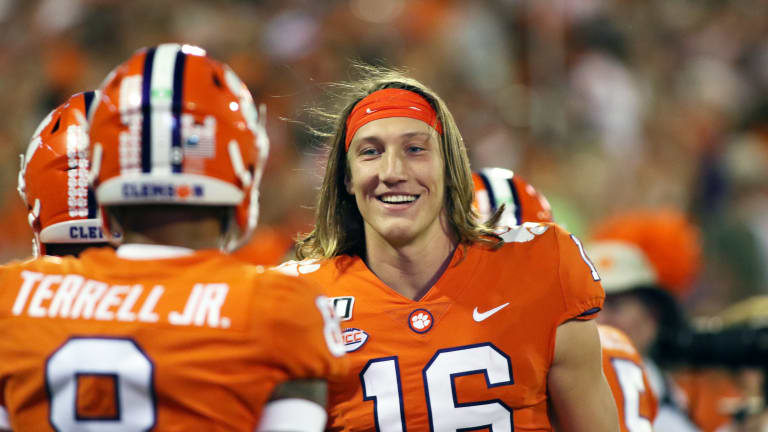 Wash, Rinse, Repeat: Tigers Finding Their Groove After Bye Week
The Clemson offense is once again rolling following their bye week four weeks ago — as has become the norm in Tigers town
CLEMSON — The Clemson offense is once again rolling following their bye week four weeks ago — as has become the norm in Tigers town.

In fact, the Tigers have outscored their last three opponents by a combined score of 149-31.
The Tigers' offense is second in the nation in scoring over the last three weeks (averaging 49.7 points per game), first in the nation in yards per game (592.3 yards per game), third in rushing yards per game (306.7 yards per game), first in scoring margin (39.3 points per game) and second in touchdowns per game (six).
But when asked why the Tigers offense takes a few weeks to get warmed up, co-offensive coordinator Jeff Scott has no explanation.
"I can't explain why it happens that way but that's how it's been in the past," Scott said following the Tigers 59-7 win over Boston College. "Our guys have really been locked in and focused. We haven't seen up to this point what this offense could be when we're executing at a high level, and I felt like in the first half when everyone was in there, we were able to see that for the first time all year." 
The "slow start" on offense, which had the Tigers amass a 5-0 record with a combined margin of victory of 190-60, was the main reason for the Tigers' fall in the rankings, from No. 1 to No. 4 in the AP Poll.
But the negativity and naysaying from national media, who questioned the play of Trevor Lawrence and the rest of the offense at every turn, actually fueled the Tigers' offensive explosion.
"I think it just takes some time to work through some things," co-offensive coordinator Tony Elliott said. "And for us, adversity is good. The adversity we had earlier in the season brought us closer together and forced these guys to really block out the noise ... I think what you're seeing is the chemistry is starting to really flow, and guys and have learned to block out the distractions."
While many around the nation where busy telling the Tigers that there was something wrong with them, they were not the same dominant team as they had been and questioning if a 15-0, undefeated defending national champion could be left out of the playoffs, Scott was busy telling his Tiger offense it was time to give them something to talk about — which they did.
 "My last message to the team in the hotel before we left for the game was who cares what people are saying, but if you want the respect that you feel like deserve, man go out and earn it," Elliott said. "Give them something positive to talk about. Now the message is not to get complacent and not to get satisfied."