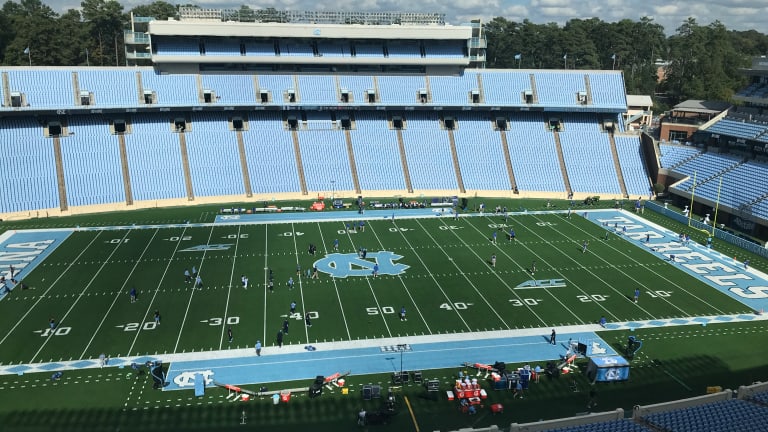 Duke At UNC: Gameday Open Thread
Updates and analysis all day long from Chapel Hill
For the 98th straight year and 105th time overall, UNC and Duke will meet in football today at 4:00 at Kenan Stadium in Chapel Hill.
Duke has won the rivalry game -- and the Victory Bell that goes to the winner -- for the last two years and five of the last seven.
Carolina will have a new kicker and a new offensive guard for the game. Freshman walk-on Jonathan Kim will replace Noah Ruggles, who was 10-of-16 on field goals this year and had two crucial misses (one of which was blocked) in the overtimes against Virginia Tech last week.
Meanwhile, at left guard Joshua Ezeudu will make his first college start at the position, replacing Ed Montilus. Ezeudu had been the back-up left tackle, but he jumped in at guard late last week, picking up a pair of penalties down the stretch.
Both teams have two ACC losses and will be looking to remain in the hunt for the Coastal Division by avoiding their third.
PREGAME
Both teams have some work to do to earn bowl eligibility. UNC needs to win three of its final five, while Duke needs two wins in five. Still, there are plenty of bowl scouts here to keep tabs on both teams. Representatives from the Camping World Bowl and Belk Bowl are both in attendance.
The Jets, Ravens, Giants and Seahawks have scouts in the press box, as does the CFL Ottawa RedBlacks.
Duke will be able to make an impression on a handful of 2022 recruits who are visiting UNC for the game. Among the visits they hope to spoil for the Tar Heels are:
Three-star guard Jared Wilson, who also has offers from Clemson and Georgia.
Three-star defensive end Keeshawn Silver, who is holding an offer from Florida.
Four-star defensive end Jahvaree Ritzie, who is being chased by Auburn, Florida and NC State.
Five-star defensive tackle Payton Page, who has offers from just about every major program.
Three-star offensive tackle Andrew Canelas, who has offers from NC State and Virginia.
Fashion update:
Duke is breaking out the special helmets for this one. The Blue Devils will wear white helmets with a blue devil's face replacing the traditional D or Duke logos. Duke will also have white jerseys and blue pants.
UNC has not announced its uniform combination for today, leading to speculation that some type of special helmet or jersey may be awaiting us. Players are warming up in shorts and t-shirts (many are shirtless in the 74 degree October weather) so no hints there.
We have our first look at UNC's uniforms for the day. The Tar Heels will be all Navy blue with light blue lettering and numbers on the jersey. The helmets have a Tar Heel foot logo.
Warmups
Jonathan Kim and Noah Ruggles alternated kicks for the Tar Heels, who went to a full snap, hold, kick run through for each one, instead of using a tee. Kim shanked his first attempt from 47 badly, kicking it low and far left. He made his next two, however, one from each hash, to end on a high note . Ruggles tried one from that distance and missed.
Injury updates
Josh Blackwell not warming up with the Duke cornerbacks.  He left last week's game after taking a hard hit and didn't return. Redshirt freshman Jeremiah Lewis replaced him at corner, while Scott Bracey took his role returning punts.
Zach Baker also not warming up with the line. He was replaced during last game by redshirt freshman Maurice McIntyre and appears to be out for the week.
The toss
Duke picks heads. It's tails. UNC defers. Duke will get the ball and head toward the non-student end zone. Let's do this. 
First quarter
One play. 27-yard completion from Harris to Bracey, and we have a time out for a replay review. And it's coming back. Incompletion.
Ref said, "Receiver did complete the catch process. It's an incomplete pass." So our information on the play is sketchy at the moment.
And the refs add 26 seconds to the game clock, because things are moving far too quickly so far...
Unblocked man comes around left end. Harris throws short of the sticks on third down. Three and out for Duke. This section copied and pasted in its entirety from last week's open thread at Virginia.
Fumble and a drop on the opening drive for UNC stalls things.
UNC QB Sam Howell attacks freshman safety Jalen Alexander on back to back plays. First one was a third-down incompletion. Second, to start next drive, went for 34 yards on an acrobatic catch by Dazz Newsome.
Near interception and fumble for Sam Howell. UNC faces 3rd and 14.
After just barely avoiding a sack, Howell throws deep on third down for an interception to Marquis Waters. Not an offensive show by either side so far.
Harris throws to Bobo for 15 yards on first down, longest catch of the season for Bobo.
Bobo then tops that with a 17-yarder on third and eight. He's more than doubled his season yardage total on this drive.
We get our second review of the game. Mataeo Durant, who has had several drops on the year, either A. Scored a touchdown. B. Was down on the one (call on the field) or C. fumbled through the back of the end zone for a touchback and UNC ball.
So it's a pretty big review...
Ruling on the field stands. First and goal from the 1 for Duke.
No gain on first. Rak Chambers gets a false start. Second and goal from the five.
Incomplete on a fade to Bobo. Incomplete on exact same pass to Gray. 23-yard FG by Reed is good. Duke up 3-0 with 4:33 to go in the first.
Just the second time this season Duke has scored first. And Duke gets gashed on the ensuing kickoff again. UNC takes it 38 yards. That's three long returns allowed in two weeks.
After five straight runs, Howell hits Beau Corrales for a 29-yard TD. Howell's eighth straight game with a TD pass, Corrales' fourth straight with a TD catch. Duke trails 7-3 with 1:36 to go in the first.
Duke has now trailed in the first quarter of six of its eight games this year. The other two games were scoreless after one, and the opponents scored first in the second.
Duke picks up an illegal formation penalty before the first play of the drive.
End of first quarter: Duke trails 7-3.
Since the Virginia Tech game, Duke has had 17 first-quarter drives. Ten have ended in punts, seven three-and-outs, plus a fumble and two interceptions.
Second quarter
Storm Duck, UNC freshman CB, out for the rest of the game with an upper body injury.
Duke with a 20 yard pass to Bracey. So, we'll review it, of course. This game has now had three reviews and four third- down conversions.
With 11:59 to go in the second quarter, Harris has more passing yards (92) than he did all last week (88).
Harris fumbles. UNC ball.
Duke not exactly missing tackles. The defenders just aren't bringing down the ballcarrier when they hit him. That last rush went for 8 yards, 7 of them after contact.
Jonathan Kim's first field goal in college will be a 52-yarder. Way wide right and short. Still 7-3 UNC, 2:40 left in the half.
A turnover blows up another Duke drive. Harris with very nervous feet before he overthrows Bracey for an interception inside the 20.
At the half, it's 7-3 UNC. Lowest scoring first half of the year for a Duke game (both teams combined). Previous low was 17 (all by UVA last week). Duke has lost every game it trailed at the half this year, won every game it led.
Third quarter
More UNC kicker drama. Noah Ruggles practiced kicks with a tee at the half, while Jonathan Kim worked on kickoffs and snapper/holder worked on snaps with no kicker. Looks like Kim may have lost his job after missing one 52-yarder.
Half couldn't have started worse for Duke. 17-yard run, 16-yard run, 47 yard pass. UNC up 14-3. And, yes, Ruggles is now kicking for UNC.
Howell now the second UNC freshman in history with 2,000 passing yards, joining TJ Yates (2007, 2,655 yards). His 22 TD passes tie Maryland's Danny O'Brien (2010) for sixth-most by an ACC freshman.
Deon Jackson running angry on this Duke drive. Has 40 rushing yards, 19 receiving yards. Had 22/0 prior.
Harris to Bracey for the second straight week. 11-yard touchdown. Duke cuts lead to 14-10. 8:57 3rd.
15 yards of that 74-yard drive were by someone other than Jackson.
Second tipped Howell pass by Duke this game. This one lands in the hands of safety Jalen Alexander, who returns it to the UNC 6. Duke ball deep in the red zone.
Harris runs it in for the TD and Duke's first lead in 96 minutes of football. 17-14, 8:37 to go in the third.
Noah Ruggles kicks from 34 to tie the game. 3:59 to go in the third and we're tied up at 17.
Duke allowed seven sacks all year. Blue Devils have allowed five today. Harris throws short of the sticks on third down, and, pending review, will try a fourth-and-one at midfield. 1:23 left in the third.
Julian Santos jumps, making it fourth and six. Duke will punt now.
Austin Parker with 252 punting yards today, moves into sixth on Duke's all-time punting yards list, passing John Tolish (1981 to 1984).
At the end of three, we're all tied up. 17-17.
Fourth quarter:
Duke gets great field position, then gains three yards on first down, only to give it back on another false start by Rak Chambers. Two incompletions to a well-covered Bobo and Duke is punting again. 13:24 fourth, still tied. 
Calhoun fumbles out of bounds for a four-yard loss, then Harding drops a pass downfield when he's open. Duke faces third and 14, and Harris overthrows Calhoun badly. Duke punting again. Has wasted drive starts near midfield on last two possessions.
Javonte Williams flips the field with a 40 yard run. UNC has run for more yards vs. Duke than any other team this year.
40-yard field goal attempt by Ruggles is good. UNC pulls in front 20-17 with 7:00 left.
Duke with a 14 second "drive". Harris throws to a covered Young, overthrows Jackson on a screen, throws behind Calhoun. Duke then sends 10 guys out for the punt. Not the performance a team needs at crunch time. UNC ball, 6:32 left, Heels up 3.
Two 10-yard rushes by Javonte Williams and a 41 yard pass from Howell to Beau Corrales has UNC at the 13, but Heels face fourth and four. They're going for it. 
Howell over the middle to Newsome for 10 yards. First and goal at the three. 3:21 left. Duke running out of time and options.
And Duke's defense steps up! Shaka Heyward recovers a Williams fumble. Duke ball. 93 yards to go.
Williams tried to leap over the pile from three yards out, which was not a wise decision.
Facing fourth and 3 at its own 26, Duke converts with an 18 yard pass to Gray. Harris then tries long to Young, and Greg Ross picks up the DPI.
Duke's offense this drive has been all QB runs and short passes until the Blue Devils faced fourth down. Then they went deep twice. Now with the ball at the UNC 41, they go with a QB draw on first down. 1:17 left. Second and 8 at the 39. Duke has one time out left.
Third and eight, Harris throws complete for seven and a half. Duke faces fourth and short at the 32. Blue Devils use their final time out. 0:57 left.
Duke inexplicably lines up in shotgun and tries a QB run. Stopped way short but every ref threw in a flag for a facemask. Huge error by UNC on what would have clinched the win.
Duke now at the 18, well within field goal range with a couple shots at the end zone first. UNC is the one that needs a miracle play from its D now.
And Duke inexplicably runs it into the line with no time outs left. Spikes the ball to stop clock. Blue Devils now face third and 10.
Harris to Bracey to the 3. First and goal. 21 seconds left and Duke spikes it.
Verrrry late flag on that PBU in the end zone. They call DPI on UNC. Duke 1st and goal at the 2 now. 18 seconds left.
Wow. Deon Jackson gets the hand off and tries a jump pass, right into the hands of UNC's Surratt. What a way for Duke to lose this game. Play calling on this final drive will need a great deal of explanation.