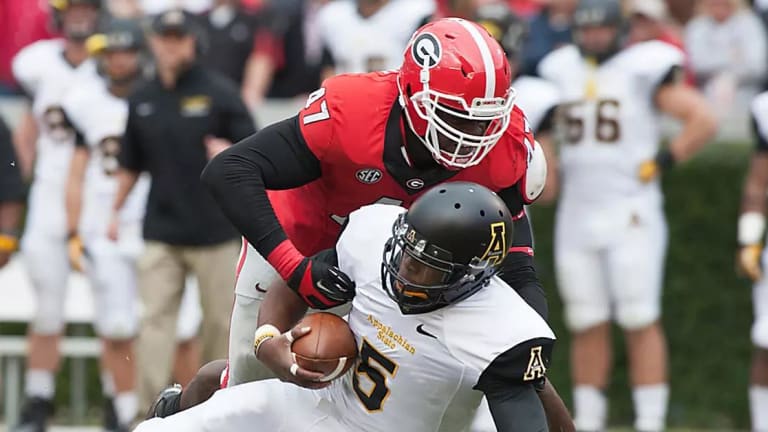 Georgia Football: Former Bulldog Greats Give Uplifting Insight on 2019 Season
We talk to former Georgia Bulldog greats, Quayvon Hicks and Ray Drew about Georgia's strengths heading into week 1, some season long predictions, and great Bulldog memories.
It can always be fun to hear what experts and analysts have to say about a team's upcoming season. It can also be frustrating at times to hear those same people talk about Georgia lacking in certain areas when the entire fanbase is aware of the talent on this team, front to back.
Sometimes, there needs to be a change. In this case, we're going to be talking about season predictions and memories from a couple of former Bulldogs.
 You have to trust a guy that has fought in battle against some brutal defenses or massive offensive lineman over the guys that sit up in the booth, right? What better way to go into the season than to hear from guys that have laid it all on the line for the Georgia Bulldogs?
It wasn't too long ago when we used to watch Ray Drew terrorize offensive lines, and Quayvon Hicks be a nightmare for opposing defensive coordinators. 
In Drew's four year career at Georgia (2011-2014), he posted 113 total tackles, 13 tackles for loss, and 7.5 sacks. Drew remains as one of the best defensive linemen Georgia has had in this decade.
As for Hicks, running the ball at over 250 pounds, he averaged 7.2 yards per carry, and 3 touchdowns as a Bulldog (2013-2015). Like Drew, Hicks was also a freak of nature, and a unique athlete that Georgia has yet to find again.
With these guys having the impactful careers they did at Georgia, they know the brutality of playing an SEC schedule, and they certainly know what a team is and isn't capable of accomplishing. 
Ray Drew even said, "Trust me, I know oh to well that anything can happen any given Saturday in the SEC."
That's why Georgia fans should be very excited about Drew and Hicks's thoughts about the 2019 season.
What is your most realistic record prediction for the 2019 regular season?
Quayvon Hicks: "12-0. I don't see them losing a game to be honest."
Ray Drew: "After having the opportunity to watch Coach Smart and his staff put together a team that if you said were relentless, would be borderline disrespectful in terms of what they give in effort. I just believe that if the team sticks to their coaching and trust each other, the Dawg Nation is poised to make this year exactly what they want it to be, and will bring a certain prominence to the city of Athens that has been eluding us for some 40 years." 
Which game on the schedule do you think will be the toughest for Georgia?
Quayvon Hicks: Notre Dame
Ray Drew: There are a few games that regardless of ranks and positions where the teams comes to play, like South Carolina and Auburn. Outside of the every year threat from teams like that, I believe the next biggest threat is a team that you don't play every year or every other year. Teams that you don't have a lot of film against, so with that being said the Texas A&M game is one that I will be watching closely this year."
Which game do you think could be a potential trap game, or sleeper team against Georgia?
Quayvon Hicks: "Any game that is not an SEC opponent has the potential to be a trap game. Specifically, Notre Dame and Georgia Tech."
Ray Drew: "The trap game this year has to be Missouri for me. The reason being is because they are not seen as a threat, and anytime you take a team that feels under appreciated and have an opportunity to make a statement on a team like UGA, they take every chance they can get. I would have given this spot to the pest in Atlanta (Georgia Tech), but they have more than enough going on internally with the transition of a new coach to be anywhere on the radar as a potential sleeper."
Georgia's biggest strength in 2019 will be...
Quayvon Hicks: "From the looks of the new signees, it looks like the strength is definitely going to be in the wide receiver room."
Ray Drew: "The vibe and wave of expectation that the team has behind them and the swag they bring to the table is one of the greatest things they have working for them off the field.
On the field- have you seen the offensive front? As a defensive lineman myself, I have a hefty respect for the offensive front. Oftentimes, one of the most, if not the most, under appreciated positions on the field, they are the unsung heroes that give Fromm the time he needs to connect his passes with accuracy. They open up the holes that make it seem effortless for Swift and the rest of the backs to break a 4 to 7 yard run each time they touch the ball.
It all starts up front. I'm not a gambling man but if I were, I would bank on my Dawgs up front against any defense in the country. The same goes for the Defensive front against any offense!"
Which team did you look forward to playing the most during your career?
Quayvon Hicks: "LSU and Alabama were always games to die for during my run."
Ray Drew: "If I had one SEC team that I particularly looked forward to playing each year, that would have had to be Florida. I grew up in a small town called Boston, GA, which is located only 10 miles north of the GA-FL border, and 30 minutes away from F.S.U. I actually grew up a F.S.U. fan, which is where I learned the basis of being a Gator Hater, but after deciding to make Athens my home and literally putting my body on the line for the love of what it meant to be a Dawg, the animosity that I feel toward the gators of Florida was magnified by 1000. All in all, the victories over UF have a special place in my heart and mind."
Quayvon Hicks and Ray Drew definitely hit the hammer on the nail, and if their predictions don't get you fired up about this season, I'm afraid nothing will.
The Georgia Bulldogs will get their campaign rolling against Vanderbilt in Nashville on Saturday. 
Kickoff is set for 7:30 p.m. EST and will be covered by ESPN.